22 min: Rolfo again finds loads of space but Crnogorcevic can't reach the ball at the opposite post. Then Guijarro steps up from midfield to smash over.
20 min: Rolfo, down the flank, is causing huge problems down the left. There's a break in play as Schulz, the Wolfsburg keeper receives treatment. There's a huddle of lime green shirts on the sidelines as they try to come up with a quick plan to stop the deluge.
18 min: Barcelona sitting a further deeper, lending their attackers greater space to launch those deadly counters with.
16 min: Of course, Barcelona go down the other end and nearly score as Graham Hansen is robbed just as she shaped to slot home.
14 min: Well. Barcelona having to do some serious defending. Huth suddenly finds herself in space, and seems to have an open net. Across comes Paredes to quell the danger and then Paños makes the save. There are celebrations between defender and goalkeeper once the ball is cleared.
12 min: The truth is that there is no more unstoppable team in football than Barcelona's women's team. They are phenomenal.
Goal! Barcelona 2-0 Wolfsburg (Graham Hansen, 10)
Barcelona decide to take the sting out of their opponent by passing the ball around and then Graham Hansen sets off with real pace and power, then checks back in the box and switches feet from right to left to smash home. Great goal but is this tie already lost?
7 min: Wolfsburg on the attack with Jonsdottir, Huth and Popp involved. Barca get it clear after a short time but at least Wolfburg's defence isn't being tested while they are on the attack.
6 min: Close! Again! Crnogorcevic given so much space in the Wolfsburg box and shoots wide. It counts as a bad miss but Barcelona will surely get another chance soon enough.
4 min: Wolfsburg have been caught cold but Barcelona have also been highly direct, an an approach you would not associate with the club. Rolfo this time cuts in from the flank and thwacks a shot wide. The chances stacking up already.
Goal! Barcelona 1-0 Wolfsburg (Bonmatí, 3)
Long ball over the top and Bonmatí holds off Janssen and strokes calmly into the goal. Only three minutes of play but it had already been coming.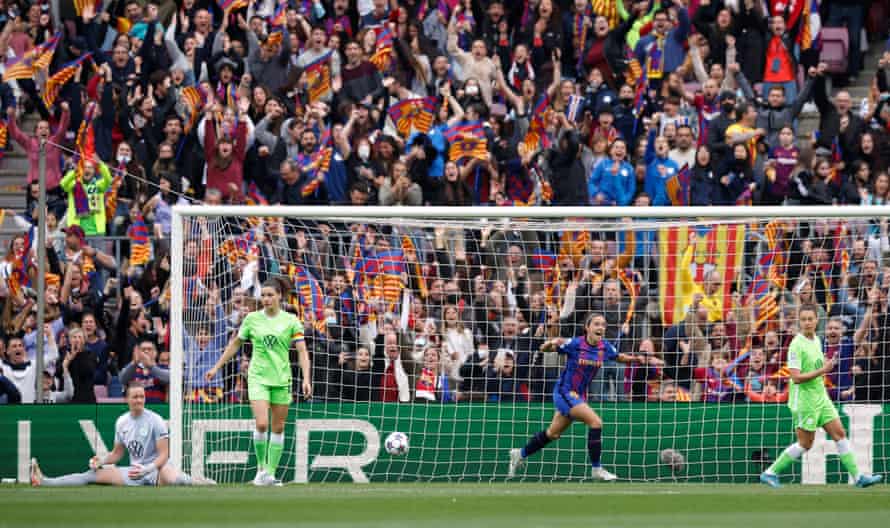 1 min: Barcelona get us underway as they chase a first ever win over Wolfsburg. They start with one hell of a jolt as Putellas cuts in from the right and shoots on goal. The ball is claimed at the second time of asking but that was a warning sign for the German team.
The handshakes are done as the noise rings out from the stands. Wolfsburg's lime green kits make them unmissable, just about.
Looks to be a breeze in the Barcelona air as the sound of Guns N' Roses rings out. Sweet Child O' Mine, as opposed to Deep Purple's Child In Time, where Ian Gillan's vocal histrionics possibly outdo Waxl Rose…anyway, on the with show and the Barca anthem.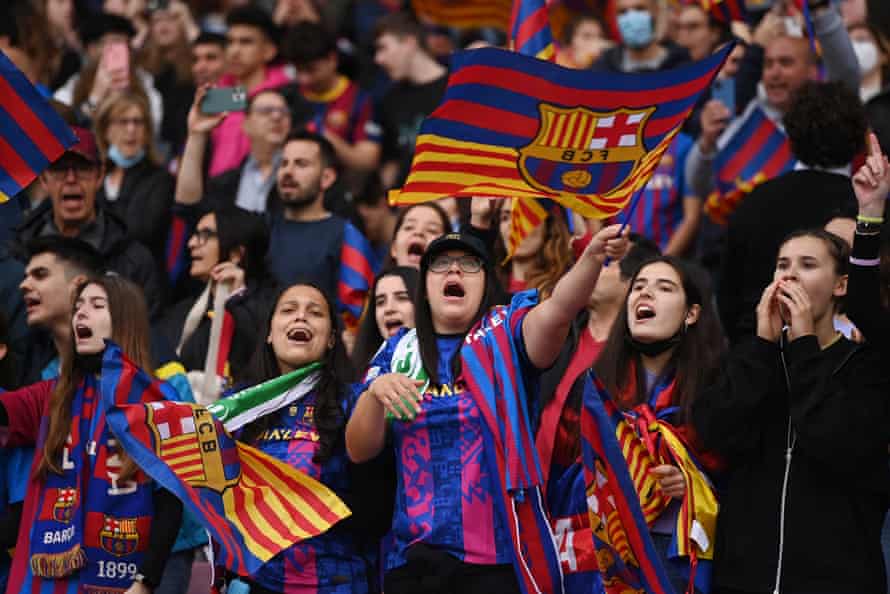 The teams have been through their warmups and the Camp Nou is filling right up. What we do know is the victors of this tie will be facing a French team in the final. PSG take on Lyon in the other semi on Sunday.
Suzy Wrack on the excellence of the Arsenal defender, Lotte Wubben-Moy.
Our latest Moving The Goalposts. Make sure to sign up now to our free weekly women's football newsletter.
PSG beat Däbritz's former team, Bayern Munich, in the quarter-finals and are now looking to reach the club's first Champions League final since 2017. Däbritz believes there is a real love for football in Paris with the women's team playing some of their games at Parc des Princes. "It is already the third game at Parc des Princes and it is always around 20,000 fans there. It's just amazing. I think we have the best supporters in all of Europe. We're proud of having them supporting us."
Three changes to the German team from the weekend's cup defeat of Bayern, Wedemeyer, Popp and Women's Champions League leading scorer Tabea Wassmuth slot come in.
For all their current dominance, Barcelona have never beaten Wolfsburg in the women's game. They make four changes from the weekend's 2-0 victory over Valencia with María León, Graham Hansen, Putellas and Guijarro (pictured) all coming in. Graham Hansen had a fine game against Real Madrid.
It's hotting up in Catalunya, and a repeat of the noise and colour of the Real Madrid game looks likely.
Barcelona: Paños, Torrejón, Paredes, León, Rolfö, Bonmatí, Guijarro Gutiérrez, Putellas, Hansen, Hermoso, Crnogorcevic. Subs: Serrano, Pina, Caldentey Oliver, Ouahabi, Pereira, Oshoala, Engen, Font, Pérez, Muñoz
Wolfsburg: Schulz, Wedemeyer, Hendrich, Janssen, Rauch, Lattwein, Roord, Jónsdóttir, Huth, Popp, Waßmuth. Subs: Wilms, Bremer, Blässe, Kassen, Starke, Pajor, Smits, Blomqvist, van de Sanden, Wagner, Knaak
Barcelona are the best and biggest in the women's game. That much was proved in that quarter-final Clasico defeat of Real Madrid in front of a world-record crowd. And the Camp Nou is sold out once more for the visit of the crack German side, who won this tournament in 2013 and 2014. Like Barca, Wolfsburg are chasing a treble, and wish to extend their unbeaten run to 18 matches in all competitions and a fifth consecutive victory. Barcelona have meanwhile won every match this season, and in La Liga have scored 144 goals in 26 matches. They represent an awesome challenge for Wolfsburg.
Kick-off is at 5.45pm BST. Join me.