Key events
Sergei Nirenburg emails regarding Yoav Sade: "The spelling is playing games with us. SaDE(H) means field in Hebrew. Quite a few of very famous people in the history of Israel had this name."
Is this nominative determinism?
Karl Robinson: "I think when the draw was made I said I wanted a team that would capture the community.
"We do like to dominate possession of the ball but I am not sure we will be able to do that tonight. We do not compromise, we want to be the best version of ourselves.
"When you play in these games you want to play against the best players."
How many will be watching from a car roof?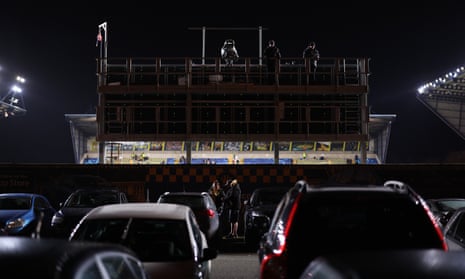 The Guardian's Karen Carney is in the studio. I am not sure her next column will be about Oxford.
"Can you comment on whether or not Oxford substitute Sade is a smooth operator?" asks Peter Oh.
With a first name like Yoav, I reckon they are as smooth as they come.
"Burgers and Fries? I thought you folks insisted on calling them 'Chips'. What gives?" asks Joe Pearson. (Peter Oh basically sent the same email but seconds later).
Huge American following in Oxford.
Get in the mood for the game with Nick Ames' chat with Steve Perryman. I would have interviewed Ray Houghton personally, but each to their own.
That is a pretty strong Arsenal team. No shortage of regular starters in team and plenty more ammunition on the bench.
Oxford United: McGinty, Anderson, Moore, Long, Brown, McGuane, Bate, Brannagan, Bodin, Taylor, Murphy
Subs: Eastwood, Fleming, Findlay, Johnson, Goodrham, Negru, Wildschut, Sade, O'Donkor
Arsenal: Turner, Tomiyasu, Holding, Gabriel, Tierney, Elneny, Lokonga, Vieira, Saka, Martinelli, Nketiah
Subs: Hein, White, Zinchenko, Party, Odegaard, Smith Rowe, Marquinhos, Butler-Oyedeji
There have been a few shocks already in the third round. League Two Stevenage have dumped out Aston Villa, while League One's Sheffield Wednesday have sent Newcastle packing, not to mention Wrexham downing Coventry.
Tonight we have another chance of an upset. Oxford are hosting the best team in the country, Arsenal. A win for Karl Robinson's side would be the greatest turn up for the books in this year's competition thus far, mainly thanks to how well Mikel Arteta's side are doing.
Oxford are set for a season of mid-table mediocrity. They currently sit 15th in the third tier but they will be backed by the majority of the three-sided Kassam Stadium, with a few stragglers expected to be on top of vans in the car park to get a glimpse of the Premier League leaders in town.
The good news for Oxford is that Arsenal will make some changes to give a few fringe players a chance to show what they can do in a pressurised environment. Some might not fancy a cold night in Oxford and could be caught out by their lesser opponents. Some, however, will be desperate to prove they are good enough to play regularly in the Premier League and that should worry Oxford.
Let's hope for a cracker.
Kick-off: 8pm GMT.