This was an extraordinary, historic night and it got a game to go with it. 91,553 people came to the Camp Nou, the biggest ever attendance for a women's football match and if this is anything to go by, they will be back. In the semi-final, for a start. They haven't had this much fun for a long time, maybe ever, ending the evening exhausted but elated. Goals from Mapi León, Aitana Bonmati, Claudia Pina, Alexia Putellas, and Caroline Graham Hansen saw Barcelona come from 2-1 down on the night to defeat Real Madrid 5-2 to win the clásico and reach the Champions League semi-finals.
They had been tested but ultimately this Barcelona team is just too good, the finest side in Europe, and by a very long way, delivering a performance worthy of an occasion that will never be forgotten, played out on a stage and in front of an audience never seen before.
"We're going to try to repeat that what we did in the first game: be strong, aggressive," the Real Madrid coach Alberto Toril said before kick-off. The task before them, though, remained huge and they were not really given the chance. Barcelona's first shot came inside a minute, and they led within 10. Again, it was León, the central defender. Her long looping ball from the right curled inwards and bent goalwards, further than Misa Rodríguez had anticipated. Madrid's goalkeeper tried to adjust but it was too high to reach, a roar greeting it as went over her and into the net.
If there had been a hint of good fortune in that – the ball in looked more like a cross than a shot – it was in keeping with opening minutes, which soon became a giant rondo from the home team. Barcelona controlled possession, Aitana providing he neatest touches in the middle, Hansen progressing on the right, and Rolfo flying up the left, the wing all to herself, an extraordinary display of athleticism and precision delivery. From one cross, Hansen might have made it two, her rising shot just clearing the bar.
It took Madrid 13 minutes to have a touch inside the Barcelona half, and that was a tackle from Olga Carmona. But football doesn't always make sense and if that was the bad news for the visitors, the good news was that it was only another minute before they were level. Neat footwork from Maite Oroz found Carmona whose cross hit Irene Paredes, unable to withdraw her arm in time. From the spot, Carmona found the corner of the net.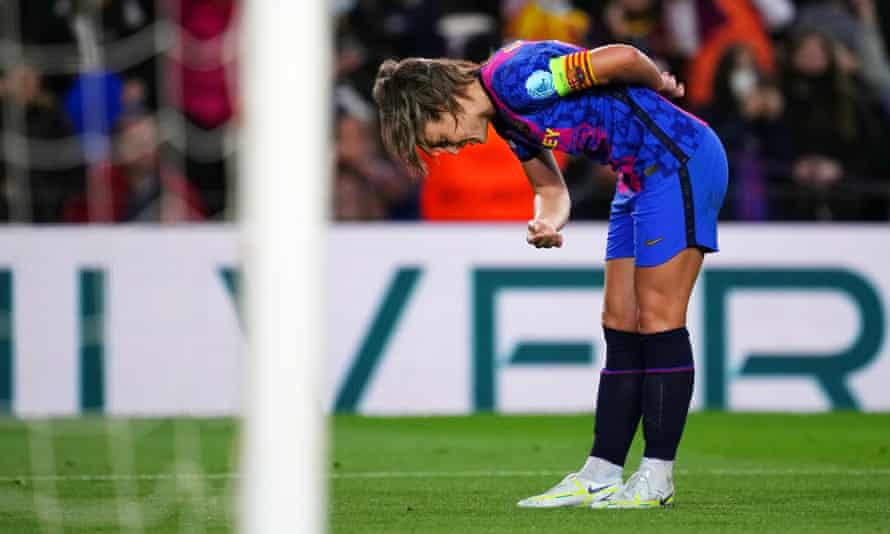 It was the first time Madrid had been in the area and it would be the last time too, the rondo re-established. The one time they escaped, space opening before them, Paredes flew across to make a tackle that took her opponent off her feet and put her supporters on theirs. Clear chances were few, but Barcelona's control was total. Paredes, Hansen and Rolfo all had efforts, but still it was level. In terms of the score, anyway.
That didn't last long, but it wasn't Barcelona who led; it was Madrid. Briefly, that is. Toril's team had begun the half a little more on the front foot, insofar as two minutes was enough to make out any real pattern, but still this was unexpected. For Sandra Paños especially. Barca's goalkeeper wasn't that far off her line but from just six yards inside the half, Claudia Zornoza looked up, saw a gap and hit an absolutely sensational shot over her into the net.
Game on, and what a game. Barcelona were back in the lead inside five minutes. Aitana soon levelled, receiving on the edge of the area, dropping a shoulder and neatly slotting a left-footed finish into the corner. The roar then was loud but what came next eclipsed even that. Clàudia Pina somehow controlled a ball that didn't appear intended for her, put the brakes on and clipped over Misa and into the far corner, this place erupting into the kind of sound no one had heard all year, rhythm hammered out, palms stinging, throats raw.
This was the party they had been promised and it wasn't over yet. The Queen hadn't arrived yet but she wasn't far behind. Alexis Putellas, the world's best player, the club captain and Ballon d'Or winner whose face looks out from the facade of this grand stadium, scored the fourth. The shot squeezed from Misa's hands and just beyond the despairing dive of Ivana Andrés.
Madrid looked broken, but at least it was by a team that is truly brilliant, Rolfo almost tearing into them again to set up Hansen for the fifth. A Mexican wave went round, just one thing left to see. And with three minutes to go there it was, the figure flashed up on the scoreboard, 91,533 fans greeting it with the biggest roar of a raucous night, their place in history secure.