The Czech Republic have a habit of holding highly ranked sides to 0-0 draws. Last year they did it to the United States and England, the world's No 1 and 4 respectively. What do Australia have that they – arguably two of the World Cup favourites – do not? Nothing at all before half-time, and after that quite a bit of Hayley Raso, a little bit of Sam Kerr and a record-breaking Clare Polkinghorne, with the help of some well-used substitutes.
What a 4-0 win means for the Matildas in the next six months is completely open to interpretation, so difficult is it to glean meaningful takeaways from friendly tournaments such as the Cup of Nations. This one, being in a World Cup year, has been dressed up as a practice run for the real thing in July. Tony Gustavsson will not stop saying "rehearsal" and "tournament mode" – he may well have been muttering these words into his ever-present headset on the sideline.
The Czech Republic, Spain and Jamaica were all strategically picked for these home matches because their playing styles are similar to those of Australia's World Cup group-stage opponents the Republic of Ireland, Canada and Nigeria. The defensive-minded, structurally organised Czechs in this scenario are supposed to be Canada. The same Canada to whom Australia lost two friendlies last year.
On the evidence of Thursday night, it is unclear how they will fare against them when it counts. Glass-half-full observers will reference figurative cobwebs being blown out after a few months apart followed by a confidence-boosting second half. The less optimistic will attempt to place this performance into a wider context, in which the Matildas are ranked 12th in the world and face a tricky knockout-stage draw, and point out that some of the Czech Republic's strongest players did not travel. Others will remember the Socceroos did what nobody believed they could.
The truth is that nobody knows, because recent results have been so capricious. Just when you think Gustavsson will rue the day he threw on a second-string side and copped seven goals against Spain, he oversees convincing wins over Sweden and Denmark. The same occurred at Central Coast Stadium; one begins to analyse an opening 45 minutes during which Australia spent the first half with a hell of a lot of ball but nothing to show for it, and then they go and score four after the break.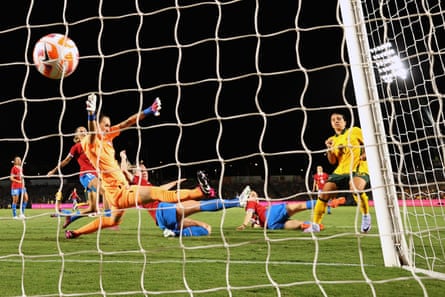 What can be written, and then underlined and highlighted, is that Raso is a gun. The winger, quietly spoken off the field, has a brilliant "what do you think you're looking at?" quality while on it. She threw herself into everything, as part of an interchanging role with Cortnee Vine, in the manner of a player with a point to prove to Manchester City manager Gareth Taylor, who has played her only sparingly off the bench these past few months.
It was apparent when, 20 minutes in, she made a dart for the box and went down under Gabriela Šlajsová's stuck-out foot, ensuring a yellow card for the latter. Also three minutes into the second half when, with Kerr's final pass behind her, she managed to contort her body into a shooting position and score the opener – partly thanks to a fortuitous deflection. And again seven minutes later when her header, from one of Steph Catley's characteristically reliable set pieces, confirmed her brace.
The missing piece of that goal's puzzle is the player who nodded the ball to Raso from the far post. Clare Hunt was a bolter in this squad, a reward for consistent form for Western Sydney Wanderers, and made herself known from the off. The same can be said for Alex Chidiac, who announced her arrival soon after with two involvements in the build-up to Kerr's goal. Before the match Gustavsson referenced this, saying: "It's not just about the starting XI, it's about the finishing XI as well. What you will see in this tournament is similar to what we've seen in the last couple of camps, that hopefully we score a lot of goals when game changes come in."
This was a night to celebrate for Polkinghorne, too, even though she had been on the field from the start with the armband. The 34-year-old appears very much a defender en route to her fifth World Cup, and scored one of her own just as she became Australia's most-capped international with 152 appearances, surpassing Cheryl Salisbury.
The Czech Republic did not qualify for the World Cup but they scared Australia's defence in the first half despite having less than 30% possession. Mackenzie Arnold was called into action to stop a long-range strike from Anna Dlasková, and again after some serious route-one football when the Wanderers' Jitka Chlastáková ran onto Miroslava Mrázová's headed flick-on which came straight from a goal kick. In all their defence was stubborn, and in the end the Matildas broke it down. Maybe that is all we need to know.