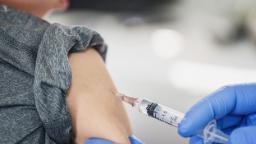 CNN
 — 

Vaccination rates for measles and other diseases dropped again last school year, according to a study published Thursday by the US Centers for Disease Control and Prevention. Coverage against measles dropped to the lowest it's been in more than a decade.
School requirements do not include the Covid-19 vaccine, which is explicitly banned from being included in school mandates in at least 20 states. However, that vaccine will become part of the CDC's recommended immunization schedule for both children and adults this year.
About 93% of kindergarteners enrolled in the 2021-22 school year got the required vaccines, including measles, mumps and rubella (MMR); diphtheria, tetanus and acellular pertussis (DTaP); and polio. Coverage fell for the second year in a row amid the Covid-19 pandemic, from about 94% the previous year and below the federal target of 95%.
"As schools return to in-person learning, high vaccination coverage is critical to continue protecting children and communities from vaccine-preventable diseases," the CDC researchers wrote in the study. Clusters of unvaccinated children can lead to outbreaks, they said, and a vaccination rate of about 93.5% leaves about 250,000 kindergartners who may not be protected against measles.
High vaccination rates among children help protect the broader community too, says Dr. Sean O'Leary, chair of the American Academy of Pediatrics' committee on infectious diseases.
"It's important to emphasize again that this affects everyone in these communities. High immunization rates help everyone stay healthier," he said Thursday.
Ohio is one of nine states where fewer than 90% of kindergartners were vaccinated against measles last school year. An outbreak in the Columbus area that began in November has resulted in 83 cases among children, the vast majority of whom were unvaccinated.
"Outbreaks like this are entirely preventable. These outbreaks harm children and cause significant disruption in their opportunities to learn, grow and thrive," O'Leary said, also citing the recent case of polio reported in New York.
"Vaccination throughout childhood is essential because it equips children's immune systems to recognize and resist disease so they develop and live healthy lives into adulthood. A healthy childhood contributes to a healthy adulthood."
Although in-person learning has returned to schools across the country, Covid-19 continues to disrupt vaccination assessment and coverage, according to the report. About half of states cited reduced access to vaccination appointments, extended timelines for enforcement and delays in data collection.
A recent survey from the Kaiser Family Foundation separately found that more than a third of parents oppose vaccine requirements in schools, even if the option for individual choice could create health risks.
Experts say they're paying close attention to vaccine hesitancy that increased during the pandemic, but it's likely that the decline in vaccination rates among kindergarteners' is more complicated than just one factor.
"I think part of it is that well child visits maybe were missed and people are still trying to catch up on those well child visits. Also, when we look at data from the schools, we know that the schools had a lot of things to focus on, and in some cases, maybe they were not able to gather all that documentation on the vaccinations," Dr. Georgina Peacock, director of the CDC's Immunization Services Sivision, said Thursday.
"That may have not been the emphasis while they were focused on testing and doing all those other things related to the pandemic to make sure that children were getting the education that they needed."
Less than 3% of kindergarteners had an official exemption from the required vaccinations, most of which were for non-medical reasons, according to the CDC. This increased slightly from the year before but remained low.
Another 4% of kindergartners were not fully vaccinated or formally exempt but were allowed to attend school during a grace period for provisional enrollment. This group of students particularly highlights the importance of "rigorously enforced school vaccination requirements, school-based vaccination clinics, reminder and recall systems, and follow-up with undervaccinated students by school nurses," according to the CDC researchers; most states could reach 95% coverage against measles if all of these kindergarteners received their required shots.
A recent CNN analysis of data from the 2020-21 school year found that students in states with stricter school vaccine requirements are more likely to have their shots.
Aside from school requirements, the CDC recommends routine vaccination against 14 diseases for children before they turn 2. Another study published Thursday by the CDC found that vaccination rates remained "high and stable for most vaccines" for children born in 2018 and 2019, who turned 2 during the Covid-19 pandemic. Less than 1% of these children were completely unvaccinated by the time they turned 2, which is better than the federal goal outlined in the Healthy People 2030 objectives.
The Covid-19 pandemic did not appear to affect vaccination rates overall. For most vaccines, coverage rates among children born in 2018 and 2019 were slightly higher than they were for children born two years earlier.
However, key disparities were noted. Vaccination rates for children living below the federal poverty level and in rural areas did decline, with coverage with the combined seven-vaccine series dropping 4 to 5 percentage points.
According to the CDC researchers, key methods to improve equity in vaccination coverage include addressing vaccine hesitancy among parents, strong and persistent recommendations from health care providers and reducing logistical and financial barriers to access vaccines.