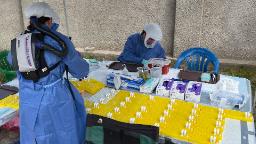 CNN
 — 

No new Ebola infections have been detected in Uganda for 42 days, and so on Wednesday, the World Health Organization and the Ugandan Ministry of Health officially declared that the country's most recent outbreak of the deadly virus is at an end.
The United States will also end screening and monitoring requirements for travelers from Uganda on Wednesday.
The work of the response is far from over, however.
Since the outbreak was officially recognized on September 20, 164 people have had confirmed or probable Ebola infections; there 55 deaths confirmed by lab testing, with another 22 deaths suspected of being caused by the virus.
The last victim was baby who was stillborn at 28 weeks gestation that tested positive for the virus. The baby's mother had been infected but had recovered and was reportedly in good health. Scientists are investigating those two cases to understand whether the virus could have crossed the placenta to infect the baby, which is called vertical transmission. Vertical transmission isn't something that's been known to be a risk with Ebola before.
The effects of Ebola infections can last years, including fatigue, headaches, muscle and joint pain, and eye problems. Those 87 survivors will continue to need ongoing care.
They will also be followed because even though they have recovered, they may be carrying active virus in certain parts of their bodies that, under the right circumstances, could spark a new outbreak.
Still, this moment is a huge relief.
"Uganda put a swift end to the Ebola outbreak by ramping up key control measures such as surveillance, contact tracing and infection, prevention and control. While we expanded our efforts to put a strong response in place across the nine affected districts, the magic bullet has been our communities who understood the importance of doing what was needed to end the outbreak, and took action," Dr. Jane Ruth Aceng Acero, Uganda's Minister of Health, said in a statement.
Just two months ago, "it looked as if Ebola would cast a dark shadow over the country well into 2023, as the outbreak reached major cities such as Kampala and Jinja, but this win starts off the year on a note of great hope for Africa," Dr. Matshidiso Moeti, WHO regional director for Africa, said in a statement.
"I commend the Government of Uganda, local health workers, and global public health partners who worked to end the country's Ebola outbreak," said CDC Director Dr. Rochelle Walensky, in a statement. "I also want to thank the CDC staff on the front lines in Uganda and around the world who worked countless hours to accelerate an end to the outbreak."
The relief is real, too, for health officials who have been working closely with the Ugandan government to get the outbreak under control.
"It feels like you won a sports game, right?" said Amy Boore, program director for the CDC's Division of Global Health Protection in Uganda.
"I feel like one of those football guys that goes and throws their helmet on the ground," she said. "We pulled it together in the end."
This Ebola outbreak wasn't the largest or the longest Uganda or Africa has seen, but experts who were involved in the response say it was challenging on a number of fronts. For one thing, it happened in the midst of another outbreak.
The Covid-19 pandemic – and the flood of misinformation that followed – eroded public trust in health officials in Uganda in much the same way it did in other countries, Boore said, making it harder to persuade Ebola patients to come to hospitals for care.
Another challenge was the lesser-known type of Ebola virus causing the outbreak: the Sudan strain. Although there are therapeutics and a vaccine against another type of Ebola virus, Ebola Zaire, there are no such treatments or protections against Ebola Sudan.
This was the first outbreak of Sudan ebolavirus in Uganda in a decade.
At the beginning of the outbreak, a team of scientists from Oxford University, South Africa and Uganda set out to gather all known scientific studies on the Sudan strain. They found only 20, highlighting a dearth of research and an "urgent need" for more investment to find an effective vaccine and therapeutics, as well the best approaches to support patients through their infections.
In the end, disease detectives said, they had to go back to basics to break transmission chains of new infections.
"The Ugandans, they've been dealing with Ebola responses for going on decades now. And they've always managed to control them and prevent them from spilling outside their borders. But they managed to do that through just very basic control measures," said Joel Montgomery, chief of the CDC's Viral Special Pathogens Branch.
"That's eventually how this outbreak ended. We had really good contact tracing, really good Ebola treatment units that had been set up and then really, really good laboratory diagnostics," he said.
But first, says Boore, they had to persuade people to seek treatment in the first place. Ugandans have a history of following health advice, she says, but when the Covid-19 pandemic hit, the long wait for vaccines shattered public trust.
Officials flew into the country to tout the benefits of Covid vaccination, but it was months until there were actually any shots to give. In the meantime, as Ugandans waited for vaccines that were being given in other countries, the Delta variant caused a devastating wave of illness and death, she says.
"It was like a slap in the face," Boore said.
"Tons of suffering happened during Covid. But even though a lot of people died here from Covid, it wasn't as bad as people thought it would be. It wasn't as bad in Africa as it was in other places. You know, it's mostly elderly, and some places were really hard hit and others not so much. There's also this weird collective amnesia that happened.
"Then Ebola comes back and they're like, 'now we've seen the big bad virus, and it wasn't that bad. We're not scared anymore,' " she said. "It was really hard."
Boore says epidemiologists believe that this Ebola outbreak probably started in neighboring villages at the end of July. Ordinarily, she says, there's a strong early-alert system through village health teams who notify health officials about unusual illnesses. But none of that worked this time because people stopped their usual health-seeking behaviors.
It wasn't until mid-September, when a 24-year-old man finally went to a health clinic for care, that health officials detected Ebola in a lab test and began to respond.
"There's so much public trust damage that was done globally during Covid that it was a very different outbreak," Boore said. "So this one, to be honest, was scary."
Public health officials, including Boore and her team, were also exhausted. They had already spent years – without weekends, without holidays – responding to the pandemic.
"It was really demoralizing. Everybody was tired. To see how the public trust was not there, we were very worried that we wouldn't get it back," she said.
Their efforts clearly paid off, says Daniel Griffin, an infectious disease expert at Columbia University who recently returned from a visit to a clinic he helps support in Uganda.
Griffin says public health officials have learned important lessons from previous Ebola outbreaks, including a large outbreak in West Africa that sickened nearly 29,000 people between 2014 and 2016, when mistrust of public health workers crippled their ability to respond.
"I thought the approach this time was so much better," he said. This time, the focus was on transparency.
"And the transparency, even taken to a literal level, where when someone would have Ebola, they actually would not just put them in these closed concrete facilities. They made sure that the mother could see the child that was being treated, that community leaders could come to these safe zone areas and see what was going on," Griffin said, "So there was a really great effort to be transparent about what was happening, what the medical professionals were doing."
The outbreak ended so quickly that it may hamper plans to test recently developed vaccines against Sudan Ebola virus.
WHO had rushed to start a Phase 3 vaccine trial in Uganda, but because there are no new cases, officials are talking about how to continue to study the vaccines "in a way that we conduct research that advances our understanding of these vaccines," said Dr. Ana Maria Henao-Restrepo, co-lead of the WHO's research and development blueprint for epidemics, in a recent news briefing.
Survivors are also being monitored for the persistence of the virus in their bodies.
After outbreaks of Ebola Zaire, studies showed that infectious Ebola virus can hide out in areas where foreign invaders don't seem to trigger immune responses. These so-called immune-privileged sites include the brain, the eyes, and the testes.
A genetic analysis of an Ebola outbreak of a 2021 outbreak in Guinea determined that the likely cause was a person who had been infected during the West African outbreak between 2014 and 2016, five years earlier. That suggests that Ebola Zaire infection may smolder for years in some survivors. It's not clear whether Ebola Sudan may do the same.
"These individuals that have recovered could actually have persistent viral infection. So it's important to continue to follow these individuals and provide them psychosocial support, but also there is an important aspect of research here too, and understanding the science to see if these individuals are shedding virus," Montgomery said.
Boore says officials will be watching for and ready to tamp down on cases of "survivor pop-up." The Ugandan government has also set a goal of finally identifying the animal reservoir for Ebola.
Scientists believe it's likely to be a bat, but it's never been proved.
Boore says that if they can identify the species, they can map its range and be better prepared for where human cases might emerge.
"I hope that Uganda will will be able to do some of that and answer a lot of these questions for us," she said.