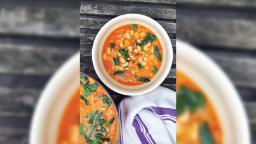 Editor's Note: This recipe is featured in the CNN story "Feeling cooking burnout? Let yourself off the hook with these 'good enough' strategies." Leanne Brown is the author of "Good Enough: A Cookbook."


CNN
 — 

It has taken maturity to embrace the glorious simplicity of this kind of dinner. My inner critic is prone to telling me that it's not creative enough or new enough or whatever overachieving mark you might expect from a perfectionist fantasy.
But this stew is made of pantry staples, comes together in 20 minutes, and is delicious, nourishing and balanced. It's a dream of a meal – fun to make, fun to eat and proof that simple is wonderful.
Like all stews, it gets better with a few days in the fridge. It also works well as a side dish for a larger barbecue meal and as a potluck dish.
Sauté vegetables, then chorizo and tomato paste. Add beans and water and cook until thickened and flavorful. Add greens and eat.
Makes 4 servings
Ingredients
2 tablespoons unsalted butter
1 bell pepper, stemmed, seeded and chopped
1 teaspoon fine sea salt, plus extra as needed
5 ounces fresh chorizo or other sausage, casing removed
1 tablespoon tomato paste
2 cans (15 ½ ounces each) white beans or chickpeas
Handfuls of hearty greens, such as spinach, kale, chard or collards
Cooked farro, pasta, or rice or hearty bread, for serving
Instructions
1. Melt the butter in a medium pot over medium-high heat. Add the shallots, bell pepper and ½ teaspoon salt to the pot and cook, stirring occasionally, until the shallots are translucent, 3 to 5 minutes.
2. Add the chorizo and tomato paste, using a wooden spoon to break up the chorizo. Cook until the chorizo is cooked through and beginning to brown, another 3 minutes. Then add the beans, 1 ½ cups water and the remaining ½ teaspoon salt. Put a lid on the pot and let it cook for about 10 minutes.
3. Taste the stew and add more salt if you think it needs it. Squish a few of the beans with the back of the spoon to thicken the broth. Turn off the heat, add the greens, and stir them into the stew until wilted.
4. Dollop the stew into bowls over cooked farro, pasta or rice, or serve with bread for dunking.
Use any sausage, ground meat or meat alternative in place of the chorizo in Step 2. Try sweet Italian sausage, finished with Parmesan or Romano, for a different experience, or lamb sausage with harissa, coriander and fennel seed for a North African take on the dish.
Add chile powder and/or chopped chiles along with the chorizo in Step 2.