Key events:
5km to go: Bardet has built a nice gap on Pogacar & Co.
Quintana looks like he's struggling a little more. He asks for a drink but nothing is forthcoming from his team car.
5.4km to go: Barguil almost comes to a standstill. He shakes his head. Quintana ploughs on a bit further down the road. But the yellow jersey group – powered by a massive ride by Majka – is getting closer.
Romain Bardet attacks from the yellow jersey group!
5.6km to go: The pain on Barguil's face is plain to see. The fans urge him on. Quintana is just 1'05" behind and the yellow jersey group is 1'46" back. I fancy this is Pogacar's stage …
6km to go: Latour is dropped by the yellow jersey group. Pogacar is preparing a big attack, isn't he? Quintana is 1'24" behind Barguil. Will it be woe for Wawa?
6.5km to go: Quintana's rhythm is looking a lot better than his teammate's. Good news for Arkea-Samsic is that they should get a stage win … but hang on a second. Majka is pictured leading Pogacar up the ascent. The Polish rider is looking strong. You sense that Barguil's days are numbered.
7km to go: Is Barguil going to be caught? His lead is now down to 1'58" and falling. It's going to be a long old 7km. And Quintana is looking fiendishly strong.
8km to go: Quintana, looking supremely focused, now overtakes Latour. Latour tries to respond but Quintana is almost impossible to stay with when he's in this mood.
It's been a really active, exciting day, absolutely no question about that, but Pogacar's iron grip on the race lead looks unshakeable.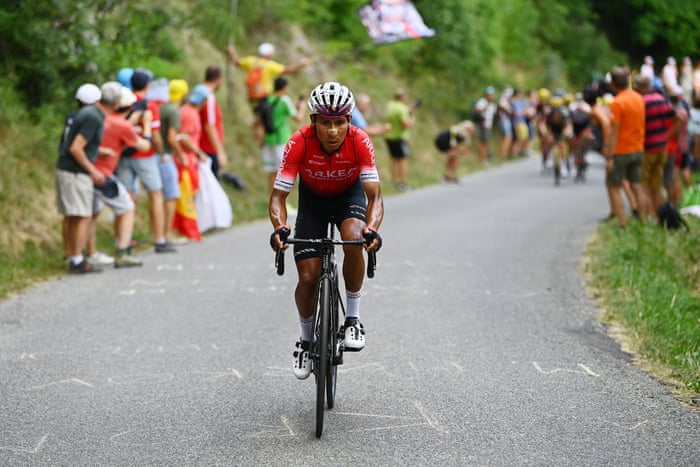 8.5km to go: Barguil now has a gap of 2'32". He is deep into the pain cave and riding really strongly … but imagine the elation he will feel if he makes it to the finish! French cycling fans will be thrilled too. Quintana is on the move, though, and he pumps past Geschke.
9km to go: The peloton, the sixth group on the road with 138 riders, is 18'54" behind the front of the race.
9.5km to go: Roglic is gone again! He does a turn at the front on the first steep slopes but then, almost immediately, falls away again. Now Quintana has a crack while the Devil, Didi Senft, is pictured running alongside the riders.
10km to go: Roglic is back! After Van Aert dropped back to help, the Slovenian is on the front of the yellow jersey group as they begin to power up the Col du Granon. Van Aert, his work done for the day (and it was plenty of work) sits up, and will take it very, very steady up the final climb.
10.2km to go: Barguil looks to be labouring a little bit on the lower slopes. His lead on the chasers has reduced a touch but he still has 2'10". Teuns, Geschke and Latour are the riders behind … and as I type that Teuns is dropped.
11km to go: Hilarious. Pogacar, having been under attack all afternoon, looks to the camera and cracks a big smile and pumps his fist. Now all he needs to do to complete a fine afternoon's work is accelerate past "Wawa" on the final climb, win the stage, and grab a nice little bit of time from his GC rivals …
12km to go: Barguil has his game face on. He takes a bottle from a team member as the road begins to kick up for the final ascent of the day. There are big crowds lining the roads, and of course they are yelling and urging the home favourite, Barguil, on to glory.
15km to go: Barguil has 2'18" on Geschke. As Robbie McEwen says, if Barguil has fuelled properly, not just today but in the preceding days, he's looking very well set for the stage win. The yellow jersey group is 5'10" behind Barguil but the powerhouse that is Wout van Aert is driving the group onwards, trying to win back some time for Roglic, who faded away after repeatedly attacking Pogacar earlier.
17km to go: Pogacar is now in a group of 10, still descending off the Galibier: he is with Vingegaard, G. Thomas, Yates, Bardet, Quintana, Lutsenko, Kruijswijk, Kuss and Ion Izaguirre.
18km to go: According to the official graphics, indeed, there are about 20 riders in the whole race at the moment. Something is amiss. Anyway, we know the gaps between the front groups. Can Barguil do it? He has increased his lead on Geschke, it's over two minutes now, but how much does the Frenchman have left in his legs for the Col du Granon?
22km to go: Barguil is 6'00" ahead of the peloton, if there is such a thing at this stage. I can't see the grupetto on the official Tour site, they must be there somewhere, but aren't showing up on the live map graphic so I don't know how far behind they are.
23km to go: The situation is fluid to say the least. But Barguil remains clear out front at the moment. You can see the different groups on the road here on letour.fr.
30km to go: Barguil of Arkea-Samsic is pictured soloing down the descent to the final climb. This would be a stunning stage win if he can pull it off.
Geschke is giving chase, 1'35" behind the Frenchman. Behind that, Teuns and Latour are together.
Pogacar is 4'55" behind the front of the race at the moment. Roglic has dropped back to nearly seven minutes down, and Van Aert has stopped at the side of the road, apparently to try and help Roglic get back.
34km to go: There are some spectacular shots of the high-speed descent off the Galibier.
34km to go: I don't think it is redundant if Pogacar ends up further ahead at the end of the day …
37km to go: The riders are now storming down the very long descent to the foot of the Col du Granon.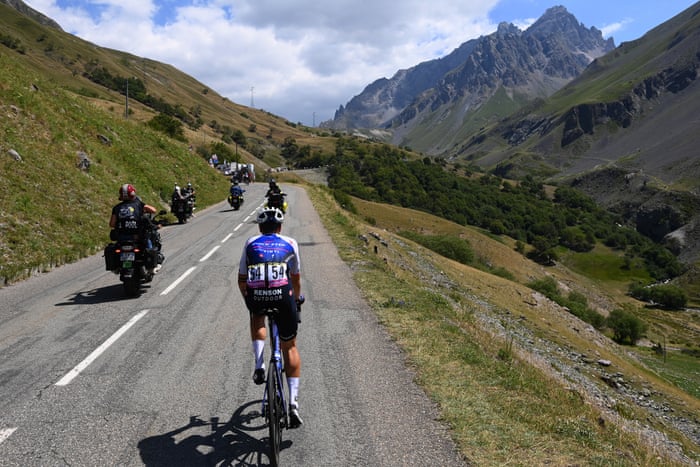 39km to go: "Can't blame them for over-egging this part of the stage – because we all know it will end with Pogacar even further on top," emails Richard Powell.
Good point.
40km to go: Sure, the likes of Kamna (second in GC this morning) have been dropped, but the headline is still Pogacar and that hasn't changed. It would be amazing if Jumbo-Visma cracked him … but it doesn't look like they are going to.
43km to go: The TV commentators are over-egging this a bit in my opinion. It's quite exciting but it's not as epic, historic or fascinating as some would have you believe … and regardless, Pogacar is fully in control here. They may have inconvenienced him a bit, and isolated him, but he isn't going anywhere (apart from the summit finish at Col du Granon.)
45km to go: Barguil crests the climb of the Col du Galibier. He takes the souvenir Henri Desgrange and 20 points in the KOM competition … not to mention 5,000euros, too.
45.5km to go: Now Cherel is swept up by Pogacar and Vingegaard. He appears to exchange a few words with the race leader as he is passed.
46km to go: Barguil, looking back to his old self, has put a minute into Geschke and co.
46km to go: Pogacar looks supremely calm, and supremely strong. There is a camera shot which demonstrates how far Pog & co. have to go on this penultimate climb … it's a looooong way.
47km to go: Pogacar and Vingegaard ease past Schachmann, who was in the early breakaway group.
"I haven't seen a Tour de France in pieces like this, perhaps ever," says David Millar on commentary.
48km to go: Roglic is dropped. Kuss, Kruiswijk and Vingegaard are still there.
Pogacar still doesn't look troubled, particularly, and in fact it seems that Roglic doens't have much left in the tank.
Thomas is dropped! Pogacar and Vingegaard are now alone together.
49km to go: Roglic goes again! Pogacar slams the door. Vingegaard follows as Pogacar comes past Roglic having shut down the attack … It settles down, but Jumbo-Visma continue to push on, Pogacar continues to look calm and untroubled. He must be worried at this situation though, he has no teammates left, while Jumbo-Visma have four in this group and one up front (Van Aert).
51km to go: Latour's antics on the climbs today have seen him move to within five points of Geschke, the current KOM leader. Barguil powers on at the front. Brandon McNulty takes it up on the front of the bunch for UAE Team Emirates. The gap between the bunch and the tete de la course is 5'56" now.
51km to go: The front group has under 7km to the summit of the Galibier, the highest point on this year's Tour. Barguil attacks his fellow escapees, and gets a pretty large gap.
53km to go: "Pretty busy at the normally quiet Col du Granon," emails Philip Donnison, attaching a photo of the summit finish area which will be coming up in an hour and a bit …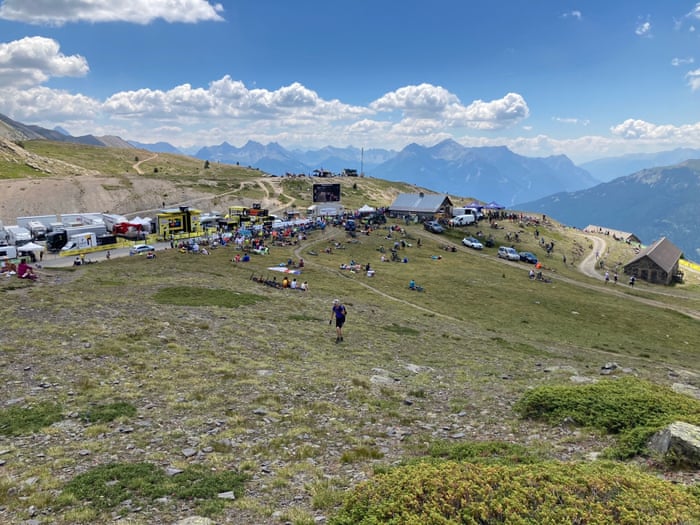 54km to go: The Eurosport commentators were just saying how astonished they are that Jumbo-Visma are doing this so early in the stage, but it makes sense to me – Pogacar looks too strong for an attack on the final climb alone to make any difference. Of course, the danger is they burn too many matches early on … and maybe Pogacar will find the strength to ride away from them on the Col du Granon? He's certainly got his work cut out at the moment anyway.
Now, Roglic, all the Jumbo-Visma guys, Soler and Pogacar are in a much larger group as they grind up the Galibier.
54km to go: The peloton, including Kamna, is 10'43" behind the break.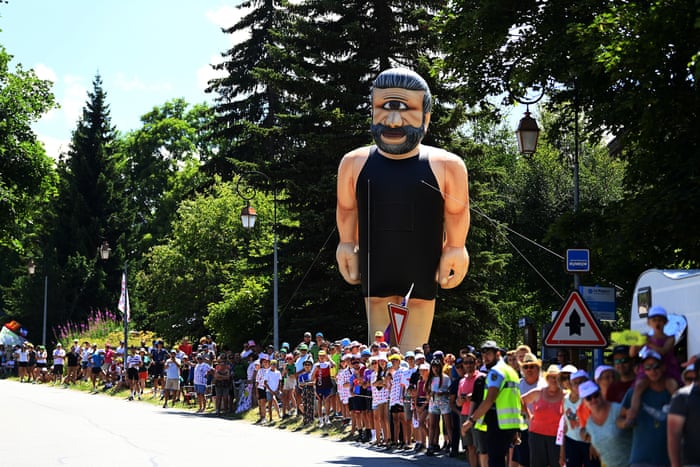 56km to go: The group at the front is down to six: Barguil, Van Aert, Cherel, Geschke, Latour, Neilands.
The real action is taking place back down the road, though, with Jumbo-Visma trying to crack Pogacar. Now, Soler of UAE Team Emirates has bridged across to the group of four, including his leader Pogacar … up ahead, Jumbo-Visma have Van Aert in the front group, so he will be able to help his teammates once they catch the break.
57km to go: Jumbo-Visma are trying to work Pogacar over. Roglic and teammates are taking turns to attack the race leader. Now Vingegaard goes! Geraint Thomas is there too … Pogacar shuts it down. Roglic goes again. Pogacar shuts it down. How long can they keep this up for?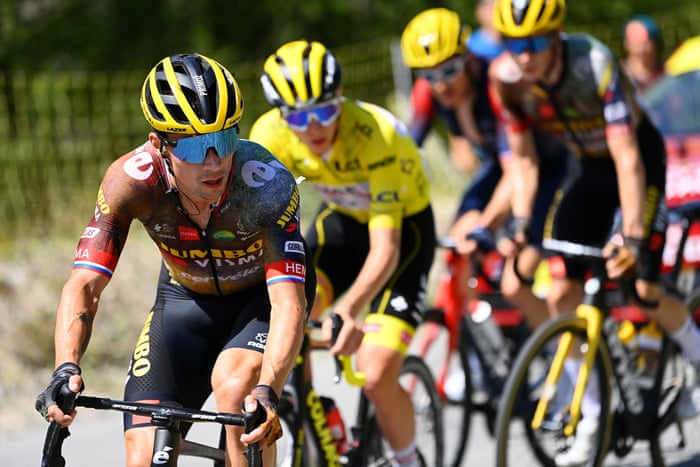 60km to go: Now this is interesting. Roglic, Benoot and Vingegaard (Jumbo-Visma) and Pogacar (UAE Team Emirates) are flying down the descent off the Telegraphe. Geraint Thomas is there too.
So Pogacar, it seems, may have to fend for himself for the rest of the day. They will hit the Galibier next, the first of two HC climbs on today's menu.
61km to go: A group of 11 is up front. Then another five behind them: Politt, Laporte, Rutsch, Bodnar and Bagioli.
In fact, Cherel has attacked off the front, and has a little gap.
62km to go: "Where have the days of insane solo attacks gone a la Schleck attacking on the Col d'Izoard and then the Galibier?" emails Thomas.
"Unreal attack with 60km to go. Loved every minute of that back in 2011. Don't think I've seen anything like it since."
That was the day that Cadel Evans won the Tour with a supremely gutsy defensive ride, if memory serves.
65km to go: Benoot powers away at the front of the main bunch. A couple of UAE riders mark him closely. It was predictable that a GC team would attack, and it makes sense to do it earlier in the stage, to see if they can wear down this depleted UAE train.
67km to go: UAE Team Emirates have responded to the Jumbo-Visma attack and have joined their rivals at the front of the bunch. The gap has already fallen to 7'42" between break and peloton following that injection of pace by Roglic and co.
68km to go: Primoz Roglic attacks from the main bunch! Tiesj Benoot is with him. Yates (Ineos) goes with him. The GC attacks have begun. Can Roglic strike a meaningful blow against his compatriot?
At the top of the Col du Telegraphe, meanwhile, Latour takes maximum points, holding off Rolland, with Geschke third.
Mathieu Van der Poel abandons!
The Alpecin-Deceuninck rider was off the front with Van Aert today, but now he's out of the race. Clearly not himself, best to rest and let his body recover.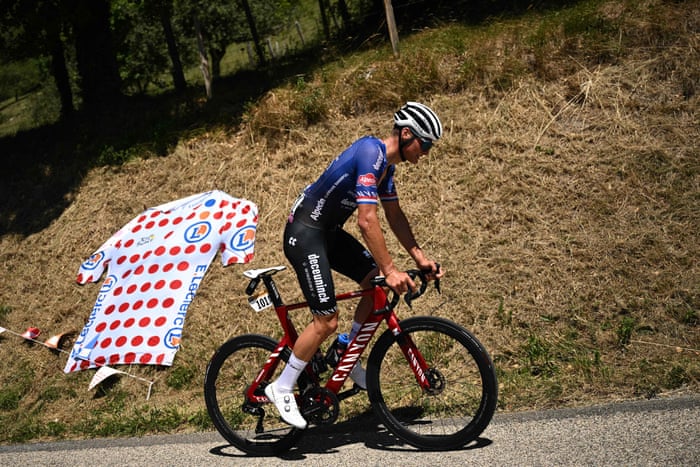 71km to go: The break has splintered and 10 riders are now up front. Barguil, Teuns, Ion Izaguirre, Van Aert, Schachmann, Cherel, Geschke, Latour, Cattaneo and Neilands.
73km to go: Worth noting that the second-highest placed rider in the break on GC is Dylan Teuns, who is 23'24" down. So even if the break got another three-four minutes, the only rider vaguely threatening Pogacar on GC would be Barguil. And of course, fine rider though he is, he is not going to be a long-term threat for overall.
74km to go: The gap is up to 9'00".
"The Ineos tactics of staying with Pogacar until the last 50 metres of a stage and then watching him accelerate away from them each time is certainly a very bold one," writes Paulo on email.
75km to go: Oliver Naesen (AG2R) is the latest rider to have packed it in.
In the main bunch, Marc Hirschi has been dropped, so that's another man down for UAE Team Emirates and Pogacar, for today at least. It's all looking set up for one of the other GC teams to unleash the fury on the Col du Granon.
77km to go: Warren "Argy" Barguil is the highest rider on GC among the breakaway. He is still a whopping 13'33" down on Pogacar, though. UAE Team Emirates aren't panicking, by any stretch: the gap is now up to 8'21".
Here he is dodging some cows on the Tourmalet in 2015: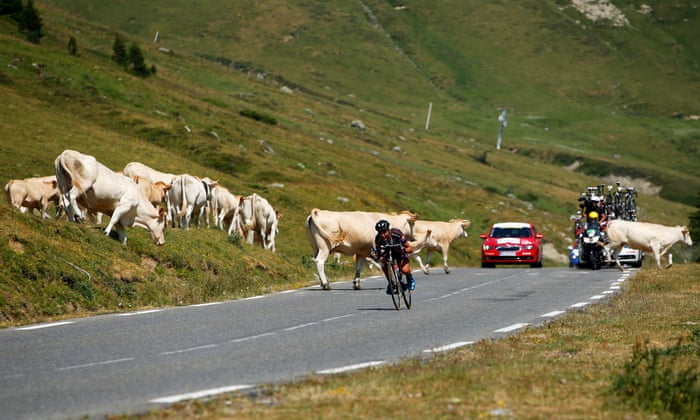 79km to go: Warren Barguil leads the escapees on the lower slopes of the Col du Télégraphe. Back down the road, a long way in fact, Van der Poel is swallowed up by the peloton. The gap is 7'40".
83km to go: Van der Poel, who is seriously out of sorts at the moment, was dropped by the breakaway a while ago, so the 19 riders up front are:
Nils Politt and Max Schachman (Bora-Hansgrohe), Christophe Laporte and Wout van Aert (Jumbo-Visma), Mikaël Chérel (AG2R-Citroën), Simon Geschke and Ion Izagirre (Cofidis), Guillaume Van Keirsbulck (Alpecin-Deceuninck), Andrea Bagioli and Mattia Cattaneo (Quick-Step), Kamil Gradek and Dylan Teuns (Bahrain Victorious), Jonas Rutsch (EF Education-Easypost), Warren Barguil (Arkéa-Samsic), Mads Pedersen and Tony Gallopin (Trek-Segafredo), Maciej Bodnar, Pierre Latour (TotalEnergies) and Krists Neilands (Israel-Premier Tech).
The gap has risen to 7'25".
85km to go: "The lyric to the lucrative europop colossus 'Hats are Nice' was laughably short, comprising entirely of the refrain 'Hats are Nice' to a background of flutes, bagpipes, triangles, kazoo and samples of cuckoos, over a nauseating, kitsch melange of insipid drum and bass," emails Paul Griffin.
"But the litigation was lengthy. Songwriters Barguil, Gallopin, Teuns, Ion Izaguirre, Van Aert, Schachmann, Cherel, Geschke, Politt, Latour, Cattaneo, Laporte, Van der Poel, Neilands, Pedersen, Rutsch, Van Keirsbulck, Gradek, Bodnar, and Bagioli, all claimed sole ownership of the three words and negligible melody. The litigation was prolonged and bitter, not least because royalties from the intended summer pop follow up – 'Death is an Infinite Eternal Void' – were negligible."
87km to go: FYI, there were four abandonments yesterday: Bennett (UAE), O'Connor (AG2R), Vuillermoz (TotalEnergies) and Durbridge (BikeExchange-Jayco).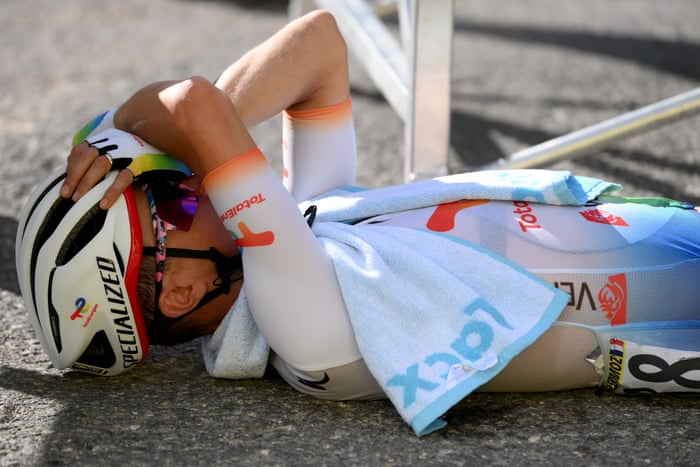 88km to go: "It's stinking hot in this valley," says Bradley Wiggins on the famous Eurosport motorbike. "This is the gateway to the Tour de France, this is where it really starts now, the first real climbs, the long ones …"
The gap is nearly six minutes now.