Russian reservists poorly trained and equipped says UK Ministry of Defence
The Russian war effort in Ukraine is characterised by confusion among reservists over eligibility for service and inadequate training and equipment, according to the UK's Ministry of Defence.
In its daily update, the MoD said some reservists were having to serve with "serious chronic health conditions" since they were called up during Vladimir Putin's announcement of a "partial mobilisation".
The soldiers are likely to have had heavy casualties while digging "ambitious" trench systems near the town of Svatove in the Luhansk oblast while they were under heavy artillery fire.
It added that Russian reservists have been killed in large numbers in frontal assaults into well-defended Ukrainian areas near Bakhmut in the Donetsk region. Both areas are in eastern Ukraine, towards the border with Russia.
The UK believes that the Kremlin is likely to be worried about reservists' families who will risk arrest by protesting about the conditions their relatives face.
Key events
Mediazone, an independent Russian website founded by two of the people who started the protest group Pussy Riot, has published an account written by a soldier in the 155th Guards Naval Infantry Brigade in the Russian army.
They claim that the brigade has had 900 casualties in fighting near Pavlivka, south-west of Donetsk. An open letter from the brigade has previously accused military leaders of the loss of 300 men.
Now the new testimony, which the Guardian has not been able to verify, includes claims by an anonymous member of the brigade that 450-500 men were killed in three months of fighting.
"Everyone is demoralised. Nobody is celebrating, because so many of our guys are dead. Personally, I lost four friends in just two days," it says.
The soldier says that despite the losses, generals won't change tactics and have given medals out in an attempt to appease members of the brigade.
The soldier adds:
People are thinking of deserting, and I understand it, I am now contemplating the same idea. I have always served the motherland faithfully and used to condemn this kind of thinking, but now it is probably the only way we can stay alive.
The US has donated 22,500 blankets for warming centres run by Ukraine's railway company, Ukrzaliznytsia, as temperatures plummet and millions are still without reliable access to power, the US ambassador to Kyiv, Bridget Brink, said.
The thermal blankets will be used at heating points at almost 100 railway stations across Ukraine, as part of a project implemented by the International Organisation for Migration (IOM).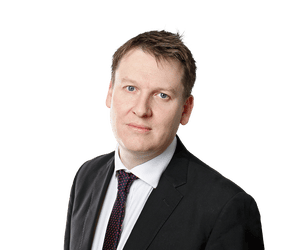 Daniel Boffey
Armenia has asked the French president, Emmanuel Macron, to chair peace talks with Azerbaijan in a fresh challenge to Vladimir Putin's increasingly loose grip on Russia's regional allies in the wake of the war in Ukraine.
The snub from a traditional ally to Putin, who had hosted an inconsequential meeting of the warring countries' leaders last month, comes immediately on the back of his disastrous summit with six former Soviet states.
During a "family" photograph of leaders of countries in the Collective Security Treaty Organisation (CSTO) in Yerevan on Wednesday, Armenia's prime minister, Nikol Pashinyan, stepped away from Putin, who had been standing to his left.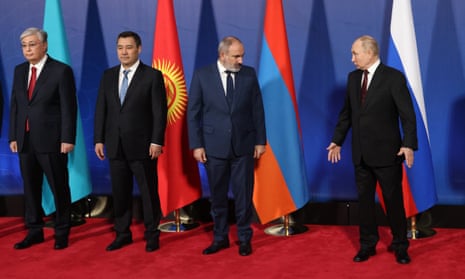 Pashinyan then refused to sign a summit declaration, as he railed against the recent failures of the CSTO, which ties Armenia, Belarus, Kazakhstan, Kyrgyzstan and Tajikistan into a mutual defence agreement.
As attacks on Ukraine's energy infrastructure continues, here's our world affairs editor Julian Borger's dispatch from Kyiv.
Much of Ukraine remained without electricity, heat and water two days after a devastating series of Russian missile attacks against the country's civilian infrastructure.
The Kyiv mayor, Vitaly Klitschko, said 60% of households in the city of 3 million had no power, and there were rolling blackouts around the country, as engineers struggled to repair transformers and transmission lines damaged or destroyed by cruise missiles on Wednesday.
President Volodymyr Zelenskiy said basic utilities were gradually being restored, but there were problems with water supplies in 15 regions.
The UN high commissioner for human rights, Volker Türk, said Russian strikes on critical infrastructure had killed at least 77 people since October.
Read more:
Hospital patients being evacuated from Kherson, says governor
More on the shelling in Kherson (see 12:21pm), where the governor of the region said that patients are being evacuated from the city's hospitals because of bombardment by Russian forces.
It comes on the same day that a hospital in Zaporizhzhia was damaged overnight. There were no injuries but dozens of windows have been broken
Now Yaroslav Yanushevych has posted on his Telegram site: "Due to constant Russian shelling, we are evacuating hospital patients from Kherson."
Children at the Kherson regional clinical hospital will be transported to Mykoliav, and 100 patients at a Kherson regional psychiatric centre will now be treated in Odesa.
The US space agency Nasa has released satellite images showing the extent of the energy crisis facing Ukraine following a barrage of Russian strikes on the country's civilian infrastructure.
Night-time satellite images taken from space on Wednesday show the majority of Ukraine in darkness, compared with neighbouring countries in Europe.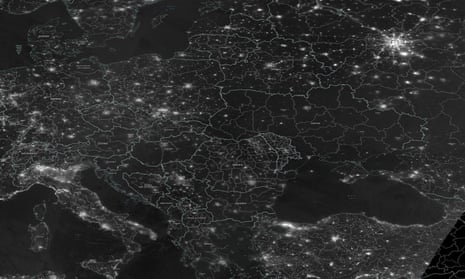 My colleague Andrew Roth has more on President Vladimir Putin's meeting with mothers of soldiers fighting in Ukraine earlier today.
He notes that one of the mothers in the behind-closed-doors meeting has two sons in active service, including a local police chief who threatened men who were dodging mobilisation that they wouldn't be allowed to walk the streets if he returned.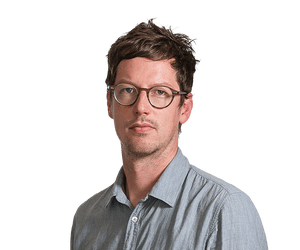 Philip Oltermann
Germany's Bundestag is planning to pass a resolution declaring the starvation of millions of Ukrainians under Joseph Stalin a genocide, a move that parliamentarians hope will serve as a "warning" to Moscow as Ukraine faces a potential hunger crisis this winter.
The resolution, which will be jointly brought to the vote next week by the three governing parties and the conservative opposition leaders, will describe the 1932-1933 Holodomor as part of "a list of inhuman crimes by totalitarian systems that extinguished millions of human lives in Europe in the first half of the 20th century".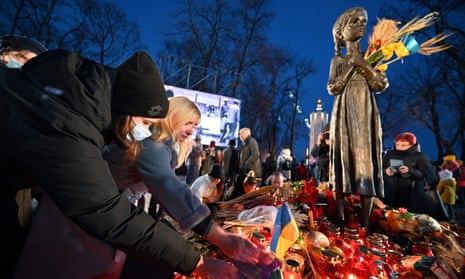 "People across Ukraine, not just in grain-producing regions, were affected by hunger and repression", the resolution will say. "This meets the historical-political definition from today's perspective for genocide."
The victims of the Holodomor – Ukrainian for "death by starvation" – are traditionally commemorated in Ukraine on the last Saturday of November.
Kyiv regards the historical event as part of a deliberate campaign by Stalin's regime to collectivise agriculture and root out Ukraine's fledging nationalist movement. Historians estimate between 4 and 7.5 million people were killed in the human-made disaster.
Moscow has rejected Kyiv's version of history, placing the deaths in the broader context of famines that devastated regions of Central Asia and Russia.
Ukraine's national energy grid operator, Ukrenergo, has said the battle to restore power to homes is being slowed by "strong winds, rain and sub-zero temperatures at night".
In a statement on Facebook, the company said "more than 70% of the country's consumption needs" were covered with priority given to critical infrastructure facilities.
The statement continued:
Reconnection of household consumers is ongoing. Difficult weather conditions are slowing the pace of reconnection: due to strong wind, rain and sub-zero temperatures at night, icing and broken wires in distribution (oblenergo) networks are added to the damage caused by russian missiles.
Repair crews are working "around the clock to eliminate damage" following Russian targeting of Ukrainian energy infrastructure, it added.
Putin tells mothers of soldiers fighting in Ukraine that he has no regrets
Vladimir Putin has met with mothers of Russian soldiers fighting in Ukraine, telling them that he had no regrets about launching his "special military operation" and said he shared in their suffering.
In a pre-recorded meeting broadcast on state media, the president told the soldiers' mothers not to believe everything they see on television or read on the internet, claiming there were many "fakes" circulating about the conflict.
Sitting with the group of mothers around a table with tea, cakes and bowls of fresh berries, Putin said he and the entire Russian leadership understood and shared the pain of those who had lost their sons fighting in Ukraine.
Putin said:
I would like you to know that, that I personally, and the whole leadership of the country – we share your pain.
He added:
We understand that nothing can replace the loss of a son – especially for a mother. We share this pain.
He said he had no regrets about launching what he calls Russia's "special military operation" against Ukraine, casting the war as a watershed moment when Moscow finally stood up to western hegemony.
The mothers' comments to the president were not immediately shown in the recorded television clip.
German MPs are set to approve a motion to recognise the Holodomor, the death by starvation of millions of Ukrainians in 1932-33, as a genocide, German media is reporting.
Lawmakers are expected to vote on the resolution on Wednesday as Ukraine faces a potential hunger crisis this winter due to Moscow's invasion.
The Holodomor should "join the list of inhumane crimes committed by totalitarian systems, in the course of which millions of human lives were wiped out in Europe, especially in the first half of the 20th century", reads the draft text of the motion, seen by the newspaper Frankfurter Allgemeine Zeitung.
The draft text continues:
People across Ukraine, not just in grain-producing regions, were impacted by hunger and repression. This meets the historical-political definition from today's perspective for genocide.
Ukraine has labelled the Stalin-era famine as a genocide, an assertion rejected by the Kremlin, and interpretations of the famine's causes have caused friction between the two countries.
Robin Wagener, of Germany's Green party, one of the resolution's initiators, said Russia's president, Vladimir Putin, operated in the cruel and criminal tradition of Stalin". He told Frankfurter Allgemeine Zeitung:
Once more, the basis for life in Ukraine is meant to be taken away through violence and terror, and the entire country brought to heel.
Calling the Holodomor a genocide was intended as a "message of warning" to Moscow, he added.
Germany's foreign minister, Annalena Baerbock, welcomed "very much that there is a lot of support in the German parliament" for the motion, a spokesperson told reporters.
Just days after families reunited in liberated Kherson, residents of the southern Ukrainian city are being forced to flee due to Russian shelling from across the river.
Kristina Berdynskykh, a Ukrainian journalist, says her relatives in Kherson urgently left following "heavy shelling" last night and this morning.
Moscow has begun to "take revenge" on Kherson and its people "for not accepting the occupation", she writes.