PMQs is starting soon.
Here is the list of MPs down to ask a question.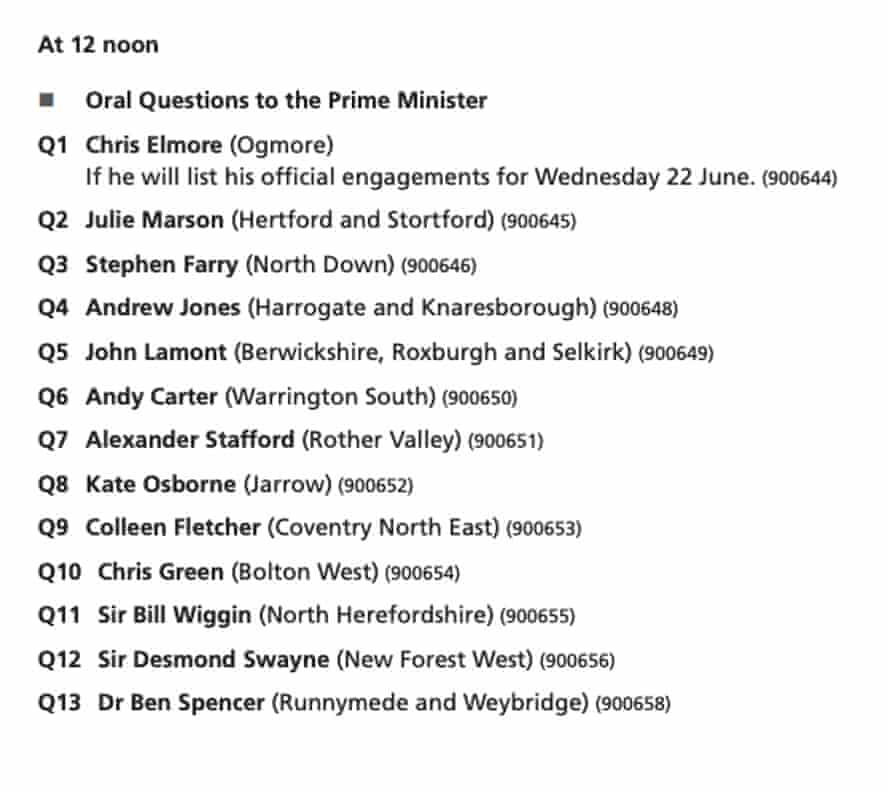 Bill of rights bill 'lurch backwards for British justice', says Law Society
The bill of rights bill being published today shows represents "a lurch backwards for British justice", according to the Law Society, which represents solicitors. In a statement its president, I. Stephanie Boyce, said:
The erosion of accountability trumpeted by the justice secretary signals a deepening of the government's disregard for the checks and balances that underpin the rule of law.

The bill will create an acceptable class of human rights abuses in the United Kingdom – by introducing a bar on claims deemed not to cause 'significant disadvantage'.

It is a lurch backwards for British justice. Authorities may begin to consider some rights violations as acceptable, because these could no longer be challenged under the bill of rights despite being against the law.

Overall, the bill would grant the state greater unfettered power over the people, power which would then belong to all future governments, whatever their ideologies.

The disregard for the rule of law the government is repeatedly signalling both at home and abroad – also inherent in this bill – risks inflicting serious harm on Britain's reputation with trade partners, business and in the international arena.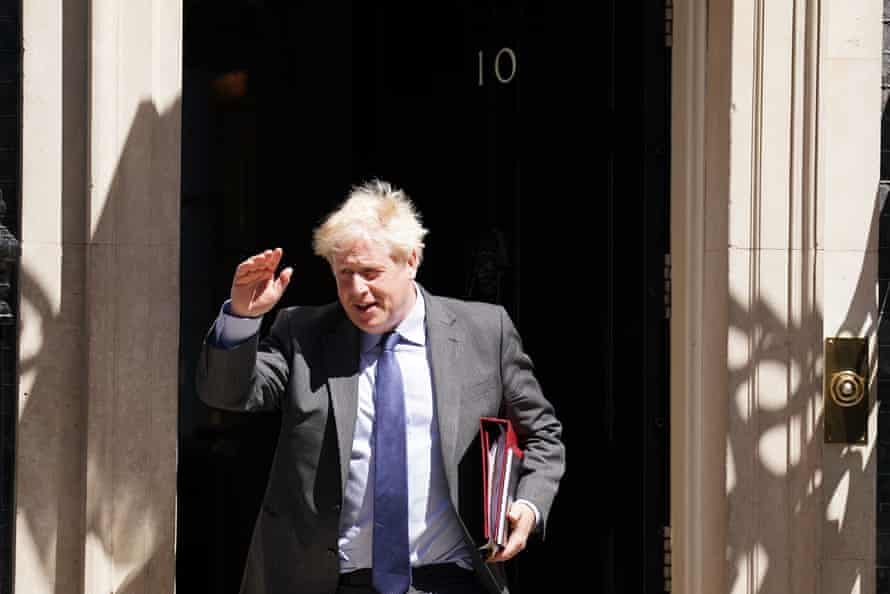 Moderna has announced that it will open a vaccine research and manufacturing centre in the UK. In a visit to mark the announcement, Sajid Javid, the health secretary, said:
We all saw during the pandemic the differences that cutting edge vaccines and treatments can make and we all particularly saw that the mRNA technology has been very transformational. It has literally saved millions of lives over the last couple of years.

And that's why I'm thrilled to announce this new partnership between the UK government and Moderna, where Moderna will established here in the UK, a global R and D facility with over £1bn for investment in this cutting edge technology, and also a huge manufacturing centre, their largest outside of the US, and so this is a great investment in the UK, and gives huge confidence to our life sciences sector already leading in Europe.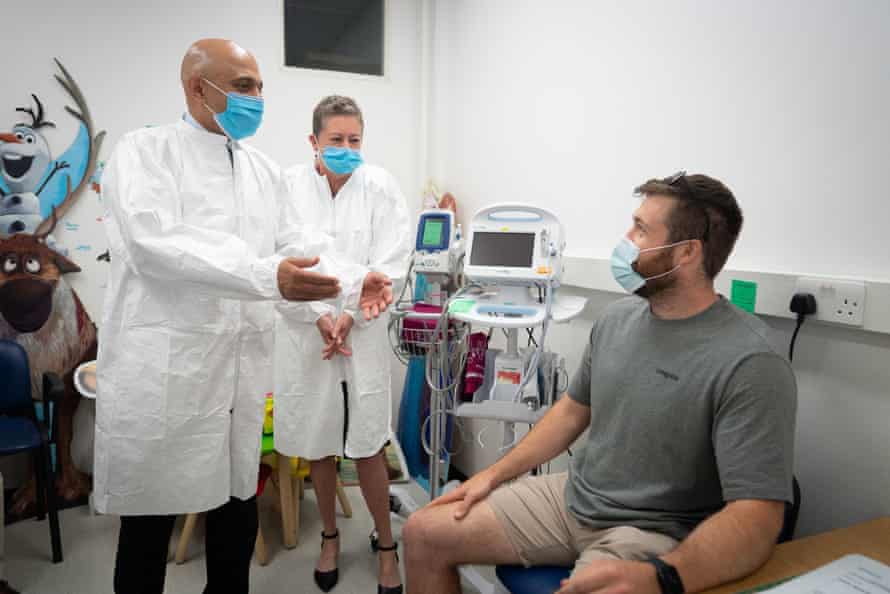 There are two Commons statements today after PMQs, which are both likely to appeal to Brexiters. Dominic Raab, the justice secretary, will give one on the bill of rights bill being published today, and he will be followed by Jacob Rees-Mogg, the minister for Brexit opportunities, who will speak about plans to get rid of some retained EU law.
Rwanda deportation policy may already be having deterrent effect on small boat Channel crossings, MPs told
Matthew Rycroft, the permanent secretary at the Home Office, has told the Commons home affairs committee that it is impossible to say how many asylum seekers will need to be sent to Rwanda for the policy to have a deterrent effect.
As PA Media reports, asked to quantify the amount needing to be removed to the east African nation, in Home Office thinking, for its scheme to be successful, Rycroft replied:
Well, I don't think there's a single answer to that question and obviously different people have different views about success.
He said the department had done "a lot of modelling" on the number that would need to be sent away before the disincentive kicks in. Pressed on whether it would be hundreds a year, or thousands, or tens of thousands, he said:
I don't think at this stage it'd be right to speculate about those sorts of numbers … The one thing I would say is I don't think the success of this scheme should be measured by the number of people being relocated to Rwanda. The success of the scheme should be measured by the number of journeys deterred.
Asked again how many need to be removed before that disincentive will work, he said: "That is impossible to answer."
And these are from the home affairs commentator Danny Shaw, who has also been watching the hearing. He says Rycroft, who is giving evidence with Tricia Hayes, the second permanent secretary at the Home Office, told MPs that it was possible that the Rwanda policy was already having deterrent effect.
Here is the quote in full. Rycroft said:
There is already, possibly, the beginnings of some deterrent effect visible. The fact that the numbers [of people crossing the Channel in small boats] are higher than last year, the proportion higher is already a bit smaller since the announcement than it was before the announcement. It is too early to be definitive about that. There are all sorts of other things that could have contributed to that.

But in due course, when we've got the evidence, I will come back to the committee with an assessment about that evidence and then, on the basis of that, an assessment about value for money.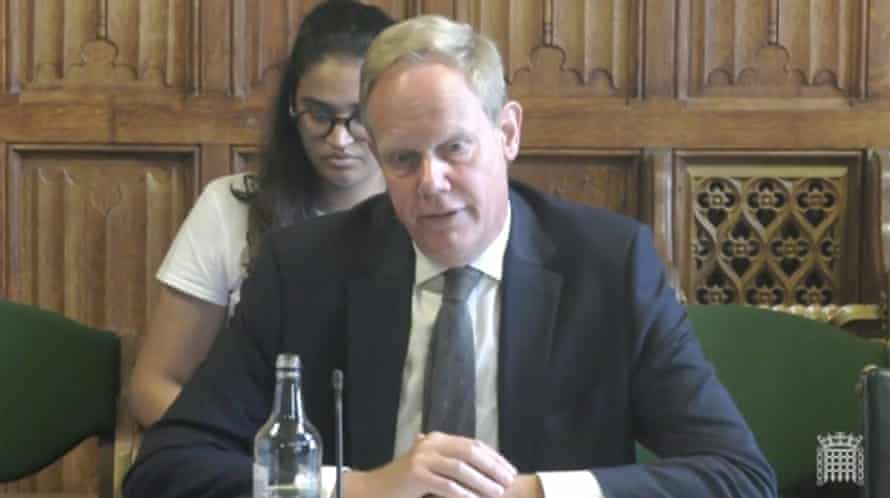 National Education Union threatens strike action if teachers don't get inflation-plus pay rise
The National Education Union, the biggest teaching union in the country, has written to Nadhim Zahawi, the education secretary, saying it wants "inflation-plus pay increases for all teachers" in this year's pay round. If the government does not respond, it will ballot teachers in England on strike action in the autumn, it says.
The letter, from the NEU's joint general secretaries, Mary Bousted and Kevin Courtney, says the government recommendation to the school teachers' review body (STRB), which was 3%, is out of date. Quoting today's inflation figures, Bousted and Courtney say "inflation has increased dramatically" since the 3% figure was proposed. They go on:
Alongside the decline in teacher pay in real terms against inflation, it has also declined in relative terms against earnings. Average teacher salaries are at their lowest level compared to average earnings across the economy in over 40 years.

Teachers and school leaders often tell us that workload is their predominant concern. But right now, our members are telling us pay is a big issue too.

The combination of unsustainable hours, the work intensity during those hours and ever-falling pay levels are damaging our schools and the young people we are educating.

Teachers are looking at their working hours and their pay and calculating hourly rates, which are alarmingly low.

The latest teacher training figures are very worrying; applications have fallen by 24% compared with last year.

One in eight newly qualified teachers left the job in their first year of teaching. These young people have often finished a degree, then completed a postgraduate qualification. They are a great loss to the profession, but more importantly to the nation's pupils who rely on their teachers to educate and care for them.
And setting out their pay demand, they say:
You must respond to the new economic reality of double-digit inflation and the threat this poses to teacher living standards. We call on you to commit to an inflation-plus increase for all teachers. It is not good enough to only propose higher increases for beginner teachers (which are themselves likely to be lower than inflation) …

We have to tell you that failing sufficient action by you, in the autumn term, we will consult our members on their willingness to take industrial action.

And we will be strongly encouraging them to vote yes.
This is from the FT's Peter Foster on the Jim O'Neill interview on the Today programme. (See 9.33am.)
Bill of rights bill about applying 'common sense' to human rights legislation, says Raab
Dominic Raab, the justice secretary and deputy first minister, told LBC that his bill of rights bill (see 9.39am) was about applying "common sense" to human rights legislation. He explained:
No one is talking about tearing up human rights in this country. We are staying in the European convention, we are going to reinforce those quintessentially British rights like free speech.

But I do think, when it comes to public protection, people want to see a dose of common sense and balance provided, that's what our reforms will achieve.
Dominic Raab, the justice secretary and deputy PM, was on the interview shows this morning to speak about the bill of rights bill being published today.
Here is our preview story by my colleague Haroon Siddique.
Here is a briefing on what's proposed by my colleague Archie Bland, in his First Edition newsletter.
And here is a link to a briefing on it from the legal affairs commentator Joshua Rozenberg, who has also published a copy of the first page of the bill.
In his Today interview Jim O'Neill was also asked if he agreed with Mervyn King, the former governor of the Bank of England, who said recently the government needed to deliver a "clear narrative" about the economic problems facing the country. O'Neill agreed this was a problem. He said:
I am waiting for them to have a clear framework for their economic policy. The whole levelling up and Northern Powerhouse stuff….. is going to get lost again in all of this.

The government needs, instead of jumping from one policy and seemingly trying to pander to everyone's whims, to develop a clear and articulate policy framework of which we don't have one.
Big hike planned in value of state pensions 'ludicrous', says former Tory Treasury minister
Good morning. The latest inflation figures have come out, and they show the headline rate of inflation reached 9.1% in May, the highest figure for 40 years. My colleague Julia Kollewe has more details on the business live blog.
Rising inflation makes it harder for the government to explain why rail workers – and, indeed, almost everyone else – are expected to put up with pay rises worth less than the value of inflation (ie, a real-terms cut). This question was given extra force yesterday when the government confirmed that next year the state pension was likely to rise by significantly more than the value of inflation (because the increase will be pegged to the rate of inflation in September, which is likely to be 10% or more, but will be implemented for 2023-24, when inflation should be lower).
This morning the economist Jim O'Neill, a former Treasury minister, said this was "ludicrous". Asked on the Today programme to explain why pensioners were getting 10%, but younger workers were lucky to get a pay rise of 3%, he said he had "no idea". He went on:
It seems to me pensioners, given the pressure on fiscal policies and these inequality issues now for the past decade and beyond, the constant protection of pensioners seems ludicrous in itself and, in these circumstances, particularly crazy.
O'Neill is technically a Tory former Treasury minister; a former Goldman Sachs chief economist, he took the Conservative whip in the House of Lords while he served as a Treasury minister in David Cameron's government from 2015 to 2016. But now he sits as a crossbencher, and he has recently started advising the Labour party on startup policy.
O'Neill did not mention two well-documented factors to help explain the government's apparent generosity to pensioners. First, they are more likely to vote than younger people, meaning that as electors they tend to wield disproportionate influence. And, second, they are far more likely to vote Conservative than Labour.
Dominic Raab, the justice secretary and deputy prime minister, was interviewed on the Today programme just after O'Neill and he was also asked why pensioners deserved a rise not being given to workers. Raab said the government wanted to protect the vulnerable, and pensioners were at particular risk from rising energy costs. He told the programme:
The reason they're in a different position – and our overall objective is to protect the most vulnerable – is because they are particularly vulnerable and they are disproportionately affected by the increase in energy costs which we know everyone is facing.
I will post more from the morning interviews shortly.
Here is the agenda for the day.
10am: Matthew Rycroft, permanent secretary at the Home Office, gives evidence to the Commons home affairs committee.
10am: Simon Hart, the Welsh secretary, gives evidence to the Commons Welsh affairs committee.
12pm: Boris Johnson faces Keir Starmer at PMQs.
Afternoon: The bill of rights bill is expected to be published.
I try to monitor the comments below the line (BTL) but it is impossible to read them all. If you have a direct question, do include "Andrew" in it somewhere and I'm more likely to find it. I do try to answer questions, and if they are of general interest, I will post the question and reply above the line (ATL), although I can't promise to do this for everyone.
If you want to attract my attention quickly, it is probably better to use Twitter. I'm on @AndrewSparrow.
Alternatively, you can email me at andrew.sparrow@theguardian.com