There are moments in a season that can provoke profound self-reflection in a club. Nice's shock 1-0 defeat to Le Puy-en-Velay Foot 43 Auvergne in the round of 64 of the Coupe de France represents one of those moments, laying bare the incoherence of Ineos' project.
Flashback to last May and Nice, under the stewardship of now-PSG manager Christophe Galtier, were playing in the Coupe de France final against Nantes. The club's failure to jump over the first hurdle by beating third-tier side Le Puy-en-Velay in this year's campaign shows just how poorly their team has been constructed.
The first flaws in the design began to show last summer, when Galtier and Julien Fournier, the sporting director, left the club. Galtier was the first to go – replaced by the returning fan favourite Lucien Favre, endearingly named "Lulu" by Nice supporters – before Fournier left a week later.
Both men were expected to leave in the summer but Fournier's departure in July proved especially disruptive, leaving the former Crystal Palace and Cardiff director Iain Moody to pick up the pieces in the transfer window. Active negotiations fell by the wayside, replaced by a British-centric approach, which led to the arrivals of Ross Barkley, Aaron Ramsey and Joe Bryan as well as Premier League players such as Kasper Schmeichel, Nicolas Pépé and Mads Bech Sørensen.
It did not take long for Favre to start showing signs of discontent. Asked which role suited Barkley best, the manager said he had been "told" that Barkley was a No 8 rather than a No 6, suggesting he had not scouted the player or wanted him. During a press conference to unveil his new striker Gaëtan Laborde, Favre was given an unpleasant shock when he discovered the age of his new signing: "He's 28 years old?!" whispered the manager to Jean-Pierre Rivère, the club president, seemingly surprised and unimpressed.
When the transfer window closed, Moody departed and Favre was left to forge cohesion from a scattergun recruitment process. Against Le Puy-en-Velay, a city renowned for its lentils, it was clear that Favre was being asked to cook a meal with the wrong ingredients. Not only are the players unsuitable to Favre's style, but they don't even work well with each other; they contrast more than they complement. After the defeat to Le Puy-en-Velay, Favre admitted the connection between Barkley and Pépé was "forced".
This is not exclusively a Barkley-Pépé issue, nor one isolated to this game. Walter Benítez, arguably the best goalkeeper in Ligue 1 last season, was allowed to leave on a free, and was replaced by Schmeichel, who has not arrested the slide that began in his final season at Leicester City. The Danish goalkeeper has even been booed by Nice fans at times. His compatriot, Bech Sørensen was signed on loan on deadline day, but did not play a single minute before making a premature return to Brentford earlier this month. Bryan, meanwhile, was brought in to solve the club's issues at left-back but, given that Nice are once again in the market for a player in that position this month, the Fulham loanee is seemingly not the solution.
Recruitment is now being led by Florent Ghisolfi, the new sporting director, who helped build the Lens side that is now challenging PSG for the Ligue 1 title. Fabrice Bocquet has also arrived from Lens, becoming the CEO at Nice. The calibre of the appointments is not in question but, once again, it is the chronology that leaves a lot to be desired; the cart has been put before the horse. Ghisolfi will understandably want to shape the club in his image, like he did at Lens, but will Favre form part of Ghisolfi's painting or will he lie outside of the frame?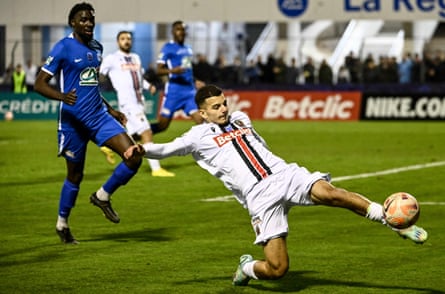 The signs looked ominous in November. Even though Nice qualified from their Europa Conference League group and picked up a good draw at Lyon before the World Cup break, Favre's future was called into question. Nice-Matin, a local newspaper, reported that the club had envisaged sacking Favre, but fan support and an uptick in form left them with a dilemma.
Ultimately, Favre survived the break and was on the touchline when Ligue 1 returned in late December. However, any momentum the team had before the World Cup has dissipated. They have failed to win any of their three matches since the break. They managed a draw against Lens in their first match back, but offered little offensively. The same was true against Stade Rennais just a few days later, but this time Nice slumped to defeat, leaving them 11th in Ligue 1, and 12 points behind Monaco, who occupy the final European spot. Now they have been beaten in the cup by a third-tier club.
The defensive style proposed by Favre is a far cry from what Nice fans witnessed during his successful first spell in charge at the club. The reason for that is clear to see: there is a disparity between Favre's desired squad and what he actually possesses. On top of that problem, there is a similar lack of cohesion between the manager and sporting director.
After the defeat this weekend, Nice-Matin reported that the club are now considering promoting Didier Digard to head coach. The former PSG and Middlesbrough midfielder had been managing the club's reserve team since 2021, but was recently promoted to Favre's backroom staff and could soon unseat the head coach. Favre would feel hard done by should he lose his job; his problem isn't that he is a bad manager, but rather that he is not Ghisolfi's manager.
Le Puy-en-Velay is a starting point of the pilgrimage route of Santiago de Compostela, and, as Nice leave the city, it is unclear which path they are taking. Perhaps it is only through Favre's departure that Ghisolfi can plot Nice's journey towards the summit of French football.
Talking points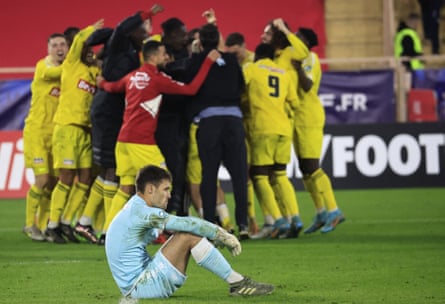 Nice were not the only side to succumb to a shock in the cup this weekend. Monaco, semi-finalists last year, befell a similar fate, letting a two-goal lead slip against Ligue 2 strugglers Rodez at home before losing on penalties. Sixth-tier side Strasbourg Koenigshoffen pulled off the upset of the round, beating Ligue 1 club Clermont. Their city rivals, Racing Club de Strasbourg, were also knocked out as their dire season of ever-dwindling expectations took its latest negative turn. There will be no welcome cup distraction for Julien Stéphan's side, who lost to Angers, the only club below them in the Ligue 1 table.
At the age of 16 years, nine months and 29 days, Warren Zaïre-Emery became PSG's youngest ever player as the Ligue 1 leaders were given a scare at Châteauroux before eventually winning 3-1. Luis Campos's arrival at the club in the summer heralded a philosophical shift, with PSG now keen to develop the rich pool of local Parisian talent, with Zaïre-Emery considered their crown jewel. The academy product displayed composure, athleticism and poise in PSG's midfield as they relied on late goals from Carlos Soler and Juan Bernat to beat their third-division opponents.