THE WAITING GAMES
This may or may not be the sort of behaviour you'd expect from a long-running regular email service that changes its name on a whim, but Football Daily would like to retract everything it said yesterday about the FA Cup being the stuff of dreams. Yes, yes, Stevenage this, Sheffield Wednesday that, Boreham Wood the other, but when it comes to tales of the unexpected, the League Cup is really where it's at. Put it this way: when was the last time a Fourth Division team got to the final of the FA Cup, like Bradford did in the 2013 League equivalent, or Rochdale in 1962? The fifth of never, that's when! So, yeah, QED. Admittedly six of the last nine League Cups have been won by Manchester City, with Chelsea, Manchester United and Liverpool winning the other three, while Wigan and Leicester have lifted the FA Cup in the interim, but as the League Cup roll of honour also features Swindon, QPR, Oxford, Luton, Norwich and Swansea, Football Daily's not for budging on this issue, and anyway you get the general gist.
Anyway, another big shock could be on the cards this season. Newcastle United, still searching for their first major domestic trophy since the Suez Crisis, are suddenly only three rounds away from slaking their big thirst. They're strong favourites to advance to the semis at the expense of knack-hit Leicester, who they recently trounced 3-0, so tangible success in the colour-television era really could be on. Admittedly taking that first sweet sip from a cup with three handles might be awkward, given their lack of silverware-hoisting practice, and the sponsored contents may lead to sticky lips and furry teeth, but Newcastle can't afford to be fussy. Not yet anyway.
Charlton are also in the hunt for what would be an even more seismic shock. The Addicks have spent the best part of the season flapping around the League One relegation zone, but have found a little form under new manager Dean Holden, so travel to Old Trafford with spirits relatively high. Third-tier sides have a decent record in the League Cup – the aforementioned QPR for a start – so with historical precedent comes hope. The only problem is, Manchester United are also in good nick, with the return of their decade-absent swagger currently rather charming, though give it time. In Charlton's favour, this weekend's upcoming Manchester derby, which may tempt Erik ten Hag into making a few downgrades, though he may also see this competition as the most realistic chance for United to win a prize for the first time since 2017. There's another thirst that requires slaking, right there. Not quite as raging as Newcastle's, or indeed Charlton's, which dates back to 1947, but it's all relative, and again, you get the general gist.
LIVE ON BIG WEBSITE!
Join Scott Murray from 8pm GMT for hot Milk Cup MBM coverage of Newcastle 2-1 Leicester.
QUOTE OF THE DAY
"I remember Samuel Eto'o asking me on the pitch: 'Who's that?' I said: 'You'll soon find out!' And it was crazy to see how easy it was for him to just do whatever he wanted to do. Gareth was the kind of player who could get us out of trouble. He just took the game on, on his own" – Sébastien Bassong, a former Spurs teammate of Gareth Bale, recalls the stunning hat-trick against Internazionale that caught eyes and slackened jaws across Europe in 2010.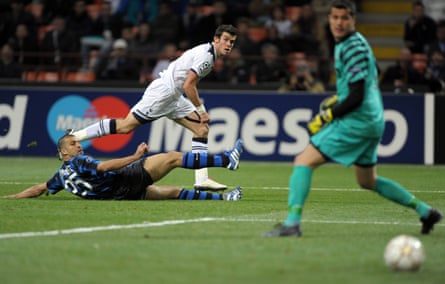 Re: Marc White's honest appraisal of Dorking Wanderers' defending in their 5-1 defeat to Oldham (yesterday's Quote of the Day). Marc is what you would call a 'character'. His expletive-filled dressing-room and touchline rants in the 'fly on the wall' documentary series Bunch of Amateurs are not for the faint-hearted. But there is another side to the former player, now manager and chairman of the club. Before the heavy National League defeat on Saturday, he put a 'kitty' behind the bar in two pubs in the town to buy drinks for the away fans who travelled down for the game. A real character" – Ian Castle.
Surely the most conspicuous thing about Oxford United's Kassam Stadium (yesterday's Football Daily) is the gaping absence of a stand at one end? I suppose that is why the car wash beyond is the thing you noticed" – Steve Allen.
Send your letters to the.boss@theguardian.com. Today's winner of our prizeless letter o' the day is … Ian Castle.
RECOMMENDED LOOKING
David Squires looks back over the FA Cup third-round weekend that was. And you can get your own copy of it here.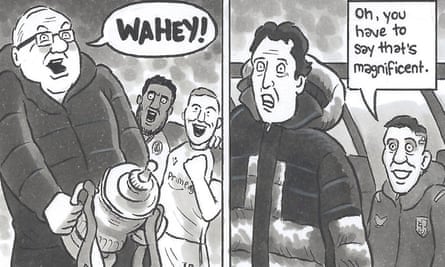 NEWS, BITS AND BOBS
Dani Alves is under investigation over an allegation that he sexually assaulted a woman in a nightclub in Barcelona last month. Alves denies any wrongdoing.
Nasser al-Khelaifi, the head of Qatar's sporting investment group and president of PSG, has held talks with Tottenham amid plans to boost the state's sporting portfolio. Heartwarming stuff.
Football Australia has slapped Melbourne Victory with a record fine and threatened to dock them 10 flamin' points after finding the club brought the game into disrepute with a pitch invasion at December's A-League derby with Melbourne City. Chief suit James Johnson decried the scenes as "the worst witnessed in Australian football during the A-League era".
Pending a cough for the doctor, Álex Moreno will become an Aston Villa player after a £12.4m deal with Real Betis was agreed.
Melanie Leupolz has signed a new contract at Chelsea on her return from maternity leave. "It feels like I'm not done here, which is why I wanted to extend," she said. "I want more games with the team, more chances to win titles and one big ambition is to win [Women's Big Cup]."
England will play in front of a sold-out Wembley once again when they host Brazil in the inaugural Women's Finalissima on 6 April.
Sylvinho is the new head coach of Albania, with their FA setting a target of qualifying for Euro 2024. "We have a great desire to do good work, bring positive results and take [the] team to the place it belongs," he cheered.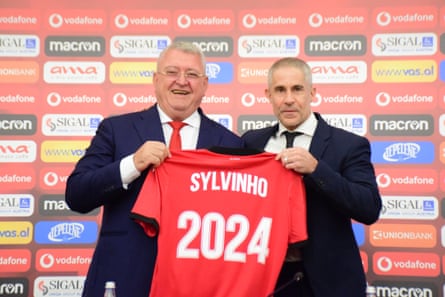 And Bristol Rovers boss Joey Barton is pumped for their Sherpa Van Trophy quarter-final against Plymouth Argyle. "We cannot bear Plymouth, so we will be taking everything Plymouth-related with full contact and full strength," he roared.
STILL WANT MORE?
"When he ran hot, nobody could touch him." Jonathan Liew pays tribute to the retiring Gareth Bale.
Sid Lowe on Quique Setién and his Villarreal team's downing of Real Madrid.
Ben McAleer makes some predictions for this week's Worthington Cup ties.
The Rumour Mill churns out talk of slightly implausible Liverpool shopping lists, Chelsea's nagging pursuit of Enzo Fernández and more.
WE COULD HAVE TOLD YOU THAT NOTHING EVER ENDS WELL IN NEWQUAY AFTER MIDNIGHT