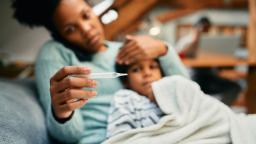 CNN
 — 

Although still rare, MIS-C after Covid-19 has been more common and more severe than previously reported, and there are significant racial disparities in cases, according to a study published Thursday in JAMA Network Open.
Multisystem inflammatory syndrome in children – which primarily emerges after a Covid-19 infection – causes inflammation in various parts of the body and can affect major organs including the kidneys, brain, lungs and heart. It can be serious, or deadly.
The US Centers for Disease Control and Prevention currently has relied on voluntary case reporting from local health departments for MIS-C surveillance. Through November, they've logged a total of about 9,000 cases and 74 deaths from MIS-C out of the millions of Covid-19 cases among children.
A formal diagnosis code was established for MIS-C in 2021, and the new research analyzed records collected by the Agency for Healthcare Research and Quality from thousands of hospitals representing more than three-quarters of the US population.
It found that for every 100 children hospitalized with Covid-19 in 2021, there were about 17 MIS-C hospitalizations. MIS-C hospitalizations were typically younger and more likely to occur in male children than were Covid-19 hospitalizations.
The more organs affected, the worse outcomes were. As the number of organ systems affected increased from two to six or more, mortality increased from 1% to 6%, according to the new research. The length of stay in the hospital doubled from four to eight days and adverse medication events more than tripled from 5% to 18%.
Overall, more than 60% of children hospitalized with MIS-C had more than two organ systems affected. Of them, about 8% of patients had at least six organ systems affected.
Racial disparities in Covid-19 outcomes are well-established, and this new research found even starker differences in MIS-C outcomes.
MIS-C hospitalizations were twice as likely among Black children as they were among White children. And while Black children represented about 24% of all MIS-C cases, they represented 32% of the most severe cases that affected at least six organ systems.
The researchers also found that the "severity of MIS-C for Black children was likely exacerbated by socioeconomic factors," with those living in the most socially vulnerable communities typically spending an extra day in the hospital. They did not find the same connection in regards to Covid-19 hospitalizations.
These findings "increase our knowledge of MIS-C and COVID-19 disparities and outcomes, shedding light on the risks and impacts of increasing organ system dysfunction," according to a commentary on the study from pediatricians and researchers from the University of Colorado School of Medicine.
But they raise even more critical questions, including specific reasons for the vast racial disparities.