Key events
The next question is about abortion rights. Liz Truss is asked if she will be "the modern day William Wilberforce and see abortion abolished and infanticide ended" or if not if she would let the people of Northern Ireland have their say on this issue.
To the loudest round of applause so far, she says no.
I'm afraid I don't agree with you. I think we need we are a United Kingdom and we need to apply laws right across the United Kingdom. That is what being a union is.
Liz Truss is asked who she would chose to be the next Northern Ireland secretary and will they be held accountable or "are you just going to give us another fly in and fly out another absentee political landlord?"
She answered:
I don't want to be premature. We're still in the middle of this leadership race. And what I can assure you about everybody I would appoint in the cabinet. It will be based on how good they are at doing the job or whether they get things done.

And we've been talking today about the important things we've got to deliver in Northern Ireland. We've got to deliver the Northern Ireland protocol bill, we've got to deliver the free port, we've got to deliver those investment opportunities in Northern Ireland. And that is ultimately what people in Northern Ireland care about and why people will vote conservative in Northern Ireland is for those reasons.

So what I can tell you is I will make sure the person in that job is the absolute best at delivering for the people of Northern Ireland.
The next question Liz Truss answers is about the support the Tory party in Northern Ireland gets. The Tory member asking the questions says they haven't had the support they deserve.
Truss says:
I think you are absolutely right, that the Conservative party of Northern Ireland hasn't received the support that it should have done over the years and what I'm committed to is making sure the Conservative party of Northern Ireland are a key part of my team and that they get the resources they need to attract new members.

It's great news that we're seeing more members join the Conservative party, but also that we're putting more candidates up for election here in Northern Ireland because we are the Conservative and Unionist party. We believe in the union.
The first audience member to ask Liz Truss a question points out that she that she didn't mention restoring Stormont in her opening remarks. They ask her how she'll do that
She said that until the issue of the NI protocol is sorted out, "we are not going to get Stormont back up and running".
She continued:
And I've been in discussions with all of the parties in Northern Ireland, I'm determined to make it happen.

And as we make progress on the Northern Ireland protocol bill we will see power-sharing re-established in Northern Ireland, and as well the Belfast Good Friday agreement re-established.
Liz Truss is addressing Brexit at the hustings in Belfast:
We need to sort out the bureaucracy across the Irish Sea so that we can see goods flowing freely from Great Britain to Northern Ireland and that's why I put forward the solution of the green and the red lanes. We also need to sort out regulation and we need to make sure that the people of Northern Ireland can benefit from the same tax breaks as a people of Great Britain.

I worked hard to get a resolution with the EU on this issue. It wasn't forthcoming, but I'm not somebody who's prepared to let the situation drift. That's why I developed the Northern Ireland protocol bill. I pushed it through we got it through the House of Commons and I am absolutely determined to deliver it in full and make sure it's put into place because this is vital for the future of Northern Ireland and the future of the United Kingdom.
Liz Truss is making her opening statements at the hustings on the Culloden estate, near Belfast.
She says having grown up in both Scotland and England, she is a "child of the union".
I believe that our union is one of the assets we have as a country. We're not just neighbours. We're family. And I want our family to stay together and never ever to split up.

And Northern Ireland is a key part of our fantastic union.
Asked about his wealth, Conservative leadership contender Rishi Sunak said "people can judge me by my actions".
He told BBC Radio Ulster:
Well I think in our country we judge people by their character and their actions, not their bank account and people can judge me by my actions.

I was exactly the same person – and you mentioned the pandemic – who stood up at the beginning of the pandemic and created the furlough scheme and not just just the furlough scheme, but lots of other things to provide considerable support to millions of families, businesses across the country at a time that was enormously worrying and everywhere I go I have people come and talk to me about that and how it made a difference to their lives.

I'm the same person now and that's why as chancellor I announced significant support for energy bills earlier this year which I think almost all independent commentators agreed was particularly well targeted at helping the most vulnerable in our society.

That's what I did and that's what I would continue to do and people can be reassured that as they've seen me do that over the past few years, they can trust me to continue to do that as prime minister.
The latest Tory leadership hustings is due to start in Belfast shortly.
Rishi Sunak and Liz Truss are likely to be grilled on the Northern Ireland protocol, restoring Stormont, the cost of living crisis, today's inflation news and Truss' controversial comments about British workers needing "more graft".
The leadership contenders will be speaking at Culloden Hotel in Cultra, County Down at 1pm.
Up to 250 audience members made up of Conservative party members and their guests will quiz the candidates on their record and policy pledges.
Rishi Sunak said he "would go further as prime minister and ensure that more support was targeted particularly on the most vulnerable".
The Conservative leadership hopeful told BBC Radio Ulster:
Well I know that millions of people across the UK are anxious about the rising cost of living, particularly energy bills, and I think it's the most immediate challenge facing the country.

Now as chancellor I put in place support, I would go further as prime minister and ensure that more support was targeted particularly on the most vulnerable, and by that I mean two groups in particular: those families on low incomes and also pensioners.

And under my plan those groups would get extra financial support directly over the autumn and winter.

I would, as I did as chancellor, ensure that that support was delivered UK-wide to benefit those people in Northern Ireland because I know it's an anxious time and it's right that we support the most vulnerable at a time like that, and that's what I would do as prime minister.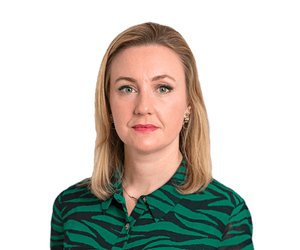 Joanna Partridge
The veteran retailer Stuart Rose has urged the government to do more to shield the poorest from double-digit inflation, describing the lack of action as "horrifying", with a prime minister "on shore leave" leaving a situation where "nobody is in charge".
Responding to July's 10.1% headline rate, the Conservative peer and Asda chair said: "We have been very, very slow in recognising this train coming down the tunnel and it's run quite a lot of people over and we now have to deal with the aftermath of that."
Attacking a lack of leadership while Boris Johnson is away on holiday, he said: "We've got to have some action. The captain of the ship is on shore leave, right, nobody's in charge at the moment."
Lord Rose, who is a former boss of Marks & Spencer, said action was needed to kill "pernicious" inflation, which "erodes wealth over time". He dismissed claims by the prime ministerial candidate Liz Truss's camp that it would be possible for the UK to grow its way out of the crisis.
Rose told BBC Radio 4's Today programme:
Nothing is happening, we are sitting here now into the second, third, fourth month into this crisis and we're still waiting to see what action will be taken. It's horrifying. I would like to see us looking after those who need it most.
He said inflation was "going to be painful for everybody" and "picks on the poorest hardest, but we have to deal with it, we can't ignore it".
Warning that he believed interest rates would have to rise further to tackle rising prices, Rose said he believed the UK was "heading towards a recession".
Read more here:
Conservative leadership contender Rishi Sunak said "my plan is the same as Liz's plan" in relation to the Northern Ireland protocol.
He told BBC Radio Ulster:
I think actually both Liz and I are supporting the same bill that is in parliament, that we both support and so in that sense there isn't a difference between us.

My plan is the same as Liz's plan, which is to push on and pass the bill that is in parliament, and I'm confident that that's the right way to resolve the situation, and people should be in no doubt that under my premiership that bill would continue to make its way through parliament and become law.
He added:
Look, what's very clear is that we need to ensure that all strands of the Belfast Good Friday agreement are respected and at the moment it's pretty clear that particularly the east-west strand of that agreement and obviously the lack of a functioning executive are not working and that needs resolution.

I will be privileged and proud to be a prime minister of the entire UK and that means ensuring Northern Ireland's place in the UK and as is currently being implemented the protocol is not making that possible and it needs to be fixed.