The post-match summary was informed and thoughtful. "It's a very fine line and I don't think people quite understand when it gets slowed down on TV how quick those decisions are. You can slow loads of contact down and find something. When there's a bigger collision people look at it more. Hopefully it goes in the right direction, the game is safe, and there's some common sense, too."
The speaker? Owen Farrell after the feisty Premiership semi-final between Saracens and Harlequins last season. The game in question had four players sent to the sin-bin including the Quins hooker Jack Walker, for a high tackle on Farrell. The England captain, though, was keen to emphasise that top-level rugby has to be an all-or-nothing environment. "We know what we can and can't do, but you still have to have enough intent to go forward in your defence. If you are constantly being passive you probably won't get picked next week."
Fast forward to Friday night in Gloucester. The game is entering its closing stages and the score is 16-16. Gloucester's Jack Clement picks up the ball from the base and heads straight at the nearest Saracens defender, who happens to be Farrell. The fly-half braces himself for the collision and his right shoulder ends up crunching into Clement's chin. On BT Sport the commentators are agreed: it is direct contact with the head and, therefore, technically a red card.
No card of any colour ends up being shown because there is a misunderstanding between the referee, Karl Dickson, and his television match official, Claire Hodnett. Dickson mistakenly believes the incident happened in an earlier passage of play and cannot be re-examined. Farrell stays on and – hey presto! – drops the winning goal to win Saracens the game. Had he not been on the field it might have been a different outcome.
Cue a predictable social media hurricane, with the Six Nations due to kick off on 4 February. Farrell has already had a couple of high-profile bans for high tackles, the last of them in September 2020 when he caught the young Wasp Charlie Atkinson with a nasty high hit that earned him a 10-week suspension, subsequently halved to five weeks following glowing testimonials provided by Mark McCall, Eddie Jones and the founders of a charity with whom Farrell is associated.
All of which drags us back into the heart of the moral maze in which rugby is ensnared. It should go without saying that everyone wants a safer game at a time when player welfare is right under the spotlight. But – and sadly there remains a "but" – rugby continues to be ruinously undermined by the game's inability to differentiate between serious foul play and a split-second misjudged challenge, made to look worse by technology, big-screen replays and hot takes on Twitter.
At full speed – and at first glance – Farrell's offence could simply be classed as a fly-half bravely looking to stand firm as a bigger forward charges low at him. Go too much lower and, with only a full frontal target to hit, he risks getting crunched by a knee or hip bone. Yes, we have seen that no-nonsense leading shoulder of Farrell's before. But take away the identity of the players concerned, the match situation, the television cameras and the endless slow-motion replays and what do we have? Dickson, had he spotted it in real time, would probably have opted for a yellow card and a Gloucester penalty.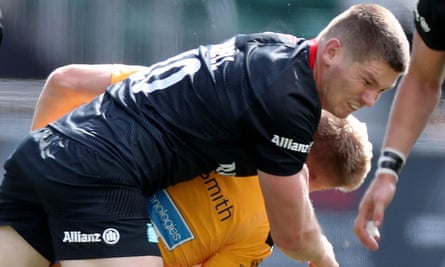 Even the absurdly fine line players are expected to walk, however, is less frustrating to many than the inconsistent length of bans dished out to those deemed guilty. Without prejudging Farrell's hearing, another player committing a similar offence might expect a six-week ban for a mid-range entry point, commuted to three weeks if he has a reasonably clean record and trimmed by a further week if he attends "tackle school", the unofficial name given to the coaching programme which World Rugby now offers to offenders. Reoffending rates are said to be encouraging, with only eight of the first 100 players who have been through their programme having subsequently been shown another red card.
Which sounds plausible until a 31-year-old, 100-cap international with a history of upright challenges comes up before the beak. How realistic it is to send an old dog to "tackle school" and expect him to learn instant new tricks? Just 28 months after the Atkinson collision – added to a previous two-week ban for poleaxing Wasps' Dan Robson in 2016 – a spotless record is not involved in Farrell's case, either. Would a Polynesian loose forward expect to have a ban halved in similar circumstances?
Imagine, furthermore, if a three-week ban does ensue. Saracens will point to their home game against Bristol on 28 January as the "week three" fixture. Except that England – and Farrell – will be in national camp then, with nil chance of the player being involved the weekend before England face Scotland at Twickenham. Clear as mud? If rugby's disciplinary laws are so blurred and labyrinthine that few can agree either on the crime or the punishment, maybe the high-profile Farrell is not the real villain here.