05:50
Round two
DIVISION ONE
Bristol: Gloucestershire v Yorkshire
Canterbury: Kent v Lancashire
Taunton: Somerset v Essex
The Oval: Surrey v Hampshire
DIVISION TWO
Derby: Derbyshire v Sussex
Chester-le-Street: Durham v Leicestershire
Trent Bridge: Nottinghamshire v Glamorgan
Warwickshire, Northants (Div one) and Middlesex and Notts (Div two) get a bye this round
05:26
Anya Shrubsole retires
A legend lays down her cap:
Shrubsole, who won two World Cups with England – the iconic player of the match on that fantastic late evening at Lord's in 2017, taking 6-46 -spanned the amateur and professional game.
She started her domestic career for Somerset before going on to play 173 England games across all formats, winning the Ashes twice, and claiming 227 wickets. She finishes fourth on the list of England's ODI wicket-takers, and bows out as England's current top IT20 wicket-taker.
She became the first woman to appear on the front of Wisden, in 2018, and retained her golden arm right to the end, taking two key wickets in the recent World Cup semi-final against South Africa. She will continue to play domestic cricket.
"I feel immensely privileged to have been able to represent my country for the past 14 years," said Shrubsole. "To have been involved in women's cricket at a time of such growth has been an honour but it has become clear to me that it is moving forward faster than I can keep up with, so it is time for me to step away.
"Never in my wildest dreams did I think I would be lucky enough to play for England for so long, I'd have been happy with one game. There have been many ups and downs along the way but it was all worth it to be able to lift the ICC Women's World Cup at Lord's in 2017.
"There have been so many people who have supported me along the way and I want to thank them all for everything they have done, but most of all I couldn't have done it without the unwavering support of my family. They have been with me every step of the way and I simply couldn't have done it without them."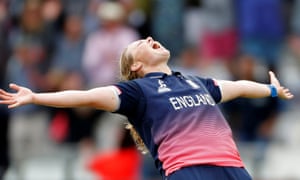 Updated

05:10
Gloucester news: Marcus Harris will make his Gloucestershire debut today – said to be excited about playing Division One cricket after a spell with Leicestershire. Naseem Shah doesn't play, out with a shoulder injury.
05:06
Good morning!
Updated