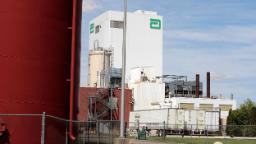 CNN
 — 

The US Department of Justice is investigating Abbott Laboratories infant-formula plant in Sturgis, Michigan, a spokesperson for the company confirmed to CNN.
"The DOJ has informed us of its investigation and we're cooperating fully," the statement emailed to CNN said.
The investigation was first reported by The Wall Street Journal.
The plant was shut down for months last year after a US Food and Drug Administration inspection found Cronobacter sakazakii bacteria, which can be deadly to infants, in several areas.
Similac, Alimentum and EleCare powdered infant formulas made at the plant were recalled, and the closure exacerbated an infant formula shortage that caused problems for families across the country.
After being closed for months, Abbott's Sturgis plant reopened in June with production of EleCare specialty formula. Production had been underway for less than two weeks before a storm and flooding prompted officials to close the plant again. It was restarted in July.
In April, Abbott submitted a corrective action plan to the FDA. In May, a federal judge signed off on an agreement between the FDA and Abbott that laid out the steps the company needed to take to restart production.
"We understand the urgent need for formula and our top priority is getting high-quality, safe formula into the hands of families across America," Abbott said in its statement at the time. "We will ramp production as quickly as we can while meeting all requirements. We're committed to safety and quality and will do everything we can to re-earn the trust parents, caregivers and health care providers have placed in us for 130 years."
President Joe Biden invoked the Defense Production Act to direct suppliers of formula ingredients to prioritize delivery to formula makers. The administration also created Operation Fly Formula to import formula from abroad.