Greg Gianforte, the Republican governor of Montana, thinks "our behaviour as individuals has deteriorated" and social media is to blame.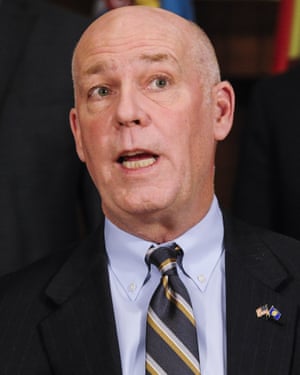 This, remember, is the Greg Gianforte who in 2017 pleaded guilty to misdemeanour assault after attacking Ben Jacobs, a Guardian reporter who asked him a question during an election campaign, when Gianforte was a member of the US House.
Gianforte's thoughts about bipartisanship and the right way to treat ideological opponents are contained in a fascinating report from the Daily Montanan, about a session at the University of Montana in Missoula on Monday.
"As for one of the contributors to the divisive nature of politics," the story says, "Gianforte pointed to social media as a serious culprit. On social media, people tell just one side of a story, often with a pejorative, he said, and he said he tries to make sure in discussions he's saying something that is true, needs to be said, and is kind rather than insulting or confrontational."
"I think our behavior as individuals has deteriorated," Gianforte said.
As the Bozeman Chronicle reported at the time, and as the Daily Montanan put it this week, "reports from law enforcement and witness interviews indicated Gianforte misled authorities about the incident [in which he assaulted Jacobs]. The Chronicle noted Gianforte apologized to the reporter the following day, and later as part of a settlement, he apologized in writing and said his conduct did not meet the high standards to which he should be held".
Here, meanwhile, is an Associated Press interview from June 2017 entitled "Gianforte calls for civil politics after assaulting reporter".
In the interview, Gianforte "refused to answer questions about the attack and why his campaign initially released a statement painting Jacobs as the instigator, which contradicted witness accounts, Gianforte's own apology letter and the criminal charge to which he eventually pleaded guilty", and instead "repeated nine times over the course of [a] half-hour … that he had taken responsibility and wanted to move on".
"I have addressed the issue," Gianforte said. "I think I've been very clear, I've taken full responsibility. I'm not proud of what happened that evening, but I have accepted full responsibility and both Ben and I, and I think the people of Montana, want us to move on."
Finally, here's more about what Gianforte has been up to recently: