00:30
Zelenskiy calls for direct talks with Putin
Ukrainian president Volodymyr Zelenskiy has called for direct talks with his Russian counterpart as the key to ending the war.
Ukraine and Russia have held several rounds of talks via videoconferencing, but so far without a major breakthrough, and Zelenskiy reiterated that direct talks with his Russian counterpart "in any format" were now needed.



Without this meeting it is impossible to fully understand what they are ready for in order to stop the war."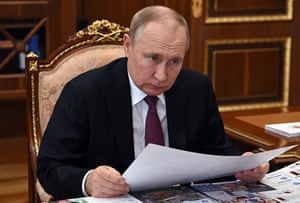 Zelenskiy said his country would be "destroyed" before it surrenders its cities to invading Russian forces.
The Ukrainian president made clear his countrymen would not "hand over" the capital, the eastern city of Kharkiv, or the heavily bombarded and besieged Mariupol.



Ukraine cannot fulfil Russian ultimatums.

We should be destroyed first."
Updated

00:24
Summary
Hello it's Samantha Lock with you and we unpack all the latest developments in Ukraine.
Russia's war on its neighbour is well into its fourth week. Casualties are in the thousands and millions have fled the country seeking refuge abroad.
Here is where the crisis currently stands:
Ukrainian president Volodymyr Zelenskiy urged direct talks with Vladimir Putin, saying: "Without this meeting it is impossible to fully understand what they are ready for in order to stop the war." He also said his country will never bow to ultimatums from Russia and cities directly under attack, including the capital, Kyiv, and Mariupol and Kharkiv would not accept Russian occupation.
Russia's false accusations that Ukraine has biological and chemical weapons is a "clear sign" that Vladimir Putin is considering using them himself, Joe Biden said. "[Putin's] back is against the wall and now he's talking about new false flags," he said. The Pentagon has accused Russian forces of committing war crimes in Ukraine, saying there is "clear evidence" of such, and the spokesman of the US Defence Department said it would help gather evidence of them.
Biden spoke after the Pentagon said it had seen "clear evidence" Russian forces were committing war crimes and that it was helping collect evidence.
Biden also warned the US business community of intelligence pointing to a growing Russian cyber threat and urged companies to "immediately" prepare defences.
Josep Borrell, the EU's foreign affairs chief, heralded new plans to develop an "EU Rapid Deployment Capacity" that could allow the bloc to "swiftly deploy up to 5,000 troops" for different types of crises. He insisted a "European army" will not be created.
Almost 10,000 Russian soldiers may have already been killed in the war in Ukraine since Russia invaded almost four weeks ago, and more than 16,000 wounded, according to reports of previously-undisclosed figures from the defence ministry in Moscow revealed in a pro-Kremlin tabloid newspaper, Komsomolskaya Pravda. The paper later released a statement claiming it had been hacked.
British prime minister Boris Johnson is "desperate" to go to Ukraine and has a "real emotional connection" with the Ukrainian people, the Tory party chair has claimed. It was reported at the weekend that Johnson wanted to go to Kyiv but on Monday No 10 sources indicated this was unlikely to happen.
Some of Chernobyl's exhausted workers have been permitted to leave the site. They have been on duty for the last three weeks since Russia's invasion of Ukraine, fuelling concerns about the site's safety.
The UK defence attaché has said Russia's claims that it fired "hypersonic" missiles in western Ukraine is probably an effort to detract from the lack of progress in its ground campaign.
The Ukrainian military said Russian forces hold the land corridor with Crimea and are blocking access to the Sea of Azov, according to a recent operational report.
A total of 2,421 civilian casualties have been recorded in Ukraine since Russia invaded, including 925 killed and 1,496 injured, according to an update from the UN Human Rights office (OHCHR).