Key events
62 mins: Kerr accidentally stands on Necidova's hand, but the Matildas still want to break with the ball, despite the prone Czech player. Eventually they pull up so Necidova can get some treatment.
61 mins: Raso is such a dynamo. She'll never sit back, thinking her job is done. Here she is now, chasing back and putting in an important challenge to stymy a Czech attack.
60 mins: An hour on the clock, and the pressure has eased on the Matildas, courtesy of Hayley Raso's quickfire double. They needed that, to be honest.
58 mins: The scoreline has a much better look to it now, and the Matildas are brimming with confidence. In particular, Raso, who again gets involved, this time pulling down a long ball before sending over a cross that Kerr leaps salmon-like to get to, but is inches away from making a connection. That could easily have been a third!
Goal! Australia 2-0 Czech Republic (Raso 56)
56 mins: Raso again! Catley's corner goes to the back stick where Hunt nods back across the face of goal for Raso to head home from close range!
54 mins: Here's Fowler, already looking a bit brighter than the first half. She has some time and space to advance, before she drags the ball onto her right foot and lets fly. Deflected behind for another Matildas' corner…
52 mins: That's a delicious ball into the box from Cahynova on the Czech right. It's a matter of inches from the head of Martinkova – a scare for the Matildas' defence.
51 mins: The Matildas started the first half strongly too, the glaring difference is Raso's goal. It will be interesting to see where they go from here.
50 mins: Vine now looks to make it two after Slajsova fails to head clear. It's hacked behind for a corner, the first of the half.
49 mins: Well, there was an element of fortune about that goal in the end, but Raso did well to actually get into a shooting position, after Kerr's final pass was slightly behind her.
Goal! Australia 1-0 Czech Republic (Raso 48)
48 mins: Fowler is involved before she plays it to Kerr, who in turn lays it off for the overlapping Raso. Her shot is deflected, wrongfooting Lukasova and going in off the near post! The Matildas lead!
47 mins: Australia on the front foot immediately as Raso dances into the box but she's muscled off the ball by Dlaskova and the ball runs out for a goal kick.
46 mins: Here we go then. Second half is under way. One change to tell you about – Clare Hunt is on in place of Aivi Luik to make her debut.
It's been a frustrating opening 45 minutes for Australia, who surely would have expected to create more chances. But they've been largely stifled by a dogged Czech performance. Mary Fowler has been unusually quiet, and Kerr has been left to feed off scraps. The visitors could even be ahead at the break, if not for some alert goalkeeping from MacKenzie Arnold. Gustavsson has a job on his hands in the dressing rooms at the break. Don't go anywhere.
Half-time: Australia 0-0 Czech Republic
45 mins: Bertholdova heads clear – no surprises there – and that will be that for the first half.
44 mins: What can the Matildas do here, just before half-time? Fowler wins a free-kick – blown for with the ball just landing at Kerr's feet in a good position, weirdly – and the hosts will have a final chance to find a way through this half.
42 mins: Catley's corner is headed clear again. Cooney-Cross recycles it and lobs another ball into the box. Again cleared. Australia aren't having any joy so far.
41 mins: The sky has gone a beautiful pink as the sun sets and Cooney-Cross win another corner for Australia after a neat lay off from Kerr.
40 mins: Nothing comes of the corner but Polkinghorne, of all people, picks up the cleared ball and sends over a lovely cross towards Kerr at the near post. Excitement builds in the crowd, but Lukasova is there first.
39 mins: The Matildas can't seem to get away from those pesky red shirts at the moment. Here goes Kerr, running onto a ball into the box, but again she's met with a Czech challenge. Corner ball.
38 mins: Ooh! Half the stadium think that's gone in from Raso! But her back-post header hits the side-netting. Great work from Catley on the left with a deep cross there.
36 mins: It goes to the near post, where Polkinghorne is making her run. But there's nothing doing again as the Czechs clear their lines once again.
35 mins: A promising move down the right flank ends with a third corner of the night for the Matildas. Catley comes across to take it…
34 mins: Ah, that's nice. The TV camera pans from Kerr to a young boy in the crowd who's holding up a sign that says "You inspire me Sam".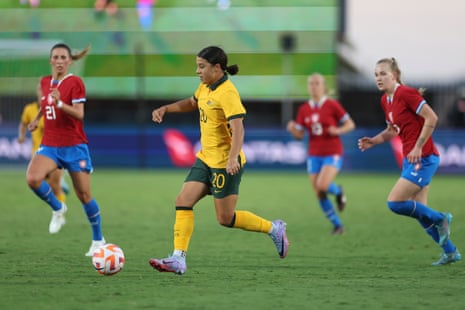 32 mins: Arnold again called into action! This time it's a fiercely-struck effort towards the near post by Khyrova that needs dealing with. Arnold does so with aplomb. But a few mistakes are creeping into the Matildas play now, and their guests are beginning to capitalise and cause a few problems.
30 mins: Oof! Catley gets the ball full in her face. She's a tough cookie though, and barely flinches. She's good to go.
29 mins: Oooh! Clearest chance of the game so far! Chlastakova runs onto Mrazova's headed flick-on from a goal kick but she can't get the ball past the advancing Arnold, who make a good stop. That was proper route one stuff, and the Matildas didn't cope with it well.
28 mins: Fowler's pulled up for a foul and the Czech Republic have a chance to get another ball into the box. It's a decent delivery, but Kerr of all people is there to head away.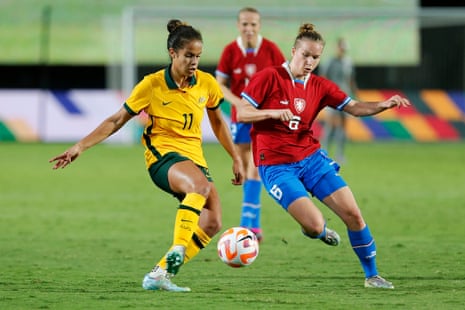 26 mins: Arnold is called into meaningful action for the first time tonight, springing to her right to turn Dlaskova's well-struck shot from outside the box around the post for a corner!
24 mins: Kerr does brilliantly to fashion a chance, bursting away from the Czech defence before skipping inside another challenge and slipping the ball to Raso. Raso has Vine screaming for it outside, but her right-footed ball is played too near the keeper and Lukasova claims with ease in the end. A real chance that one.
23 mins: Catley slings in the corner, in-swinging towards the head of Polkinghorne, but it's cleared by a Czech head.
22 mins: Over to the other side of the pitch, and the Matildas make progress with a series of throw-ins. Vine is heavily involved over there, and she eventually wins a corner.
20 mins: Oh it's a poor one from Gorry, who sensed she could catch out Lukasova at her near post with a cheeky effort on goal. But her effort finds only Slajsova, who clears and the chance goes begging.
19 mins: The pressure is building. Raso goes down right on the edge of the box as she cuts inside only to be felled by Slajsova. Free-kick to Australia, yellow card to Slajsova. Gorry's over and there could be danger here.
17 mins: Here we go though! Cooney-Cross' long ball forward finds Kerr's run, but the Chelsea striker's first touch is not ideal and keeper Lukasova is able to hoon off her line and claim the ball.
15 mins: Gorry is in the middle of things at the moment, throwing herself about a bit, but a quarter of an hour in, the Matildas have not been able to break down the Czech defence.
13 mins: And now the visitors have a chance to get a ball into the box, with a free-kick of their own. It's also cleared without too much fuss, and Vine has a chance to break forward. A last-ditch sliding tackle from Dlaskova ensures the excitement in the crowd is extinguished.
11 mins: It's headed clear by the Czech defence and Australia will have to wait for their first clear-cut sight of goal tonight.
10 mins: Oops. Grant gets caught dawdling on the ball, but she's saved by the referee's whistle, and Catley will pump the ball into the box from the free-kick.
9 mins: Cooney-Cross storms through the Czech defence before she looks to play a neat one-two with Kerr, but the return ball is poorly angled and the ball runs through to Czech keeper Lukasova.
8 mins: Not sure of the crowd figures yet, of course, but it doesn't look like an amazing turnout in Gosford. Certainly far from a sell out.
6 mins: Another shooting chance arrives after good work from Vine on the right… the ball is played inside to Cooney-Cross, but again Australia lack a finishing touch and her effort balloons way over the bar.
4 mins: Plenty of the ball for record-maker Polkinghorne early on as Australia continue to play it around and keep possession in these opening exchanges.
3 mins: The Czechs get the ball for the first time, and Martinkova looks to release a runner down the inside left channel. It's overhit though. Australia break down to the other end with Catley on the left. Her ball is laid off by Kerr and Gorry fancies her chances with a long-range shot. Way over the bar.
2 mins: If I hear the phrase "dress rehearsal" one more time, honestly. Talk about an a la mode buzzword today. Fowler draws a foul and the Matildas keep possession and play it about the back early on.
1 min: Here we go then! Australia kick off and we're off!
Not so fast – let's have a coin toss and exchange of pennants first.
Well done, well done. The anthems are done and dusted and we're just about ready to get this game under way!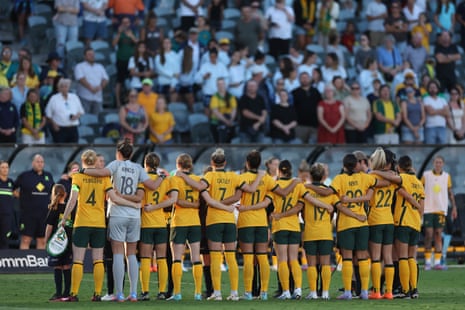 It's the Welcome to Country first. Beautifully delivered by Uncle Gavi Duncan.
The sun is on its way down at this picturesque stadium on the Central Coast and parts of the crowd are bathed in a beautiful golden glow. Here come the teams. The Czechs are in their traditional red shirts and blue shorts, Australia in their usual green and gold. Kick-off is approaching, but we'll have the anthems first. Petra Bertholdova is the Czech captain, Polkinghorne wears the Australian armband for her milestone appearance.
This is of course a double header on the Central Coast today. Earlier the world No 7 side Spain posted a convincing win over Jamaica ahead of their meeting with the Matildas on Sunday in Sydney. Maite Oroz opened the scoring for Spain after a deflected shot rebounded off the bar into her path, before Esther Gonzalez made it two before the break with a neat run and finish. Fiamma Benitez came off the bench to round off the win with a peach into the top right hand corner in the second half.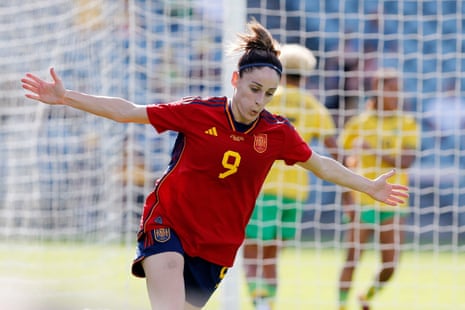 Here's Tony G with some smooth talk ahead of kick-off.
While we're awaiting kick-off in Gosford, in about 20 minutes, here's my colleague Emma Kemp with some thoughts on the Cup of Nations, dress rehearsals and Mary Poppins:
Polks is talking to Channel 10 of her pride at breaking the appearance record tonight – to be clear, that includes men's as well as women's football. She's asked how she avoids ageing, Benjamin Button-style.
"I feel like I am. I love what I do and playing in this team so it keeps me younger.
"We've always said this is going to be a rehearsal for the World Cup. It's going to be a good part of our preparation."
Good to see Mary Fowler in the starting XI tonight – she's such a bright talent and always great to watch. The Manchester City player was labelled as The Next Big Thing™ not so long ago on these very pages. Have a read below:
Let's dive straight in – there has been some speculation over whether Sam Kerr would play tonight, but fear not, the talismanic striker is on Australia's starting XI. So too is Claire Polkinghorne, who sets an incredible new record tonight as she becomes Australia's most capped national team player with 152 to her name. She captains the side tonight. In comes Mackenzie Arnold for goalkeeper Lydia Williams, while Aivi Luik gets the nod to start in the centre of defence. Caitlin Foord misses out with a quad strain.
And the Czech line-up for you:
Preamble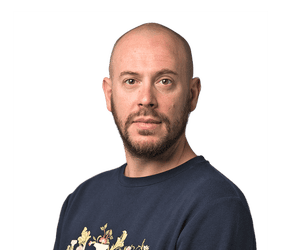 Mike Hytner
Hello. The countdown to the big kick-off is well and truly on! By my reckoning there are just 154 days to go before Australia meet Ireland at Stadium Australia (after New Zealand have opened the tournament against Norway at Eden Park) and the Matildas begin their highly anticipated 2023 Women's World Cup campaign.
Up first though is the small matter of a Cup of Nations, at which the Matildas will be able to test themselves in "tournament mode" and get a bead on how ready they are for a major title tilt. Tonight's opponents, world No 28 Czech Republic, may not have qualified for the tournament in July and August, but will still provide an opportunity for Matildas coach Tony Gustavsson to tick off some boxes as he enters the final stages of his World Cup preparation.
Gustavsson is keen to treat tonight's match, and the two which follow against No 7-ranked Spain and fellow World Cup finalists Jamaica, as a "dress rehearsal" for the main event. "That's what it's about now: training for tournaments," he said on Tuesday. "Three unique opponents with very different tactical preparation, and being able to do that in a short turn-around."
The Czechs and the other protagonists in this four-team mini-tournament have apparently been hand picked for this tournament, to give a realistic impression of what the Matildas' World Cup group will offer (it contains Ireland, Canada and Nigeria). Karel Rada's team have enjoyed some excellent results of late, including a couple of goalless draws against top opposition – the top-ranked US at last year's She Believes Cup and European champions England in a friendly in October.
The glorious Central Coast Stadium is the venue for tonight's game. It's a balmy evening in Gosford, with the mercury tipping 25C at the moment. Do feel free to get in touch with an email (mike.hytner@theguardian.com) or on Twitter (@mike_hytner). Otherwise, strap yourselves in for a fun evening ahead.