Key events
Labor will win Victoria election by five points, says Newspoll
A Newspoll in the Australian this morning says that Labor and Daniel Andrews are five points ahead going into today's Victoria state election.
It predicts a two-party-preferred result of 54.5-45.5% in what would be a 2.8% swing to the Liberals compared with the result in 2018. Three weeks ago, the paper reports, the split was 54-46.
It adds that such a vote would give Andrews between 45 to 50 of its 55 seats in the 88-seat parliament, and would mean that Andrews would overtake John Cain Jr as Victoria's longest-serving Labor premier.
Australians complacent about Covid
We report this morning that Australia's fourth Covid wave is likely to peak before Christmas as the rate of hospitalisations and infections begin to slow.
Cases have continued to increase nationwide for the sixth consecutive week, however at a slower rate. This suggests a plateau in cases would arrive by the first week of December, in line with pandemic modelling, if it has not already.
It comes as research from Pfizer suggests that almost two-thirds of Australians believe the worst of the Covid-19 pandemic is behind them despite the recent rise in infections and different variants of the virus emerging.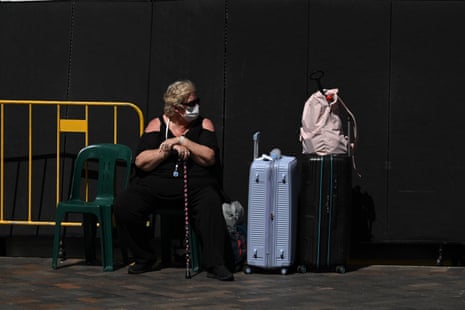 Australian Associated Press reports that one in three people is less likely to get tested when they have symptoms now compared with a year ago.
The findings have prompted stark warnings from health professionals, AAP says.
University of Sydney infectious diseases specialist Prof Robert Booy said the apparent decline in testing was a major concern and urged Australians to keep up to date with their vaccinations.
"Recent federal government data has shown Covid-19 still poses a very real risk to the health of our communities as we move into a new wave of infections, specifically to those at higher risk of serious illness," Booy said.
"Testing earlier means people can seek medical advice sooner and can access anti-viral medicines faster if they are eligible."
Almost two-thirds of Australians are also less concerned about how Covid-19 is affecting their community, while about half aren't as worried about their own risk of serious illness.
One in five people who are at higher risk, such as those over 70 or with health conditions including heart disease, are less likely to get tested or see a doctor if they experience symptoms.
The research findings are based on a November survey of 1,000 Australian adults by Pfizer Australia.
Good morning and welcome to our live blog. Mostafa Rachwani will be with you soon but in the meantime here are the main stories making the news today.
The Victorian election will be the main event. Voting has already started – in-person voting, that is, because pre-voting has been under way for a while – and the Labor premier, Daniel Andrews, is expected to win a third term despite the controversy over the state's long Covid lockdowns and assorted scandals. We have heaps of content to ensure that you are right up to date with what's happening, including this analysis piece by Benita Kolovos who says that both parties, win or lose, have made this the "Daniel Andrews election". You can also check out what to expect as the results come in with our explainer here.
If politics is your thing, look no further than Katharine Murphy's essay about the making of Anthony Albanese – "From lone wolf to leader". It appears in the Quarterly Essay but we have an excerpt today of how the man who became something of an outsider under Bill Shorten's leadership ended up as the resident of The Lodge.
There's good news for commuters in Sydney and the rest of NSW this morning after the state government announced a deal with the rail unions to end the long series of rail strikes. The parties had been at odds over whether or not to make safety modifications to a multibillion-dollar Korean-built fleet of intercity trains, which have been in storage since 2019. The state premier, Dominic Perrottet, said last night that the government reached the deal with the union, after months of stymied talks and accusations of bad faith from both parties. Catch the full story here.