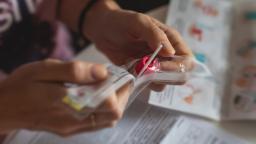 CNN
 — 

First, the respiratory virus season brought us RSV to worry about, and then came influenza. Now, Covid-19, which had taken a back seat to those viruses, is once again becoming a menace, and health officials are urging people to stay vigilant.
Make no mistake. Cold and flu season is still in full swing in the United States. Flu cases are still high, but they appear to have peaked and are trending downward.
"It's pretty clear that there was a peak of activity, but that doesn't mean we won't have another one," said Lynnette Brammer, lead of the US Centers for Disease Control and Prevention's domestic influenza surveillance team. "Things could turn around and go back up."
Flu is notoriously unpredictable, and the burden of disease varies widely from season to season. This season hit earlier than usual, but outcomes are within an expected range – at least so far.
Still, experts say they're relieved to see those numbers coming down.
White House Covid-19 Response Coordinator Dr. Ashish Jha said Friday on CNN that health officials are monitoring RSV and the flu even as numbers continue to fall. Covid-19, however, is rising in many parts of the country.
"Obviously, right now, Covid is the thing that is increasing that we need to pay most attention to," Jha said.
Experts had predicted that more travel and social mixing over the winter holidays would fuel Covid-19's spread.
As of January 4, the CDC says, the weekly average of cases is up to about 67,000, a 16% increase over the week prior.
That's almost certainly a sizable underestimate of the true Covid-19 disease burden in the US, since more people are using rapid tests at home and their cases aren't being reported to official channels.
Beyond cases are other signs that Covid-19 is on the upswing. On a national level, data from Biobot Analytics, a company that predicts Covid-19 trends based on data from sewage, shows that viral levels in wastewater are increasing.
Hospitalizations for Covid-19 are climbing and have now surpassed the numbers seen during last summer's BA.5 wave. Seniors are being hit particularly hard. More than 2,700 people died from Covid-19 last week.
The CDC says that about 1 in 5 counties or territories has a high Covid-19 community level, where masking is recommended indoors.
In the Northeast, a new Omicron subvariant, XBB.1.5, has quickly taken hold, and experts are watching to see if it will take off in other parts of the country, as well.
The CDC released data Friday suggesting that XBB.1.5 is not growing quite as quickly as feared.
Last week, the agency estimated that XBB.1.5 had grown from causing 4% to 41% of new Covid-19 infections in the US over the month of December, indicating that it was moving with astonishing speed.
New data helped the agency refine its estimates, however. It now says XBB.1.5 probably accounted for about 18% of new cases that week, jumping to 28% of cases by the end of this week. That's still fast, but it's not the week-over-week doubling in spread that had first alarmed variant-watchers.
In its weekly review, the CDC explained that its projections are more uncertain when a new variant begins to spread. Its scientists revise their Nowcast estimates for current and previous weeks as new data comes in.
Dr. Peter Hotez, dean of the National School of Tropical Medicine at the Baylor College of Medicine in Houston, says that when he first saw the numbers for XBB.1.5, he was sure it would sweep the country – perhaps the same way the original Omicron had.
"Now, it seems more plausible that XBB.1.5 could remain of regional importance, not necessarily of national importance," Hotez said.
XBB.1.5 was first detected in Connecticut and New York and is estimated to be the cause of nearly 60% of all new Covid-19 infections in the Northeast.
Covid-19 hospitalizations are also rising in the Northeast, although it's not clear whether it's because XBB.1.5 causes more severe disease than some recent subvariants or whether waning immunity is leaving people less protected from Covid-19 infections.
Hotez suspects that hospitalizations have climbed in step with rising infections.
"I would say what it could mean is that because XBB.1.5 is potentially more transmissible, more people are getting infected faster, and therefore that may account for the rise in hospitalizations," he said.
Hotez thinks waning immunity may also be playing a role. Update of the new Covid-19 boosters has been low. Although vaccination rates are inching upward, CDC data shows that just 15% of eligible Americans have gotten an updated booster since they were approved in the fall.
"If you've not gotten that bivalent booster, I don't think the original vaccinations are going to protect all that well against XBB.1.5," Hotez said.
The recently emerged sublineage is a second generation of a recombinant variant: XBB. XBB is a mashup of two BA.2 descendants that swapped pieces of their genetic code to acquire 14 new mutations. XBB recently led a wave of Covid-19 cases in Singapore but failed to gain much ground in the US.
XBB.1.5 also has a key mutation at site 486, which helps the virus bind more tightly to our cells, making it more infectious. Experts believe that this mutation may be responsible for its growth advantage.
The World Health Organization and the CDC are working on risk assessments for XBB.1.5.
On Friday, the FDA said that it was waiting on data to confirm, but that it expected that XBB.1.5 would be resistant to the long-acting antibody treatment Evusheld, which has been a preventive therapy for immunocompromised patients. The agency urged doctors to warn their patients on Evusheld that they might not have protection against currently circulating viruses.