When Ben Earl won his first senior England cap in February 2020, coming on as a 66th-minute substitute in a 13-6 win at Murrayfield, it felt as if a new era was dawning. Here was an all-action back-rower who seemed to tick every box. Pace, power, tenacity at the breakdown, street-smarts around the park; those in the know stroked their chins and predicted a long and fruitful career in white.
Of course, this hasn't materialised. He was frozen out by Eddie Jones after playing just 90 minutes across the 2021 Six Nations. And even though he was rightly recognised as the Premiership's player of the year last season, he's so far failed to win over Steve Borthwick.
"Selfishly, the elephant in the room is that I wish I could have played a bit more for England in that Six Nations campaign," Earl says when asked to sum up the past 12 months. "For whatever reason, I didn't, and I've learned a lot from that. But I feel that I have contributed as much as I could have done here."
He's talking about Saracens, who will compete for a sixth Premiership title when they play Sale on Saturday at Twickenham. Earl knows that another big show in the grandest game in English club rugby will go a long way.
Of his desire to represent his country, he says: "I can't lie and say that I haven't been giving it some thought, but the moment that you stop performing, you give someone an easy reason not to pick you. You look at how competitive my position is – it always feels that the person who slips up first is going to be the one that misses out.
"The magic of this place is that it's very aligned with what Steve wants and he just wants us to make the best of ourselves. He probably looks at games like this weekend and wants people that win stuff, so that's a big driving force for us."
Earl has learned to compartmentalise things in his mind. Though he still burns with ambition, he is no longer consumed by that flame. He works closely with Calum Clark, a former teammate at Saracens who now works as a mental skills coach at the club. Earl plays a lot of golf – off a three handicap – with his childhood friend Zak Crawley, the England Test opener who understands the unique frustrations of not being selected for national duty.
"We catch up a lot obviously with the peaks and troughs of his form as well," Earl adds. "It's nice to know you're not the only one that's thinking about it day and night. The moment you start looking for excuses, the moment you start 'I'm just unlucky, my face doesn't fit' is probably the moment you give somebody the reason to drop you.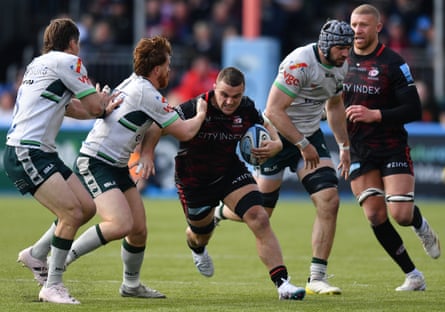 "Steve was unbelievably positive about my work in the Six Nations. Unfortunately selection didn't always go my way, but I'm trying to stay positive and put my best foot forward in these big games, which are probably the games he's looking at the most."
Though Saracens topped the Premiership regular season and cruised past Northampton in their semi-final, victory over Sale won't come easy who have Tom Curry, one of the most accomplished flankers in the world.
"It's one of those small battles that seem to be all over the pitch," Earl says. "It will probably have a big influence on who comes out on top, in terms of the back row in general. Tom's a good mate of mine. We've played rugby together since I was 16. We know each other's games pretty well."
With a World Cup looming, this scrap carries greater significance. There is no shortage of talented players who wear 6, 7 or 8 on their back. A first ever Premiership crown would go a long way in helping Earl stand out from the pack.