Key events
71 min: Miranda tries to make good down the left but is denied by Wan-Bissaka, who earns a slap of approval from Casemiro for his efforts.
70 min: Sancho cushions a long ball down the left into the path of Weghorst, who bobbles a shot straight at Rui Silva.
69 min: That means Fernandes has avoided the booking that would have seen him miss the first leg of the quarter final. Casemiro is still walking that particular tightrope.
68 min: Sancho, Fernandes and Sabitzer nearly open Betis up down the left with some cute triangles. Sabitzer is caught offside, though, and up goes the flag. That's the end of the evening for Fernandes, who is replaced by Elanga.
66 min: Rodríguez is replaced by Guardado.
65 min: Fernandes glides down the left and rolls a ball into the box for Sabitzer, whose first-time low drive is kicked clear by Rui Silva.
64 min: Sancho jinks into the Betis box from the left and scuffs a shot. It's deflected, but he doesn't get the corner he's earned.
63 min: Miranda pulls Pellistri back, a full handful of shirt. Surely a booking, but the referee's not interested. The state of this tie may have influenced that decision.
62 min: The air out of the Betis balloon now, United may be able to fill their boots. A corner on the left. Fernandes loops to the near post, where Maguire powers a header wide.
60 min: United respond by switching out Rashford and Fred for Sabitzer and Sancho.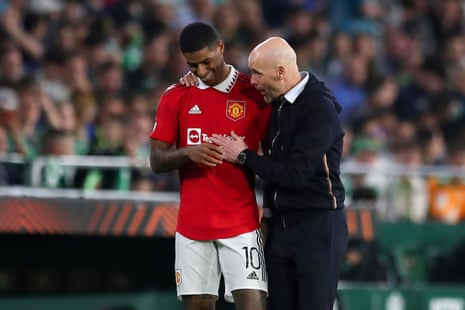 59 min: Iglesias, Canales and Jose come on for Joaquin, Perez and Ruibal. Nothing comes of the corner.
58 min: Miranda slips Rodriguez into the United box down the left. Rodriguez wins a corner. Before it can be taken, on come the subs.
GOAL! Real Betis 0-1 Manchester United (Rashford 56); agg 1-5
Casemiro finds Rashford 25 yards out, just left of centre. Rashford swings, sending a shot into the bottom right with the outside of his boot, the ball swerving away from Rui Silva's desperate fingers. What a finish! From the ridiculous to the sublime!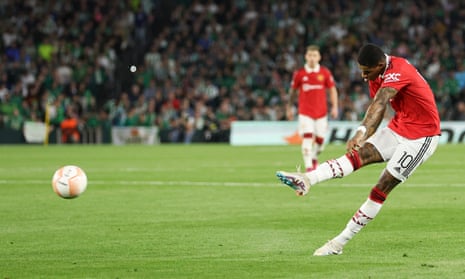 55 min: This is getting absurd now. Rashford breaks into the box down the middle. He's surely got to score … but in going for power, he slices a wild effort miles over the bar! What a miss! But it doesn't matter, because …
54 min: Perez wins a corner down the left. The corner's delivered to the near post, where Perez flashes a header goalwards. De Gea, his reflexes in good nick, punches clear. How on earth is this still 0-0?
53 min: United launch a three-on-two break. Pellistri and Fernandes combine, and the ball's fed left to Rashford, who enters the box one on one with Rui Silva. He aims a fizzer towards the bottom right only for Rui Silva to block magnificently. What a save!
52 min: Fred lashes over from distance.
51 min: Pellistri nutmegs Gonzalez down the right and skitters into the box. Miranda comes across to put a stop to his gallop just before he can shoot. That was very nearly something special.
50 min: Rashford makes good down the inside-left channel and tries to release Weghorst. The pass pings back to him so he takes a shot instead. Over.
49 min: Ruibal drags a speculative shot miles left of goal.
48 min: Miranda set that chance up with a fine dribble down the left. And he goes on another here, before standing one up to nobody in particular.
46 min: Within 30 seconds of the restart, Joaquin runs into a pocket of space in front of the United box. He could release Perez to his right, but opts for the shot instead. He curls towards the top right but sends the effort way too high. A very decent chance to give Betis the fast start they need if they're to launch any sort of comeback.
United get the ball rolling for the second half. No changes.
Half-time ad break. Sign up now! Sign up now! Sign up now? Sign up now!
HALF TIME: Real Betis 0-0 Manchester United (agg: 1-4)
How on earth is this goalless? United won't care too much; they remain three goals up and are now 45 minutes closer to the quarters. It's been great fun.
45 min +2: Fernandes swings the resulting free kick into the mixer, and United nearly score. United should have scored. The ball drops to Pellistri, who swivels and whips a shot towards the bottom left. Weghorst extends a leg hoping to poke home from a yard out. He misses. The ball comes off the post, Rui Silva fingertips it off the line, and Rodriguez hammers clear! What an end to the half that would have been.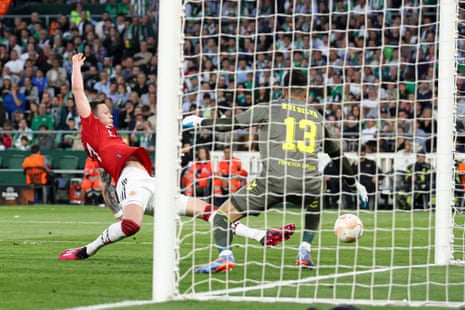 45 min +1: Casemiro drives down the left only to be flipped into the air like an old sock by Joaquin. No booking for the Betis captain. Pellistri must wonder what he's done wrong.
45 min: Rashford cuts in from the left and tries to work some shooting space, only to become indecisive at the crucial moment. He's crowded out.
43 min: Juanmi has a bash from the edge of the box. Maguire bravely throws himself in front of the ball to block. That shot was shifting.
42 min: De Gea takes his sweet time over a restart, much to the crowd's pantomime displeasure.
41 min: Joaquin swings it in. United half clear. Juanmi tries to make space to shoot on the edge of the box, but is eventually crowded out.
40 min: Betis probe at speed, this way and that. Malacia suffers a rush of blood and clatters Ruibal, 30 yards out on the right. A free kick in a dangerous position.
38 min: Ruibal sashays in from the right and into a pocket of space. He can't decide whether to cross towards Perez or aim for the top-left corner, so manages to do neither. Goal kick.
37 min: Fernandes slips a pass down the right to release Pellistri into space in the Betis box. The debutant whips a cross to the near stick. Rui Silva gets in ahead of Weghorst to claim.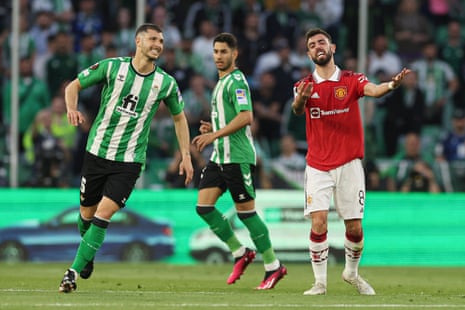 35 min: Rashford and Pezzella rut like stags near the corner flag over bugger all. The referee comes across and tells them both to act their age. To be fair, it all blows over quickly, and Rashford walks away smiling.
34 min: Ruibal goes down theatrically after Malacia slides in on him. It was a foul, and possibly a booking, but the over-the-top response might have tested the referee's patience and saved Malacia there. There was certainly more reason to book Malacia than Pellistri, put it that way.