Hello, I'm Léonie Chao-Fong and I'll be bringing you the latest developments in the wake of the death of Queen Elizabeth II.
Here is what to expect today:
Today will see the first big ceremonial in London as the Queen's coffin is borne on a gun carriage from Buckingham Palace to Westminster Hall for her lying in state.
In a tribute to his late mother, the King will lead a procession behind the gun carriage to Westminster Hall. King Charles's three siblings – Princess Anne, Prince Andrew, and Prince Edward – as well as his sons Prince William and Prince Harry will also walk in the procession. Camilla, the Queen Consort, and Catherine, the Princess of Wales, will travel by car, as will Sophie, the Countess of Wessex, and Meghan, the Duchess of Sussex.
The coffin will leave Buckingham Palace at 2.22pm and arrive at Westminster Hall at 3pm. The procession will travel via Queen's Gardens, the Mall, Horse Guards and Horse Guards Arch, Whitehall, Parliament Street, Parliament Square and New Palace Yard.
There will be a gun salute from Hyde Park during the procession, with one round fired every minute. Viewing areas for the public along the route will open at 11am on the day.
After a service conducted by the archbishop of Canterbury lasting around 20 minutes, the Queen's lying in state will begin, lasting for four days and ending on the morning of the state funeral on 19 September. The King and the Queen Consort will return to Buckingham Palace.
Those wishing to pay their respects will be able to file solemnly past the Queen's coffin 24 hours a day from 5pm on Wednesday until 6.30am on the day of the funeral – Monday 19 September.
Senior members of the royal family are expected to pay their own moving tribute, standing guard at some stage around the coffin – a tradition known as the Vigil of the Princes.
At the lying in state, the Queen's closed coffin will rest on a raised platform, called a catafalque, in Westminster Hall and will be draped in the Royal Standard with the orb and sceptre placed on top. Each corner of the platform will be guarded around the clock by a vigil of units from the Sovereign's Bodyguard, the Household Division, or Yeoman Warders of the Tower of London.
Key events
Sarah Barnes travelled from Leicestershire with her sister-in-law Carol Barnes, 66, and Carol's daughter Clare Fell, 41. Draped in union jack flags, the trio pitched up on Whitehall around 6.30am.
"We left Leicestershire at 4.30am and we're here to pay our final respects to the Queen," said Sarah, 56, from Sutton in the Elms.
We all felt we wanted to be here and it didn't matter how long it would take. We're royal fans – we've been to the royal weddings, we've been to the jubilees, and we were on The Mall for the platinum jubilee and we were interviewed by the world but this is a different atmosphere.

It feels more sombre, more reflective and I don't think it's going to seem real until we see the hearse. Scotland have gone through it but we haven't see that yet. It's strange because we have to celebrate the king but we haven't really mourned our Queen yet, but it's all part of our wonderful history.

I was devastated when I heard the news about the Queen. Everybody knew she was getting old, but we saw her two days ago welcoming Liz Truss and she looked okay. You almost felt she's immortal.
Clare said the atmosphere "definitely feels different" to the gaiety of the platinum jubilee, which made her unsure about wearing a flag. But Sarah said she was proud to have it tied around her waist.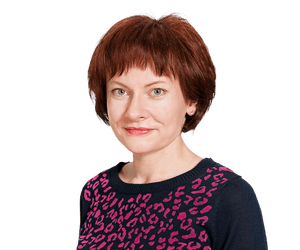 Libby Brooks
Scotland's Makar, or laureate, Kathleen Jamie, has penned a beautiful poem that foregrounds the mountain of Lochnagar, which rises above the Balmoral estate in Aberdeenshire and on whose slopes the Queen was often seen walking.
Written in four rhyming stanzas, Jamie said she chose the "old-fashioned" form "to represent the virtues that many people found in the Queen, of constancy and tradition".
Lochnagar
The alder boughs hang heavy,
Red weighs the rowan-trees
That line the well-loved path which climbs
To Lochnagar from Dee
And knows at last the open hill,
Those ancient wind-honed heights
Where deer stand shy and sky-lined,
Then vanish from living sight,
Where grief is ice, and history
Is distant roiling skies,
Where weather chases weather
Across the lands she strived
To serve, and served supremely well,
Till the call came from afar:
Back to the country kept in her heart,
the Dee, and Lochnagar.
People who wish to see the Queen lying in state in parliament's Westminster Hall have been told to brace for long queues.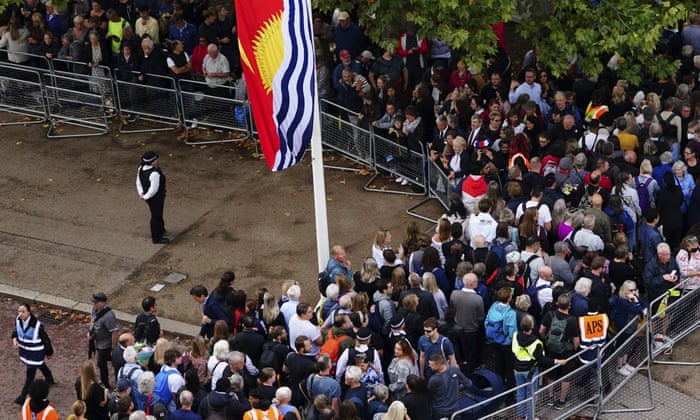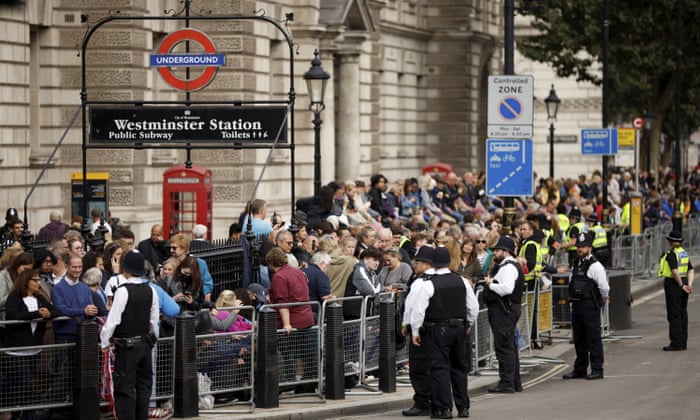 Claire Varker and her friend Shelley were enjoying champagne in a pub when they learned of the Queen's death. A silence swept across the pub and some people began to cry, they recalled. They left 10 minutes afterwards feeling the setting inappropriate for reflection.
The pair, seated on their jackets on the paved path along The Mall, came on the train from Somerset this morning to pay their respects to the late Queen.
"There were many days where I just felt sad, and morose, and in disbelief," recalled Shelley, 46 in the days following the monarch's death.
I think it's just something we've grown up with," said Varker, 46, of the royal family. "It's just always there, isn't it? Being English, British, it's something that's in your culture.
Tony Semmence, 68, arrived at Buckingham Palace from Dorset at 8.30am, encouraged by his daughter who "dragged him along".
Semmence was shocked upon learning of the Queen's death. Perched on a stool behind a row of people on The Mall, he said it was incredible the monarch stayed the distance to welcome a new prime minister.
"King Charles … it's a shame because he's now mourning for his mother and he's got to do all these regal things," added Semmence. "When's he going to have time to grieve, really?"
Accompanied by family members, Semmence said they will await the procession and spend the rest of the day wandering London.
"That's all we're doing, paying our respects to someone who's been loyal to country for 70 years."
On Whitehall, Sheila Ralph has a front-row view of the procession. She travelled from Trowbridge, Wiltshire, last night and headed to Westminster at 8am. The retired 66-year-old says she has come prepared in a waterproof and with a chair and plenty of water.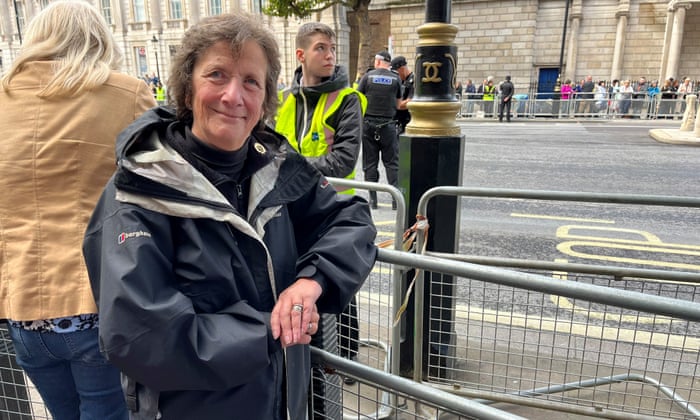 "The Queen is a wonderful example of duty and someone all of us can aspire to," she said.
I'm a gold Duke of Edinburgh award holder so it's important to be here. She's been Queen all my life. She worked until she was 96 and it can't have been easy for her. It was a sense of duty that made her keep going. It would've been my mother's 102nd birthday on the day she died so I found it very emotional.
On Wednesday morning thousands poured into Green Park, pressing themselves against the barriers lining The Mall to catch a glimpse of the procession later today, as the Queen's casket makes its way from Buckingham Palace to Westminster Hall.
Armed with chairs, blankets and snacks, people from across the country arrived in the day's early hours, with the intent of paying their respects to the late monarch and royal family members.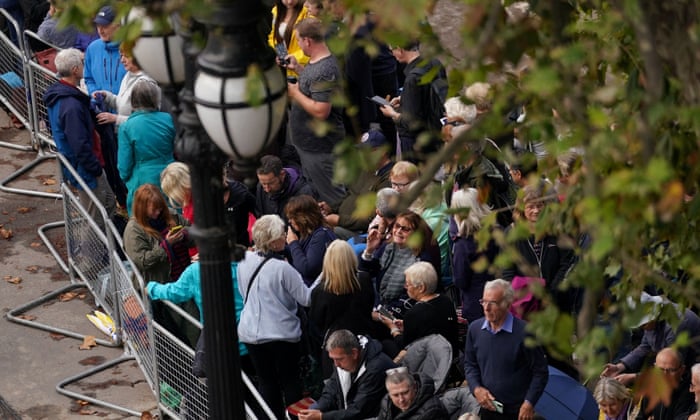 Marcia Lewis arrived on the train from Birmingham this morning and is one of many to assemble chairs behind the barriers on Mall Road from 7.30am, to watch as the procession makes its way to Westminster Hall later today.
"We just thought we wanted to be a part of history, we've never done this before," said Lewis, 58.
"I didn't think it would affect me as much when she died but indeed, I did have a tear," added Lewis, who said she burst into tears upon learning of the Queen's death on Thursday. "I think it just brought back memories, because my mom passed away recently."
Further down the road, Becky Sclater, 33, her mother Lesley Evans, 61, were sitting on the ground awaiting the procession for the monarch's lying in state. The pair of self-described royalists, woke up at four this morning in the Midlands, and came to pay their respects and lay flowers in Green Park.
Evans said they came to be part of something, to be part of history. "It's like an extended part of your family." Through turbulence and highs and lows throughout the years, the Queen was a source of calm, she added.
"We need the monarchy, and I don't think people understand the importance of that steadfast side," said Sclater, whose husband served in the RAF and police force.
"I think this probably shown that even people who aren't monarchists have seen we've lost something," added Evans. "It's something to be proud of, sometimes we don't always have a lot to be proud of."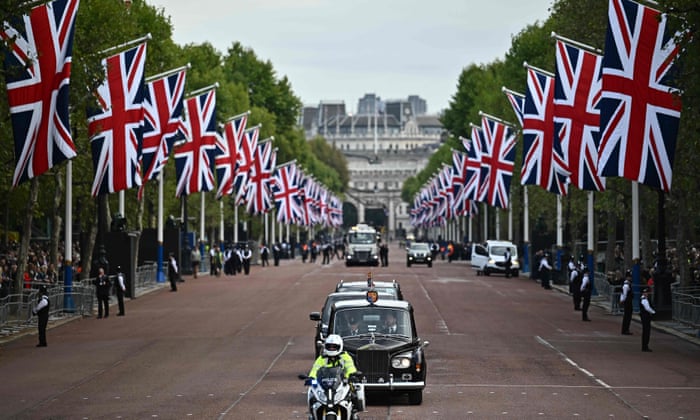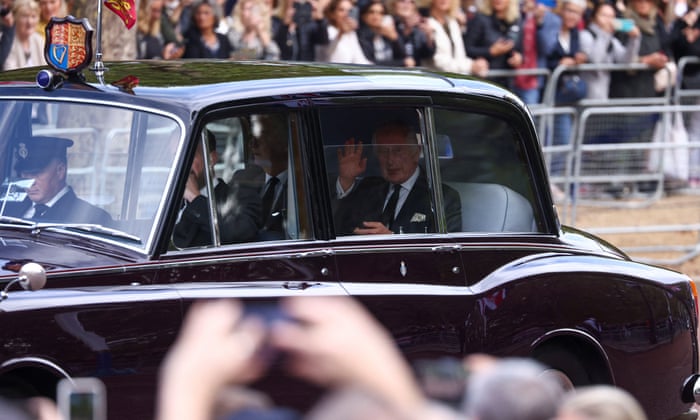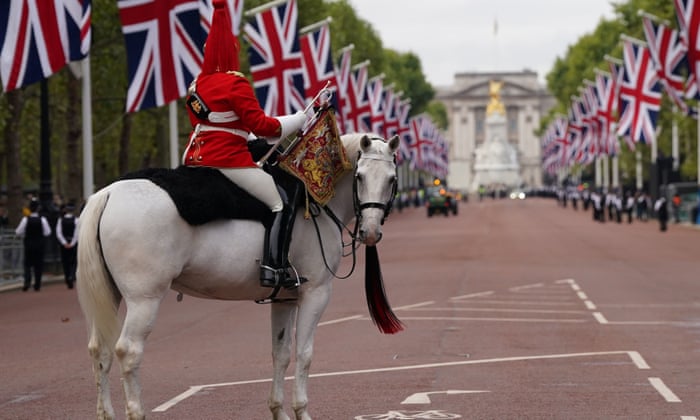 Disability rights campaigners have described access arrangements for the Queen's lying in state in Westminster Hall in London as "disappointing".
People with pre-existing medical conditions have been told to prepare for significant wait times including possibly overnight, in guidance that has been criticised as not a reasonable adjustment as required by the Equality Act.
The government has demonstrated a "breathtaking" lack of awareness around the needs of disabled people wishing to attend the lying in state this week, the head of Disability Rights UK, Kamran Mallick, said.
Mallick said:
The threat of confiscation of food, drink and portable shelter such as unfoldable umbrellas is in breach of the Equality Act. Many disabled people use these to double up as walking sticks. Disabled people often need food and water on the go, or to take with medication.
He added:
How ironic that our monarch should sign the Equality Act into law over a decade ago, and end her life herself disabled, and yet still the government cannot enact the laws around equity of accessibility which she brought into being.
King Charles has arrived at Buckingham Palace, after departing Clarence House earlier.
The King waved as he drove past thousands of well-wishers lining The Mall.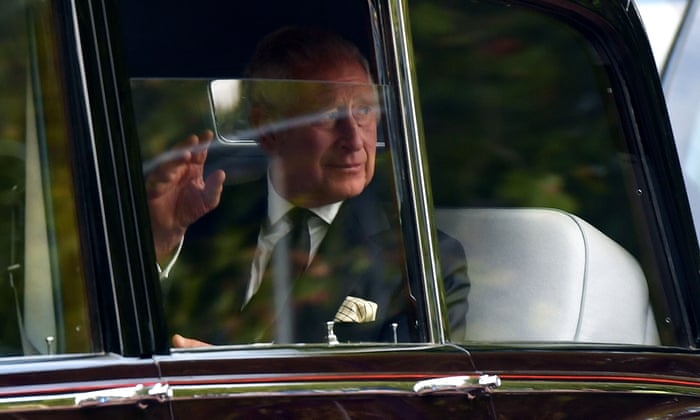 Later today, he will lead a procession behind his late mother the Queen's coffin as it travels to Westminster Hall for her lying in state.
Queen Elizabeth II was a "legend" with the power to speak "to the soul of the whole world", the European Commission president, Ursula von der Leyen, said.
The late British monarch "was a constant throughout turbulent and transforming events in the last 70 years, stoic and steadfast in her service", the EU chief said in a major speech in Strasbourg today.
She said:
More than everything, she always found the right words for every moment in time. From the calls she made to war evacuees in 1940 to her historic address during the pandemic. She spoke not only to the heart of her nation but to the soul of the world.