Key events
Ministers accused of 'staggering complacency' over missing child asylum seekers
Ministers were accused of "staggering complacency and incompetence" after the revelation that 200 children seeking asylum have gone missing from hotel accommodation provided by the Home Office.
In a Commons urgent question, Caroline Lucas, the Green MP, said it was "entirely foreseeable that children were at risk of being snatched, abducted and coerced by criminals".
Lucas represents a constituency in Brighton, where some of the child asylum seekers have been housed, and she said the problem should have been anticipated. She said:
The staggering complacency and incompetence from the Home Office is shameful. We need immediate answers, we need an urgent investigation. We need to ask how many more children are going to go missing before we actually see some action?
Robert Jenrick, the immigration minister, was replying for the government. He said that the Home Office wanted to end the use of hotels for this group and, echoing what his fellow Home Office minister Simon Murray told the House of Lords yesterday, he said the government did not have the power to detain unaccompanied asylum seekers.
Jenrick said:
Of the unaccompanied asylum-seeking children still missing, 88% are Albanian nationals, the remaining 12% are from Afghanistan, Egypt, India, Vietnam, Pakistan and Turkey.

When any child goes missing a multi-agency missing persons protocol is mobilised alongside the police and relevant local authority to establish their whereabouts, and to ensure that they are safe. Many of those who have gone missing are subsequently traced and located.
Barclay rejects claims government wants to extend charging in NHS
During health questions in the Commons, Wes Streeting, the shadow health secretary, challenged the government to rule out "any extension of user charging in the NHS".
Echoing an argument used by the former Labour prime minister Gordon Brown in a Guardian article yesterday, Streeting pointed out that Sajid Javid, the Tory former health secretary, has argued for people to be charged to see a GP. And he claimed Rishi Sunak supported charges when he was standing for the Tory leadership in the summer.
In response Steve Barclay, the health secretary, accused Streeting of misrepresenting Sunak's position. (Sunak backed a £10 charge for patients who missed a second GP appointment, but has since dropped the idea.)
Barclay also insisted the government was committed to keeping the service free at the point of use. He told Streeting:
We are committed, and we remain committed, to keeping [the NHS] free at the point of use. That is the prime minister's position, that is the government's position.
In his article for the Daily Mail (see 11.33am), Boris Johnson said Ukraine should be getting "hundreds" of tanks from its allies. The former prime minister said:
The Ukrainians need hundreds of tanks, and they should be getting them from the Americans, the Germans, the Poles and many others.
Johnson's comment seemed to be aimed in particular at Germany, which is not sending its own tanks to Ukraine, and has also been reluctant to approve the deployment of German-made tanks from Poland.
But at the Downing Street lobby briefing the PM's spokesperson refused to back Johnson's position. Asked if Ukraine's allies should be sending more tanks, the spokesperson said:
As the foreign secretary and others have said, we would like to see additional support provided to Ukraine.

What we are not going to do is dictate to other countries exactly what they should or should not provide – first and foremost that must be for those countries.
No 10 declines to say Sunak confident Zahawi has always told him truth about his tax affairs
At the Downing Street lobby briefing the PM's spokesperson said Rishi Sunak expects the inquiry into Nadhim Zahawi's tax arrangements being carried out by the PM's ethics adviser, Sir Laurie Magnus, to be carried out "swiftly".
But the spokesperson said there was no deadline for its conclusion. He explained:
We haven't set a timeline for it because whilst we want this to be conducted swiftly, it's important equally that it is thorough, hence why we're not restricting to a particular date.
Asked if the PM was confident that Zahawi always told him the truth about his tax affairs, the spokesperson said:
The investigation looks at any potential breaches of the ministerial code. As you'll know, I won't get into being prescriptive about how the advice goes about ascertaining that.
Poorer students will lose out because of the government's changes to the student loan system, a House of Lords committee said today.
Regulations that implement the changes are being considered by peers and, in a report, the Lords secondary legislation scrutiny committee said the changes "make the system less progressive and may not be consistent with government policy elsewhere, for example in the levelling up agenda".
It also said the changes made the system too complicated.
The changes were widely criticised when they were announced last year on the grounds that students who go on to earn lower or middle-income salaries will have to pay more than they do under the current system. Students who go on to become top earners will pay less.
Lady Bakewell, a Lib Dem member of the committee, said:
The regulations will adversely affect students from disadvantaged backgrounds which is in clear contradiction to the government's levelling up agenda.

Additionally, the government have implemented the policy in such a way as to render an already complex system so opaque and convoluted it would be very difficult to for anyone to navigate their way through it.
SNP condemns reported plan to bring forward rise in state pension age to 68
A government review of the state pension age is currently in the pipeline. It was launched in December 2021 and, under a law requiring the state pension age to be reviewed during every parliament, the results must be published by May.
Mel Stride, the work and pensions secretary, hinted, when he gave evidence to a committee last year, that the review would lead to the state pension age rising more quickly than planned.
In a story for the Sun, Natasha Clark says that announcement could come in the budget in March, and that the Treasury wants the state pension age to rise to 68 as early as 2035 – instead of between between 2044 and 2046, as planned now.
Clark says:
The state pension age is already due to rise from 66 to 67 by 2028.

The next increase – to 68 – was not due to happen until 2046, but an upcoming review is set to say it should be brought forward …

The Treasury is said to want the change to 68 to come in as early as 2035 – affecting those who are 54 and under today.

The Sun has learnt the chancellor is eyeing up announcing the move as early as the March budget.
Clark says Stride himself is pushing for 2042, not 2035, as the date for the next increase because he is "arguing that predicted increases in life expectancy have failed to materialise".
The SNP has criticised the plan as reported by the Sun. David Linden MP, the SNP's social justice spokesperson, said:
This is just the latest in a long line of attacks from the Tories on the UK's state pension.

In 2014, the people of Scotland were warned that the only way to protect their pensions was by voting no.

Fast forward nine years and the current state pension doesn't support the minimum standard of living, with the state age now set to rise to a staggering 68.

This is scandalous, and must be condemned in the strongest possible way.
David Lammy, the shadow foreign secretary, will give a speech at Chatham House later on the foreign policy of a Labour government. As my colleague Patrick Wintour reports in his preview story, Lammy will argue for closer cooperation with Europe across security, trade and diplomacy.
In an interview with LBC this morning, Lammy said Labour would have to repair the damage done to the UK's international reputation under the Tories. He said:
The bottom line is the last few years, the Kwasi Kwarteng, Liz Truss, Boris Johnson Partygate stuff, has damaged our reputation.

Diplomats have said to me that they have been in situations where they are being pitied by international colleagues.

What I'm setting out today is that we have to reconnect Britain to our allies.
Boris Johnson says Ukraine must join Nato for sake of long-term peace
Boris Johnson has called for Ukraine to be admitted to Nato and launched a thinly veiled attack on Germany and the US over the failed deal to donate tanks, after a return to Ukraine this week, my colleague Jessica Elgot reports.
Johnson made his comments in an article for the Daily Mail, which provides the paper's splash.
There are two urgent questions in the Commons later. At 12.30pm Caroline Lucas (Green) is asking one about the child asylum seekers who have gone missing from hotel accommodation provided by the Home Office, and that will be followed by Ben Bradshaw (Lab) asking one about the Church of England's stance on equal marriage.
After those are over Damian Hinds, the justice minister, will deliver a statement about the probation inspectorate.
Tory chair of Commons women's committee says Westminster should not have blocked Scotland's gender recognition bill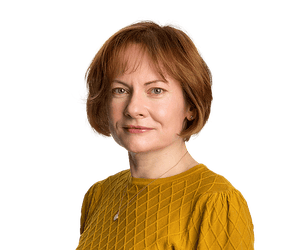 Libby Brooks
Holyrood's equalities committee is sitting this morning, but without two invited guests – Scottish secretary Alister Jack and equalities minister Kemi Badenoch – who both declined to discuss with MSPs the UK government's decision to use a section 35 order to block the Scottish parliament's gender recognition bill.
As I discuss in this morning's Today in Focus podcast, the row over the bill is symptomatic of an ongoing breakdown in communication between the UK and Scottish governments, but the use of this hitherto untested order takes us into uncharted territory.
And while the focus this morning has been on Caroline Nokes's views on Zahawi, she was also asked on BBC Radio Scotland about her views on the gender recognition bill, given her role as chair of Westminster's women and equalities committee.
She pointed out that the recommendations made by that committee in 2021 into gender recognition reform were not that different from the Scottish bill, aside from the drop in age of application, and that it was "worthwhile looking at ways in which the Westminster government could make the whole gender recognition certificate process simpler, more straightforward".
She added that a section 35 order "should not have been done" and that there was "room for compromise" between both governments.
NHS England says research suggesting A&E delays causing up to 500 excess deaths per week not 'definitive'
At the health committee three NHS England executives – Chris Hopson, the chief strategy officer, Prof Julian Redhead, national clinical director for urgent and emergency care, and Dr Vin Diwakar, medical director national transformation and medical directorates – are now giving evidence about A&E delays and excess deaths.
NHS England has said it does not endorse the Royal College of Emergency Medicine's claim that there are between 300 and 500 excess deaths per week because of delays in A&E. (See 10.22am.)
Hopson said he accepted that A&E departments were under considerable pressure. And he accepted that the excess death figures are particularly high.
But he said it was not clear what the explanation for the high excess death numbers were.
He said it was not unusual to see high excess deaths in the winter. He said flu, the cold weather, and Covid could all be factors.
The RCEM figure was based on a study that "suggests a link" between A&E waits and excess deaths, he said.
But he said that research "cannot be definitive and does not give a full and certain figure".
However, he also stressed that he was acknowledging the system was under extreme pressure.
In his BBC interview, Richard Sharp, the corporation's chair, rejected suggestions that he misled the advisory committee that recommended his appointment, or the Commons select committee that considered it.
Speaking about his involvement with Sam Blyth, the businessman who offered Boris Johnson a £800,000 loan guarantee, Sharp said:
I had clarified and agreed with the cabinet secretary, both of us had the judgment that I'd avoided a conflict or a perception of conflict.
Asked if it undermined BBC efforts to prove itself impartial, he said he saw attacks on the BBC all the time in the media and on social media.
They attack our impartiality and I think the governance we have put in place is extremely strong on impartiality.

Precisely because we should be judged by our output. I think the governance is world-class at the BBC and so I feel comfortable that the BBC brand is strong, and that I support it.
BBC chair Richard Sharp says he still thinks there was no conflict of interest in his appointment by Boris Johnson
Richard Sharp, the BBC chair, has told the BBC that he believes there was no conflict of interest when he was appointed by Boris Johnson – despite the revelation that he played a role in linking the businessman willing to offer Johnson a £800,000 loan guarantee to the cabinet secretary, Simon Case, who needed to approve the arrangement.
In an interview Sharp said:
Having had a discussion with the cabinet secretary about avoiding conflict, and the perception of conflict, I felt comfortable and I still feel there was no conflict, because at that stage what I was seeking to do was ensure that the process was followed exactly by the book and that the process hadn't started, of any kind, in terms of any support that Sam [Blyth] was going to provide to the prime minister.
Sharp set out his account of the affair in a long message to BBC staff yesterday.
Royal College of Emergency Medicine president defends claim A&E delays causing up to 500 excess deaths per week
At the health committee Steve Brine, the chair, asks Dr Adrian Boyle about the claim he made at the start of the year that between 300 and 500 people are dying every week because of treatment delays in A&E.
Boyle, president of the Royal College of Emergency Medicine, says this is based on a peer-reviewed study published in an emergency medicine journal. It was based on data from all NHS England A&E patients.
It looked at mortality rates within 30 days of attending A&E.
It found that, if people have to wait more than five hours for treatment, they are more likely to die within the next 30 days. The death rates go up in a linear fashion, he says. He says the study only looked at waits up to 12 hours, because at that point very few people were waiting longer than that.
The results showed that, for every 72 people who waited more than eight to 12 hours, there was one excess death, he says.
And he says for every 82 people who waited between six to eight hours, there was one excess death.
Boyle says he produced the figure of between 300 and 500 excess deaths per week by applying the one in 72 formula to the number of people waiting in A&E departments.
He says this estimate was a "conservative estimate", because it did not apply a higher death rate to people waiting more than 12 hours. For that group, he just used the one in 72 ratio, he says.
The Commons health committee has just started taking evidence from Dr Adrian Boyle, president of the Royal College of Emergency Medicine, about the situation in A&E departments.
Steve Brine (Con), the committee chair, starts by pointing out that there was a 15.1% increase in attendance at emergency departments between December 2021 and December 2022. He suggests the increase demand is a factor in the current problems.
Boyle says demand has gone up. But he says that is not the cause of the current problems.
Minister says it is 'reasonable' for Zahawi to stay in post while No 10 ethics adviser carries out inquiry
Caroline Nokes, the Tory former minister who now chairs the women and equalities committee, told TalkTV last night that, if Nadhim Zahawi were to step aside now, he could return to government later. (See 9.31am.) She said:
There are countless examples of good, competent cabinet colleagues who have got themselves in a mess who have resigned quickly and come back, really in some instances, just a few months later and I think in order to get this cleared up Nadhim should stand aside and let the investigation run its course.
Lord Hayward, a Conservative peer, made a similar argument when he appeared on Andrew Marr's LBC show last night.
But in his interviews this morning Chris Philp, the policing minister, said it was "reasonable" for Nadhim Zahawi to stay in his job while he is being investigated. Philp told BBC Breakfast:
I think it is reasonable that where there is an investigation, the person concerned is allowed to continue serving while that investigation continues.

We do have a principle, don't we in this country, innocent until proven guilty. That applies to a whole range of different circumstances.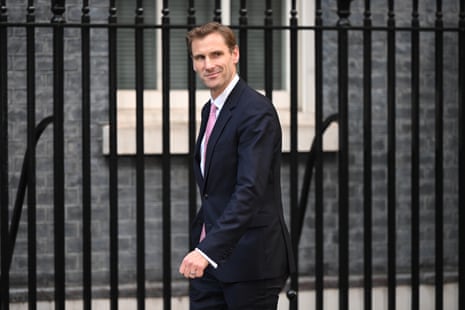 Labour restates call for Zahawi to resign, or be sacked
David Lammy, the shadow foreign secretary, was Labour's representative on the morning broadcast shows. He restated the party's call for Nadhim Zahawi to be sacked. He told Sky News:
When you've been chancellor of the exchequer and you said you've been careless despite the fact that offshore trusts have been set up in Gibraltar, I'm sorry you really ought to resign or be sacked.
He also criticised the government for letting this drag on.
What we've seen time and time again over the last 13 years is that when they've done wrong, government ministers remain in office, they hold on.

It goes on and on for days, dominates the news when we should be dealing with far more serious issues and I'm afraid we're here again.
Nadhim Zahawi under fresh pressure to quit as senior Tory says he should 'stand aside'
Good morning. Ever since it won plaudits for its coverage of the demise of the Liz Truss administration, some Westminster insiders have taken the view that the news organisation providing the most incisive and astute coverage of British politics (apart from the Guardian, of course) is the Daily Star. And this morning it has delivered its verdict on Nadhim Zahawi – not lettuce, but toast.
It is hard to disagree. Last night Caroline Nokes, a former minister who now chairs the women and equalities committee, became the first Tory MP to call for Zahawi to "stand aside" from his job as Conservative party chair while his tax affairs are being investigated by the No 10 ethics adviser.
This morning Chris Philp, the policing minister, was doing a media round on behalf of the government, and it was two hours of his life that he will probably be keen to forget.
Philp defended Rishi Sunak, arguing that the PM deserved credit for ordering an investigation into what happened. But he did not try to defend Zahawi, repeatedly saying that he did not know the full facts about Zahawi's tax arrangements.
On the Today programme Mishal Husain, the presenter, put it to him that Zahawi has admitted being careless with his tax affairs and that the government's own website says that "carelessness" with tax affairs can be likened to the "longstanding concept in the general law of negligence".
Asked whether Sunak found it acceptable for a cabinet minster to be "negligent in their tax affairs", Philp told the programme:
We've got this word 'careless' that has been put into the public domain.

We don't know exactly what it was that that carelessness represents."
After further questions, the minister added:
You're effectively inviting me to speculate on exactly what happened.

I don't know exactly what happened, I don't know what form that carelessness took and nor probably does anybody else apart from HMRC and Mr Zahawi. So let's find out the facts.
As my colleague Peter Walker points out, this argument is rather feeble.
Here is the agenda for the day.
10am: Dr Adrian Boyle, president, Royal College of Emergency Medicine, gives evidence to the Commons health committee about the situation in A&E departments. At 10.45am three NHS England executives, Chris Hopson, the chief strategy officer, Prof Julian Redhead, national clinical director for urgent and emergency care, and Dr Vin Diwakar, medical director national transformation and medical directorates, give evidence.
11.30am: Downing Street holds a lobby briefing.
11.30am: Steve Barclay, the health secretary, takes questions in the Commons.
12pm: David Lammy, the shadow foreign secretary, gives a speech at Chatham House.
After 12.30pm: The Conservative MP Bob Seely introduces a 10-minute rule bill to tackle Slapps (strategic lawsuits against public participation).
I'll try to monitor the comments below the line (BTL) but it is impossible to read them all. If you have a direct question, do include "Andrew" in it somewhere and I'm more likely to find it. I do try to answer questions, and if they are of general interest I will post the question and reply above the line (ATL), although I can't promise to do this for everyone.
If you want to attract my attention quickly, it is probably better to use Twitter. I'm on @AndrewSparrow.
Alternatively, you can email me at andrew.sparrow@theguardian.com