Chelsea are unrecognisable from 12 months ago. This time last year they were owned by a Russian oligarch, had a manager whose charisma had supporters hanging off his every word, and had just become champions of the world.
Even looking at the team that started against Palmeiras in the final of the Club World Cup feels like stepping into another age. Callum Hudson-Odoi, who got an assist that night, was at left wing-back and Romelu Lukaku led the attack. Antonio Rüdiger and Andreas Christensen were in central defence. Malang Sarr and Saúl Ñíguez came off the bench.
It was a different kind of club. Chelsea were nailed on to finish in the top four of the Premier League, hopeful of beating Liverpool in the Carabao Cup final and confident of another strong run in the Champions League. Problems felt surmountable. Back then the drama was Lukaku – the £97.5m final piece in the jigsaw – managing seven touches when Chelsea beat Crystal Palace a week after their triumph over Palmeiras.
How things have changed. From the team that faced Palmeiras, only two started when Chelsea drew at West Ham last Saturday: Kai Havertz and Thiago Silva. Others have either gone, fallen prey to injury or, in the case of Mason Mount, been dropped.
It makes Chelsea, who visit Borussia Dortmund in the last 16 of the Champions League on Wednesday night, something of an enigma at the moment. Sanctions forced Roman Abramovich to sell to Todd Boehly and Clearlake Capital, who quickly replaced Thomas Tuchel with Graham Potter.
The owners fancied a calmer presence in the dugout. On Saturday, after Chelsea saw appeals for a late penalty against West Ham waved away, there was no fury with the officials. "That's life," Potter said, shrugging it off and moving on.
Chelsea's head coach would not erupt. That was left to the television pundits who wondered whether such a measured response was evidence that Potter is not cut out for elite management. In the real world, meanwhile, there was a degree of gratitude at a manager refusing to push the blame for a disappointing result on to a referee.
The other side to the argument is that the pundits who criticised Potter played for top managers. Imagine how previous Chelsea coaches would have responded. Tuchel, Antonio Conte and José Mourinho would have controlled the narrative and tried to make their players feel a burning sense of injustice. That is simply how it goes with the best coaches; their behaviour might not always be particularly mature, but the thing about winners is that they aren't wired like the rest of us.
Potter, by contrast, seems more normal. He has joined from Brighton & Hove Albion. It is quite the gear change from Chelsea. In the past Chelsea were pugnacious, combative and defiant. Now they seem flat.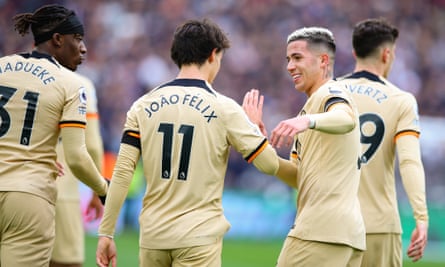 Chelsea are 10th in the league before the first leg of their tie with Edin Terzic's increasingly assured Dortmund. The squad is a jumble. The owners have overseen a spend of more than £500m and, for all the excitement over eight players joining in January, there are a lot of egos to placate.
When Chelsea handed their revised squad list to Uefa for the knockout stages of the Champions League there was no room for Pierre-Emerick Aubameyang. Only three of the new players could be registered, so there was no place for Benoît Badiashile, who has formed an excellent partnership in central defence with Silva.
Dortmund, whose biggest threat will come from Jude Bellingham, will be glad to see Badiashile missing. Taking the Frenchman's place could be Kalidou Koulibaly, who has not been trusted to start since Chelsea's defeat by Fulham on 12 January.
That makes Chelsea weaker, potentially forcing Potter to switch to a back three. Mateo Kovacic and Denis Zakaria are back, Raheem Sterling is absent again, and more chopping and changing is inevitable. Once again, even with Enzo Fernández looking smooth in midfield and João Félix dazzling up front, the question is whether Chelsea can develop a consistent rhythm.
Coherence eluded them against West Ham and the flux has been summed up by the odd vibes between Marc Cucurella and Mykhaylo Mudryk. Cucurella, who has struggled at left-back since his £62m move from Brighton, heard the fans cheering his substitution against West Ham. There was no sign of any understanding on Chelsea's left flank. Time and again Mudryk would make a run behind the West Ham defence and look for the ball, only for Cucurella to ignore the winger, check back and play a safe pass inside.
Mudryk, signed last month for £88.8m, was frustrated with the lack of service. The Ukrainian later liked – then unliked – an Instagram post mocking Cucurella. It is a potential headache for Potter as he continues his patient rebuild.
The former Brighton manager would surely prefer to focus on Chelsea's bright football during the opening 20 minutes against West Ham. The goal, made by Fernández and scored by Félix, saw two of the new players combine. The lavish spending could yet elevate Chelsea. Money alone means they are favourites to beat Dortmund and it should not be forgotten that Chelsea's two Champions League triumphs, in 2012 and 2021, came during disappointing league seasons.
Whether that defiance belongs to a forgotten era remains to be seen.