Jürgen Klopp watched his Liverpool team crash out of the Champions League at the Santiago Bernabéu and insisted they must now get back into the competition – by coming through what he described as a "proper football week" which will define their "strange" season.
Liverpool are six points behind Tottenham in fourth place in the Premier League and, with any chance of silverware now gone, they only have a Champions League spot to play for. "Our job is to squeeze absolutely everything out of this season," Klopp said.
"It's a strange one. Our recent two games were obviously a sensational performance against Manchester United – which is a real good football team – and then a really bad performance against Bournemouth, which is a good football team as well, but we should not lose this kind of game.
"It put us then under more pressure. If we could have three points then I think everybody really could have felt, or smelled our breath. But [instead] there is a distance again because other teams won their games. It is clear, we want to be top four, but if we can do that, we will decide on the pitch, not here in the press conference.
"With the history we have in this competition, we start usually with the idea of winning it, to be honest. We reached the final a few times. We didn't win the final that often, that's true, but we were there three times in the last few years. It is the competition and we want to be part of it every year.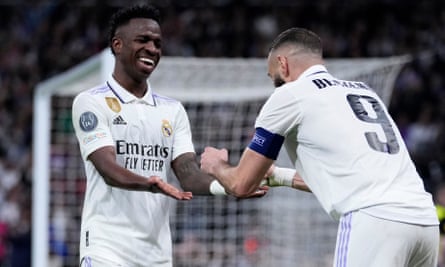 "That's a massive task for us, we all know that," Klopp added. "When we come back from the international break we have a proper football week ahead of us, with three games – City, Chelsea and Arsenal – which will then probably define what we get out of it. People might say we lost it in Bournemouth, but I think this week is a pretty decisive one, so we have to hope now the boys come back healthy, early enough, in the right shape and then we we will try it."
Klopp also described Real Madrid's decision to play You'll Never Walk Alone at full-time as "a really nice gesture".
"We are two heavyweights who meet each other quite frequently in international football," he said. "It's clear that we respect each other a lot and whoever did it, that was a really nice gesture, I have to say."