Key events
Indigenous leaders are returning to Uluru today six years since the Uluru Statement from the heart was delivered. The statement underpins the voice to parliament, which the nation will vote on in a referendum before the end of the year.
The minister for Indigenous Australians, Linda Burney, is in the Red Centre but she says she is not concerned by a recent poll by the Nine newspapers which indicate the yes campaign is losing support.
Burney tells ABC Radio:
Individuals that know that this is their time to put their shoulder on the wheel of history and give it a shove.

The momentum is just enormous. We are at Uluru – I am looking at Uluru right now with the sun coming up as I was speaking to you – and I feel buoyed and I feel confident.

I know that we've still got six or seven months to run and I am sure that the Australian people will rise rise to this occasion.
Read more from our Indigenous affairs editor Lorena Allam who is also on the ground at Uluru: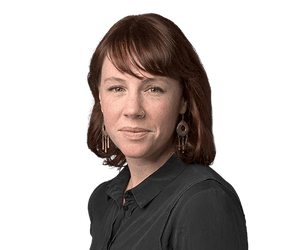 Stephanie Convery
Evacuated dental hospital near site of Sydney blaze becomes emergency services hub
While the light rail that runs past the charred husk of the burnt out building on Randle Ln is running this morning, many of the roads are blocked off by police tape, including a usually very busy section of Elizabeth St, which will likely have an impact on morning traffic.
The total area cordoned off around the building is about six blocks. A hand-scrawled sign on the usually packed Elizabeth St bus stop directs people to the nearby Eddy St.
The Sydney Dental Hospital – a short distance away from the burnt out building – was evacuated yesterday. It's now being used as a hub for the emergency services gathered at the site. Water pours past it in the street, downhill, where the media is gathered.
Sydney fire 'pretty much out' but concern walls may still collapse
Staying on the Sydney inferno, Superintendent Adam Dewberry from NSW Fire and Rescue says the the fire is "pretty much out" after firefighters worked up until 2am this morning to ensure hot spots were out.
However, Dewberry told the Today Show there is still serious concern more walls could collapse without notice.
There's else a lot of work to be done. The building opposite has been damaged by that extreme heat. Firefighters were able to cut that fire off from spreading into the building across the road. But the main priority is that wall. There are two walls that are in a precarious position.
Dewberry says there is a "very good chance" they are likely to fall "without notice."
We are talking about tonnes and tonnes of bricks that could come down and become projectiles that is why we have such a tight exclusion zone, not allowing anyone in, including firefighter[s], until we get the engineers in.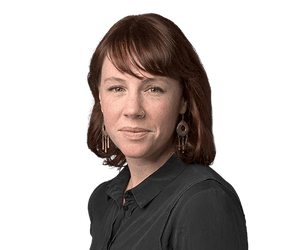 Stephanie Convery
Morning update on Sydney blaze
The charred remains of the heritage listed multi-story brick building on Sydney's Randle Lane are visible from the Central station underpass this morning.
About three complete storeys of the six storey building collapsed yesterday during the inferno that took hold about 4pm and quickly engulfed the building. The partially collapsed structure is strewn across Randle St, and a police line prevents members of the public from getting too close.
Water pours out from underneath an adjacent building abutting the light rail. A police officer tells me the apartment blocks nearby are still empty as the building is structurally unsound, and spot fires are still being put out.
NSW to consider 'breach of trust' fines in wake of PwC scandal
New South Wales is the first state to consider introducing fines for betrayal of trust for companies that leak sensitive government tax information to clients following the PwC tax scandal.
The state's finance minister, Courtney Houssos, is telling ABC Radio the fines would be in the multimillions:
I'm working with the chief commissioner for state revenue to implement a change to our policy that will ensure that severe penalties will apply to advisors and also to organisations who seek commercial advantage by sharing confidential tax related information.

We're looking at multimillion dollar fines for both the individuals involved and also for the organisations.

We think that when you are provided with confidential tax information by the government, that any breach of that trust should be tightened and there should be very, very serious consequences for that.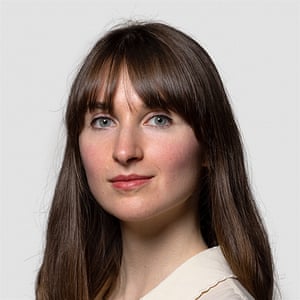 Natasha May
Good morning! Natasha May stepping up to the plate to serve you the rest of today's live news coverage.
Australia needs stronger anti-slavery laws, review warns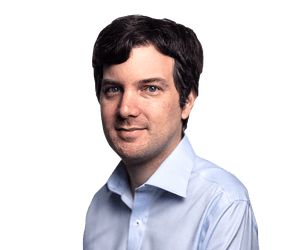 Daniel Hurst
Australia should toughen up its laws against modern slavery, including by imposing fines on businesses that lie about actions they are tacking to tackle the problem, a government-ordered review has found.
The Modern Slavery Act, which took effect in 2019, aims to push businesses to tackle a range of risks in their supply chains, including human trafficking, servitude, worker exploitation, child labour, forced marriage, debt bondage and deceptive recruiting.
Big businesses are required to report steps they are taking to address the problem in statements posted on a government-run register – but the reporting obligations have long been criticised for lacking teeth.
In a report tabled by the government in parliament late yesterday, Prof John McMillan said the consultations he oversaw had found "a widely endorsed view" that there was "no hard evidence that the Modern Slavery Act in its early years has yet caused meaningful change for people living in conditions of modern slavery".
McMillan has made 30 recommendations, including requiring businesses that have annual revenue of $50m or more to report the steps they are taking on the issue. That means the rules will cover a larger number of businesses, because the current reporting threshold is $100m of annual revenue.
McMillan also recommended making it a penalty for failing to submit modern slavery statements, failing to take specified remedial action, or making a statement "that knowingly includes materially false information". He wrote:
Proposed legislative changes largely target what are seen to be the three main weaknesses in the present Act – the standard of modern slavery reporting is variable, the reporting obligation is not properly enforceable, and the process is at risk of being drowned by a sea of large and incompatible statements.
The foreign affairs minister, Penny Wong, and the acting attorney general, Katy Gallagher, said the government would consider the recommendations, but noted that many of them were in line with Labor election commitments.
WA premier: 'unthinkable' US-style school shooting nearly occurred
Mark McGowan, state premier, said it was "unthinkable" that a US-style school shooting could have happened at a WA school.
He told reporters yesterday during a visit to the school:
We are very lucky no one was killed. The bullets went close. It's a terrible, terrible thing and it could have been so much worse.

This is extraordinary stuff. This is the sort of thing you see occurring in the deep south of America.
McGowan said work was already under way to dramatically reform the state's gun laws.
Boy charged with multiple offences after allegedly shooting at Perth classroom
A 15-year-old boy has been charged with multiple offences after he allegedly drove to a school in Western Australia and shot at a classroom as scared students hid in fear, AAP reports.
The incident at Atlantis Beach Baptist College north of Perth on Wednesday is understood to be the first firearms episode at a school in Western Australia.
Police arrested the boy at the scene at about 11.50am after he allegedly fired three rounds, with two shots hitting a classroom.
Western Australia police on Thursday charged the teen with a count of driving without authority, three counts of possessing an unlicensed firearm and ammunition, discharging a firearm to cause fear, possessing a prohibited weapon and acting unlawfully with intent to harm.
The boy was expected to face the Perth children's court this morning.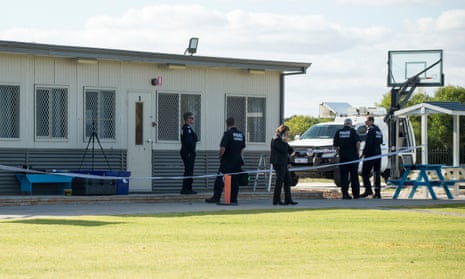 Officers took the teen into custody without incident on Wednesday, seizing two rifles, a .243 and .22 calibre, allegedly found in a car at the scene.
The weapons are understood to be registered to the boy's father.
Authorities praise Sydney residents for quick evacuation as fire raged
Fire and Rescue NSW Supt Adam Dewberry praised people living in apartments and other buildings near the scene of the huge fire in Sydney yesterday for evacuating promptly when multiple fire alarms went off.
He also said quick-thinking firefighters prevented the flames from destroying adjacent buildings by hosing them down and stopping the fire from spreading.
There were some fires that spread into the apartment buildings … firefighters were able to extinguish those and prevent them further penetrating into the buildings and causing significant damage.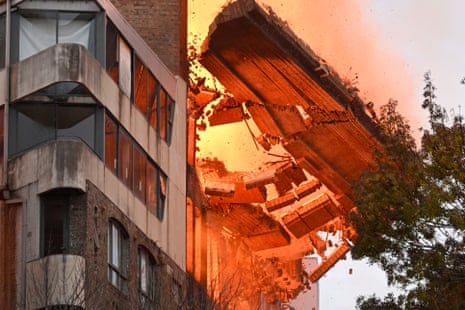 Supt Dewberry said it was believed the two buildings involved in the blaze were vacant.
It was an incredibly intense fire and the age of the building, the type of construction with lots of timber frames and floors, and with that, very well seasoned and dry timber.

Our firefighters have done a wonderful job to get on top of this fire.
Supt Dewberry said there were no reports of injuries to members of the public and only one firefighter suffered a minor burn to his arm.
Good morning and welcome everyone to our live coverage of the Australian news day. I'm Martin Farrer and I'll be bringing you the best of the overnight stories before my colleague Natasha May steps up to the plate shortly.
Firefighters and police will today begin their investigation into the huge blaze in Sydney that destroyed a seven-storey building next to the city's Central station yesterday. More than 120 firefighters with 30 fire trucks battled the blaze at a heritage-listed former hat factory in Surry Hills which broke out at around 4pm, sending fiery debris crashing to the ground in Randle Street. Fire and Rescue NSW Supt Adam Dewberry told ABC News it was incredible no one was hurt in one of the city's biggest fires in years.
Also this morning, we have an exclusive interview with Greens leader Adam Bandt. He tells our chief political correspondent, Paul Karp, that the government can't count on his party's support for its "weak" changes to petroleum resource rent tax. In stinging remarks, Bandt says it is not clear the changes will bring in any additional revenue and the policy was "written by the gas lobby" so "it's not worth the napkin it was written on after a long lunch". More on this one coming up.
A 15-year-old boy has been charged with multiple offences after he allegedly drove to a school in Perth, Western Australia and shot at a classroom as scared students hid in fear. Police last night charged him with a count of driving without authority, three counts of possessing an unlicensed firearm and ammunition, discharging a firearm to cause fear, possessing a prohibited weapon and acting unlawfully with intent to harm. The boy was expected to face the Perth children's court this morning.