Key events
QT: Richmond 1.4 (10) v 3.1 (19) Carlton
Both teams kicked goals in the opening minute of the season, after which most of the quarter took place in Carlton's defensive end. Richmond were wasteful in front of goal, allowing the Blues off the hook repeatedly, and they were made to pay with Carlton's efficiency at the other end.
Q1: 1 mins remaining: Richmond 1.4 (10) v 3.1 (19) Carlton: The pressure is unrelenting from the Tigers. Another hack clear is met in the air by Vlastuin but Cerra is sharp on the deck and he earns a free-kick for high contact. The Blues breathe another sigh of relief.
Q1: 3 mins remaining: Richmond 1.4 (10) v 3.0 (18) Carlton: The Tiges return to their encampment in Carlton territory but yet again they fail to make it count. Prestia this time misses the lot with a set shot from the arc. One goal from 17 inside-50s so far.
Q1: 4 mins remaining: Richmond 1.4 (10) v 3.0 (18) Carlton: Riewoldt has been busy getting up the ground to receive the clearing kick out of defence. He does so again on the right flank but the ball doesn't reach Martin near halfway and Carlton pounce. McKay is isolated one-out, he competes well in the air with Balta then is quickest at ground level. The left-footed snap is true and the Blues extend their lead.
Q1: 6 mins remaining: Richmond 1.4 (10) v 2.0 (12) Carlton: Richmond just keep coming, refusing to allow the ball out of Carlton's defensive 50. It's chaotic and messy and helter-skelter, and Bolton is crunched holding the ball at the top of the square! Smehow the Blues are holding on.
Q1: 8 mins remaining: Richmond 1.4 (10) v 2.0 (12) Carlton: Finally the Blues get a breather with a free in midfield and immediately set about threading the needle by foot through the corridor. Richmond are again up to the task of keeping Curnow and co quiet, now can they rebound? Not this time, because Hollands does well on debut. But the Sherrin just keeps coming back! And this time there's a lead – and it's found. Lynch goes back, and misses! That was a certain goal but the big forward slides his effort wide. Carlton are riding their luck.
Q1: 10 mins remaining: Richmond 1.3 (9) v 2.0 (12) Carlton: Still the pressure comes with Blues defenders forced to hack clear to packs along the boundary instead of picking targets. Richmond are applying suffocating pressure but can't find the crucial final pass.
Q1: 11 mins remaining: Richmond 1.3 (9) v 2.0 (12) Carlton: The Blues can't clear their defensive 50 but Richmond can only manage three consecutive behinds.
Q1: 13 mins remaining: Richmond 1.2 (8) v 2.0 (12) Carlton: Graham misses an open goal on an angle when he could have straightened up. Richmond are eager to get the ball forward early and maximise the one-on-one skills of Lynch, Riewoldt, and Martin. Carlton are much happier taking their time and piecing their way through the lines.
Q1: 15 mins remaining: Richmond 1.0 (6) v 2.0 (12) Carlton: The Blues again waste an excellent rebound opportunity with a poor kick in the final third. Richmond build down the right wing and Lynch makes McGovern look foolish in a marking contest but the big Tiger gets too cute with his possession and Carlton escape.
And how! The ball takes an age to travel from the back pocket to the front down the left flank, but it ends with Jack Silvagni taking an early contender for mark of the year! In his 100th match the son of a son of a gun took flight, found some shoulders to ride and pulled the pill down with confidence. Not only that, but he strokes home the goal from a narrow angle. Glorious.
Q1: 17 mins remaining: Richmond 1.0 (6) v 1.0 (6) Carlton: The Blues butcher three good opportunities, the first two with poor entries, the third with nervous hands after a Richmond turnover. The Tigers threaten to make them pay when Riewoldt accepts a clearing kick with one hand, holding off his marker with the other, but Martin doesn't have the speed to turn the bouncing ball into a scoring opportunity.
Q1: 19 mins remaining: Richmond 1.0 (6) v 1.0 (6) Carlton: Does anyone fancy a shootout? Richmond: one clearance, one goal. Carlton, one clearance, one goal. A long inside 50, the Blues pack brings the ball to ground, and Fisher snaps nattily across his body with his left foot to level the scores.
Q1: 19 mins remaining: Richmond 1.0 (6) v 0.0 (0) Carlton: 23 seconds into the 2023 season is all it takes for Dustin Martin to make his mark. Nankervis slapped a long bomb inside 50, McGovern fumbled the chest mark, Martin mopped up, took a step and snapped a trademark goal. Plus ca change.
Season 2023 is underway…
And now Richmond take to the turf in their familiar yellow and black uniform.
It's pretty warm in Melbourne tonight with the temperature still in the mid-20s, making all those preseason bicep curls nice and shiny.
First out onto the G are Carlton. Led by Patrick Cripps, and serenaded by the worst club song, the Blues are wearing white shorts.
Michael Voss has had a word:
We feel we've got an extra level of detail in our game style and roles and hoping that turns into consistency as a footy team and we can execute under pressure and no doubt the Tiges tonight will put the pressure on. We have to stand firm and execute.

I have an expectation of the way we want to play. We've played a really strong contested style of game. Tried to add things into that over the preseason to aid us and how we become a bit more efficient in a few different areas.
Footy celebrates these moments and creates lasting memories as well as any sport. It's always a treat to see a new player, especially one who grew up a fan of the club.
Channel Seven welcomes the 2023 season with an intro package to the soundtrack of some Motley Crue noise from 1989. Don't change Straya.
Ollie Hollands and Lachie Cowan will make their AFL debuts for their boyhood team, while Blake Acres lines up in navy for the first time since his switch from Fremantle.
"I think we had multiple conversations last year about being able to sustain what we do and play the way we need to be able to play," head coach Michael Voss told the media this week. "There's an intensity that we need to match to be consistent but there's also a style that we want to play against – we have to be able to replicate that no matter the opposition we're playing no matter what we're challenged with. We want to bring a really contested style of game and we want to bring that consistently and that's an expectation we should have of ourselves more than anything else."
B: Le. Young, J. Weitering, A. Saad
HB: S. Docherty, M. McGovern. L. Cowan
C: B. Acres, P. Cripps (c), O. Hollands
HF: J. Martin, H. McKay, J.Silvagni
F: M. Owies, C. Curnow, Z. Fisher
FOLL: T. De Koning, M. Kennedy, G. Hewett
I/C: N. Newman, A. Cerra, E. Curnow, J. Motlop
Sub: L. O'Brien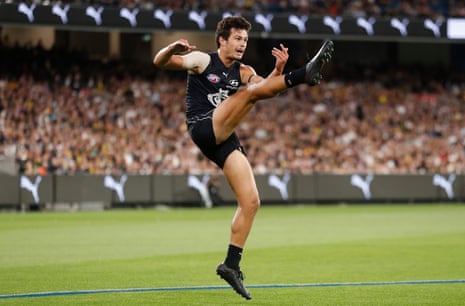 All eyes will be on gun recruits Tim Taranto and Jacob Hopper as the Tigers unveil their new look midfield. "We have been really impressed by what both can bring," gushed Damien Hardwick during the week. "They are both different. They complement each other. They complement us."
Injury doubts Dion Prestia and Jayden Short both make the 22, one brimful of experience.
B: N. Balta, N. Vlastuin, D. Grimes (c)
HB: N. Broad, L. Baker, D. Rioli
C: K. McIntosh, D. Prestia, J. Short
HF: M. Rioli, J. Graham, S. Bolton
F: J. Riewoldt, D. Martin, T. Lynch
FOLL: T. Nankervis, T. Taranto, J. Hopper
I/C: B. Miller, M. Pickett, T. Cotchin, R. Mansell
Sub: J. Ross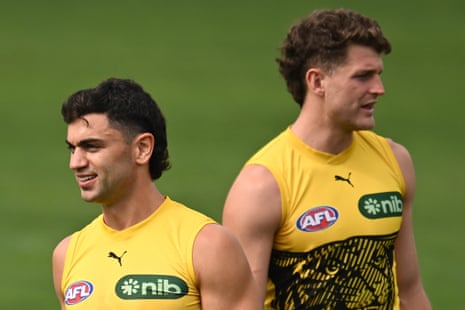 Jonathan Horn has tipped Collingwood for the flag. I can only presume this is for the maximum wind-up value. He was on superb form last season, and I can't wait for more of his weekly columns this year.
After three chaotic years, where Covid-19 caused the competition to be relocated to Queensland and then Western Australia, and where the AFLW season was bounced from the start of the year to the end, the league has had a chance to regain its breath.
Preamble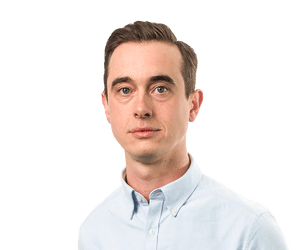 Jonathan Howcroft
Hello everybody and welcome to live coverage of Richmond v Carlton on the opening night of the 2023 AFL Premiership season. The opening bounce at the Melbourne Cricket Ground is 7.20 pm AEDT.
Footy's back; if it ever truly went away? Almost six months on from Geelong's catwalk to the 2022 flag the 18 challengers are back to do it all again. And as has become traditional, the curtain is raised by the Tigers and Blues on a balmy Thursday night at the G.
Both sides arrive with high ambitions. Richmond won their third flag in four years as recently as 2020, and the offseason recruitment of Jacob Hopper and Tim Taranto demonstrates a belief that the premiership window remains open at Punt Road. However, after consecutive mid-table finishes and eight players already in their 30s, it is a delicate balancing act in Tigerland.
Following an injury-interrupted 2022 Dustin Martin is back in the starting line-up and ready to return to his Brownlow Medal winning form. "He has had a great pre-season," according to Damien Hardwick. Martin is set for a different role this year with the Tigers now stacked in midfield and more in need of his game-breaking talent further towards goal. "It will be a slightly different role for him," Hardwick said. "He has normally gone between midfield and forward. This year he will probably be more forward, less mid. What we do know, I think from a Richmond point of view, and an AFL community point of view is that we just love having him back, and we look forward to him having his best season because he is the sort of guy you come and watch play."
The lot of a Bluebagger over the past couple of decades has been nothing but misery, but after so much darkness, the dawn could finally be approaching. Michael Voss's first year as head coach began promisingly, and an 8-2 record after ten rounds set the Blues up for a first crack at September since 2013. But a sequence of four wins and 12 defeats exposed the work that still needed to be done at Ikon Park.
On form, the spine of the team rivals all comers, the product of a group of players in their late 20s with over 100 first grade appearances under their belts (the likes of Jacob Weitering, Adam Saad, Sam Docherty, Patrick Cripps, and Jack Martin) and a tier behind them nearing similar milestones (I'm thinking of Jack Silvagni, Zac Fisher, Adam Cerra, Harry McKay, and Charlie Curnow) so the foundation feels solid. But around them things need to fall the right way, which means they can ill-afford the year-ending injury to Zac Williams and delayed season-start to Sam Walsh.
After tonight Carlton face the reigning premiers, before a trip to western Sydney. Failure to earn at least one win from these three tricky encounters would heap pressure on Voss, and we know that tends not to end well for coaches at such a demanding club.
I'll be back shortly with more build-up. In the meantime, feel free to send me an email or fly a tweet to @JPHowcroft.